The Saga Of Pickle Lila On General Hospital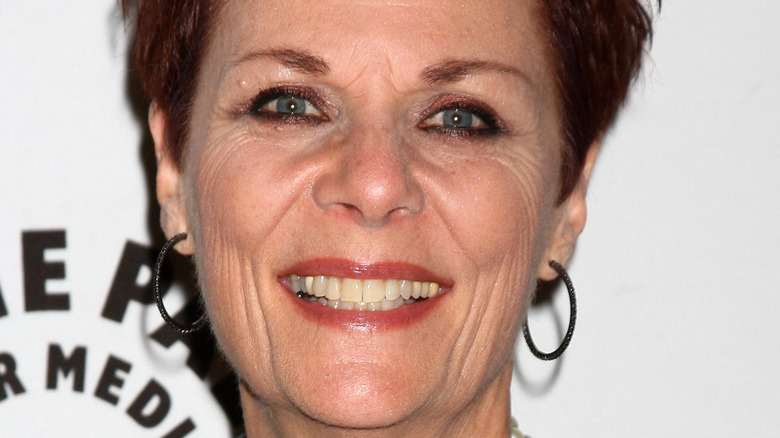 Kathy Hutchins/Shutterstock
Edward and Lila were the heads of the prominent Quartermaine family for decades on "General Hospital," played by the immensely popular John Ingle and Anna Lee. Their company, ELQ, has been the center of countless business coups and family drama since the Qs arrived in Port Charles in 1978. However, in 1984, ELQ was the victim of a hostile takeover by their daughter-in-law, Monica Quartermaine (Leslie Charleson), and Sean Donely (John Reilly), per Soap Central.
In danger of going broke, Edward's sweet wife, Lila, came to save the day by starting a company of her own: Pickle Lila. Using her famous secret relish recipe, Lila was able to build back their fortune and the Quartermaine legacy remained intact. However, once Edward was able to get ELQ back, the relish became obsolete. No one, on screen or in the real world, thought that decades later, Pickle Lila would return to prominence. And yet, in 2013, it did.
Tracy and AJ Quartermaine have a food fight for the ages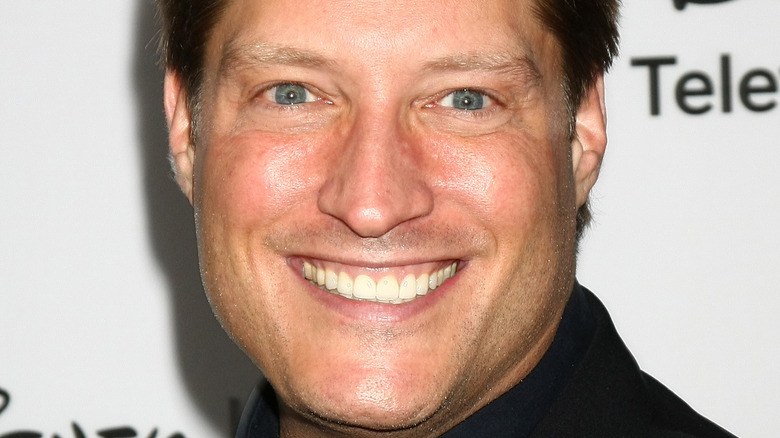 Kathy Hutchins/Shutterstock
Following Edward Quartermaine's death In 2013, the infamously greedy Tracy Quartermaine (Jane Elliot) was enraged to find she had been cut out of her father's will and was left only a single jar of Pickle Lila relish, per Soap Opera Spy. ELQ had suffered severely after the loss of the family patriarch and everyone was desperate to save the company from ruin. When Tracy's nephew, AJ Quartermaine (Sean Kanan), beat her out for control of ELQ, she decided to establish her own company with the help of Nikolas Cassadine (then Tyler Christopher). She then intended to create her own relish called Pickle Eddie to compete with Pickle Lila, which AJ was using to revitalize ELQ just as his grandmother had done decades earlier. And thus, in one of daytime's most bizarre storylines ever, the relish wars began.
Prone to using shortcuts, Tracy then blackmailed super-hacker Damian Spinelli (Bradford Anderson) to steal Lila's secret recipe for her so she could use it for Pickle Eddie (via Soap Central). Set to debut their competing products at the same time, Tracy and AJ's epic battle culminated with a two-episode crossover with the ABC cooking-centered talk show "The Chew," in a segment dubbed "Clash of the Condiments" (via TV Guide). Both Elliot and Kanan, along with "GH" executive producer Frank Valintini, traveled to "The Chew" set in New York City to film the scenes, which featured hosts Mario Batali, Carla Hall, Daphne Oz, and Michael Symon.
Talk show 'The Chew' helped bring the Pickle Lila story to an end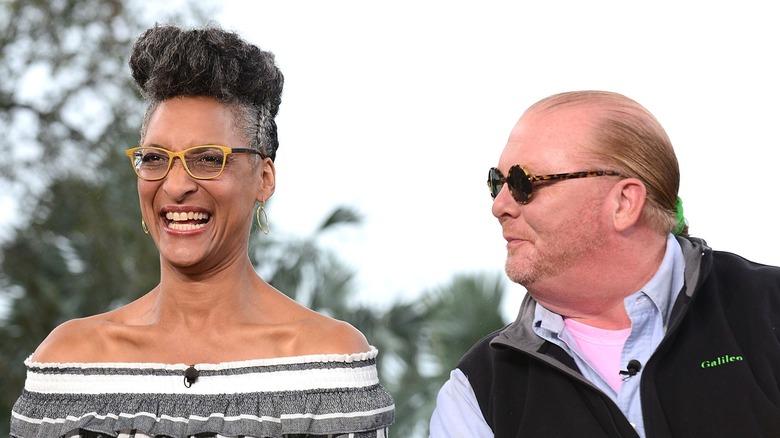 Gerardo Mora/Getty Images
In the May 2013 crossover episodes, Tracy and AJ Quartermaine showed up to "The Chew" to debut their warring relishes on national television. However, before the professional chefs could judge Pickle Lila and Pickle Eddie in the ultimate taste off, things went horribly wrong. Tracy had planned to sabotage AJ's relish to ensure herself the win, but her business partner, Nikolas Cassadine, got cold feet (via TV Guide). Instead, he hired some bodyguards to trap Tracy in her hotel room so she couldn't make it to the show. Not one to back down, Tracy managed to get to the set and interrupted AJ in the middle of his interview.
When it came time for the taste off, Tracy and AJ discovered that both of their relishes had been tainted when the hosts began vomiting all over the stage in a ridiculous slapstick scene (via Soap Central). They would later discover that the culprit was none other than the infamous presumed-dead artist Franco, marking Roger Howarth's debut in the role. However, at the time, Tracy found her own way to clear her name after being fully humiliated on television. She obtained a recording of AJ confessing to cheating on his girlfriend Elizabeth Webber (Rebecca Herbst) and used it to blackmail him into taking the blame for the food poisoning, cementing her place at the head of ELQ.
In the years since the "Clash of the Condiments," AJ was killed and Tracy moved overseas, so there has been little talk of relish. Though, there's always a chance that one of the other Qs could bring back Lila's secret recipe if ELQ is ever in trouble again.