Buckingham Palace Sets The Record Straight On When Prince Harry Found Out About The Queen's Death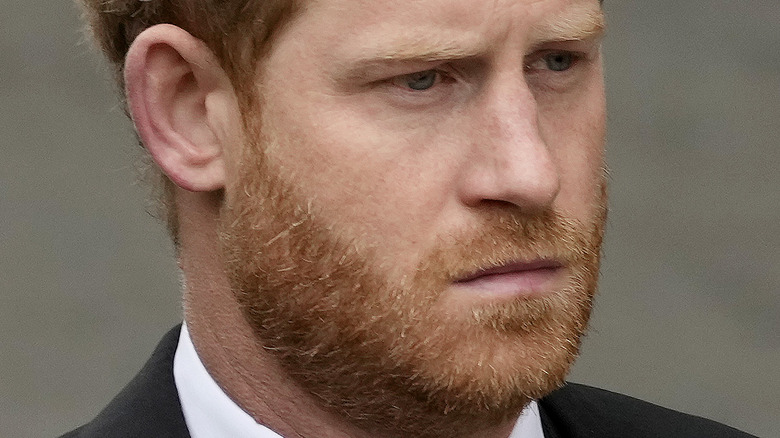 Christopher Furlong/Getty Images
Buckingham Palace has spoken out about how Prince Harry, Duke of Sussex, really found out about the death of his grandmother, Queen Elizabeth II, on September 8. There has been plenty of speculation about how Harry was really informed about what had happened to his grandmother, as Harry's relationship with the royals has been notably strained before the queen's death. Although Harry rushed to Balmoral to be by the queen's side after her health took a turn for the worse, he did not accompany his fellow family members (it's thought his brother, William, Prince of Wales, drove Prince Andrew, Duke of York, and Prince Edward, Earl of Wessex and his wife Sophie, Countess of Wessex, at least part of the way, per Daily Mail) on the journey and instead made the trip alone.
Sadly, we know Harry did not make it to the queen's side before she died, arriving after the news of her death had been made public, per Access. That sparked some speculation about if Harry was told in good time before the whole world found out about the death of the monarch and who knew before he did — and now, Buckingham Palace is hitting back at all the gossip.
Did the prime minister find out about the queen's death before Prince Harry?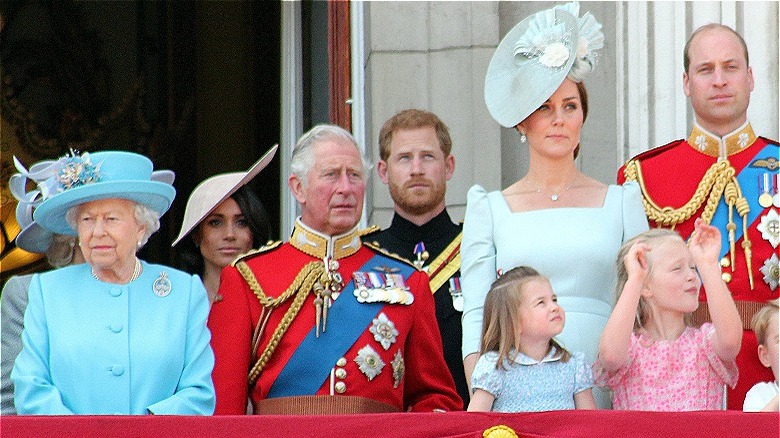 Lorna Roberts/Shutterstock
One day before Queen Elizabeth II's funeral took place on September 19, The Telegraph published a bombshell report claiming Prince Harry may have found out about the queen's death after British Prime Minister Liz Truss. It claimed the Duke of Sussex was supposedly only told about the queen's passing around five minutes before the whole world knew, and was apparently one of the last, if not the last, of the inner circle to find out.
In a statement though, Buckingham Palace assured people, "The public was only informed after every family member had been informed," suggesting Truss did not know before the queen's grandson. However, they did not specify when exactly the news was broken to Harry or how. 
The Daily Mail claimed that Harry did find out a few minutes before it was made public, but stated that was because he was unreachable while on his flight and could only be informed after it had landed. The outlet also claimed The Telegraph's original version of the story had been removed and changed to a version that claimed Harry had been treated the same as the rest of his famous family members, after it was suggested by some his lateness to know the news was due to his widely reported rift with the royals and he could have been informed earlier.
Prince Harry's tribute to the queen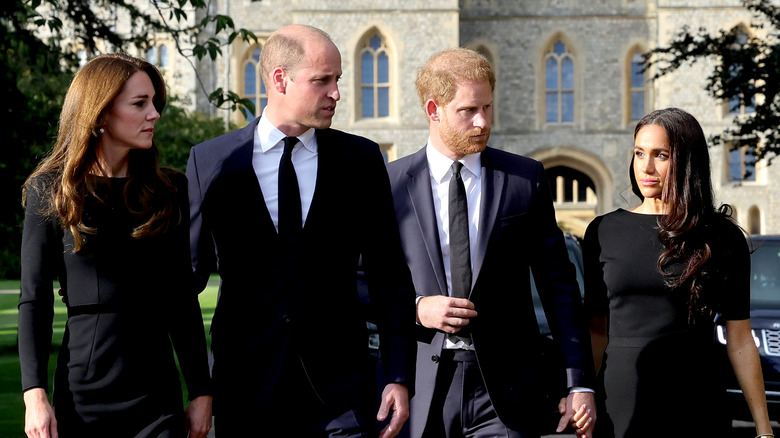 Chris Jackson/Getty Images
Prince Harry paid a heartbreaking tribute to his grandmother, Queen Elizabeth II, via his Archewell website a few days after her death on September 12, sweetly referring to her as "granny." The royal wrote, "She was globally admired and respected. Her unwavering grace and dignity remained true throughout her life and now her everlasting legacy. Let us echo the words she spoke after the passing of her husband, Prince Philip, words which can bring comfort to all of us now: 'Life, of course, consists of final partings as well as first meetings.'"
Harry has been spotted at a number of public events honoring the late monarch in the wake of her death, standing by his famous family as they said goodbye. One of the more surprising reunions came mere hours after the death of the queen when Harry and his wife, Meghan Markle, Duchess of Sussex joined his brother, William, Prince of Wales, and Catherine, Princess of Wales for a walkabout at Windsor to see the masses of flowers and tributes left by well-wishers. The move came as a bit of a surprise to some royal watchers, as it's been no secret that the royal brothers hadn't exactly seen eye to eye in the last few years of the queen's life.