The Lifetime Movie You Should Watch If You're A Taurus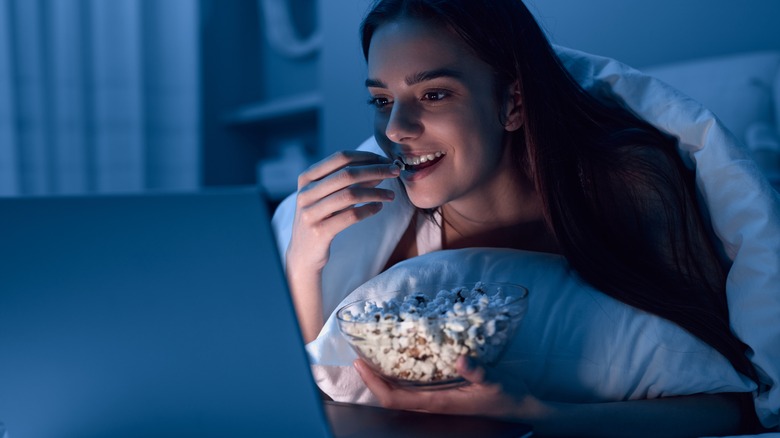 Max kegfire/Shutterstock
Tauruses love seeing themselves in film characters, and strong morals make a protagonist especially easy for the grounded bull to root for. According to Elle's breakdown of the sign, Tauruses may even need a main character who embodies some classic Taurus stubbornness and black-and-white morality, especially if they eventually learn to adapt and change for the better.
Taurus isn't one to love an anti-hero unless they're hot enough to cancel out their wrong-doing, since the bull is secretly one of the most sensually driven signs, per Bustle. The chemistry between characters has to be strong enough for Taurus to forget their practical anxieties concerning the movie's narrative and fully invest themselves in the relationship's success.
In terms of movies with over-the-top drama and intrigue, nobody does it better than Lifetime, and the channel's content is perfect for getting you through a long quarantine. And whether Tauruses are looking to soak up the Christmas spirit — which is also a Hallmark Channel speciality – or catch an indulgent biopic, the Lifetime channel's got them covered.
The bull is always in the mood for romance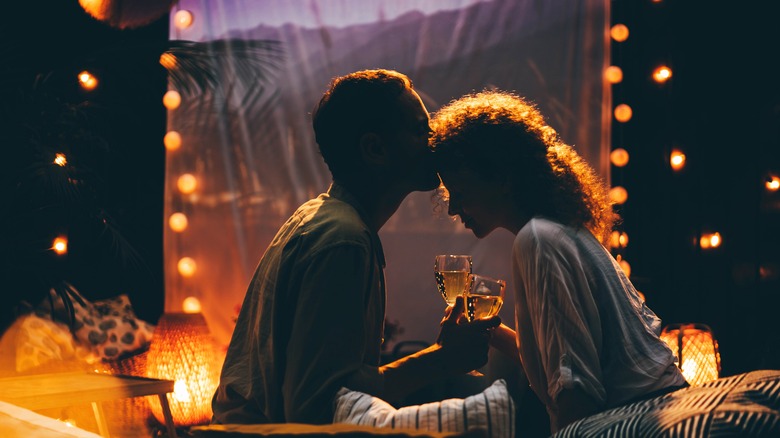 Mariia Korneeva/Shutterstock
Per Ranker, Tauruses love a movie that quenches their thirst for aesthetic perfection while engaging them emotionally. For the bull, the outlet's users up-voted Baz Luhrmann's adaptation of "The Great Gatsby," a visual spectacle that challenges the value of luxury in the scheme of life and love.
The original "Top Gun" and "Rocky" movies also made Ranker's Taurus must-watch list, which makes sense, since Taurus loves to get lost in their own nostalgia. For the Taurus always down for a theatrical performance, "Moulin Rouge" is also a great pick from the list. 
But, ultimately, one classic stands out as the perfect two hours for the earth sign, who's always craving romance, comfort, and a dream home. The 2004 film adaptation of Nicholas Sparks's "The Notebook" will check all these boxes, plus give the earth sign an excuse to let out the tender feelings they've been keeping bottled up, per Elite Daily.
With these examples in mind, it's easy to find the perfect Lifetime movie for the bull to get in their feels while relishing a strong cinematic aesthetic. Real-life characters also appeal to practical Taurus, and they can look at Lifetime's biopics as a compromise between an escape and a dreamy reality.
Real-life drama needs larger than life stars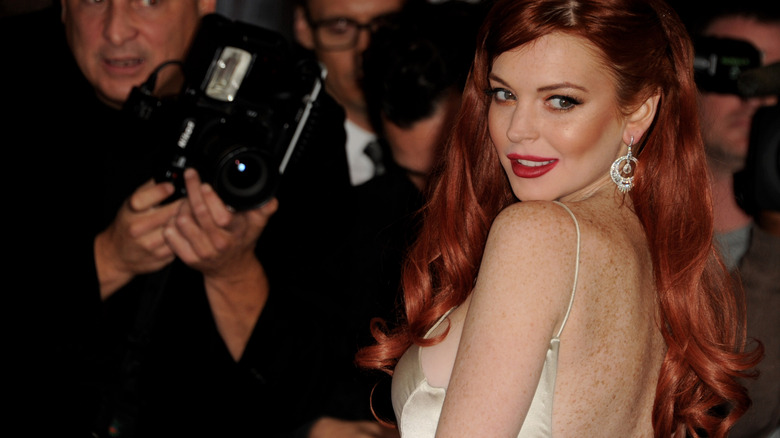 Kevin Winter/Getty Images
Per Reel Good, one of Lifetime movie club's most romantic movies is 2018's "Harry & Megan: A Royal Romance," which will allow Taurus to live their royal dream while peering behind the curtain of a real-life couple. Plus, there's even a 2019 sequel, "Becoming Royal," so viewers can stay in their daydreams that much longer. Country Living also features "Harry & Megan" as a top biographical hit and recommends "William & Kate" as one of the channel's best romances. 
For the Taurus who loves the comfort of a familiar face on-screen, there are plenty of celebrities who have starred in Lifetime movies. And one of Lifetime's most buzzed about movies in the last decade was 2012's "Liz & Dick," which is sure to keep Taurus entertained from start to finish.
The reviews characterize "Liz & Dick" as both laughably bad and an absolute must-see Lifetime movie, as the vehicle for Lindsay Lohan's ill-fated acting comeback, which The Hollywood Reporter dubbed "stunt casting." The outlet also called the film "an instant classic of unintentional hilarity" and compared it to an extended "Saturday Night Live" sketch. Taurus has a reputation for being too self-indulgent, but the film's protagonist Elizabeth Taylor will make the bull's high-maintenance lifestyle look quaint. It's the perfect vehicle for romantic Taurus to enjoy its central relationship and over-the-top 1980s costuming while learning to take their entertainment a bit less seriously.