Why Interior Designers Can't Wait To Ditch Pleated Lampshades In 2022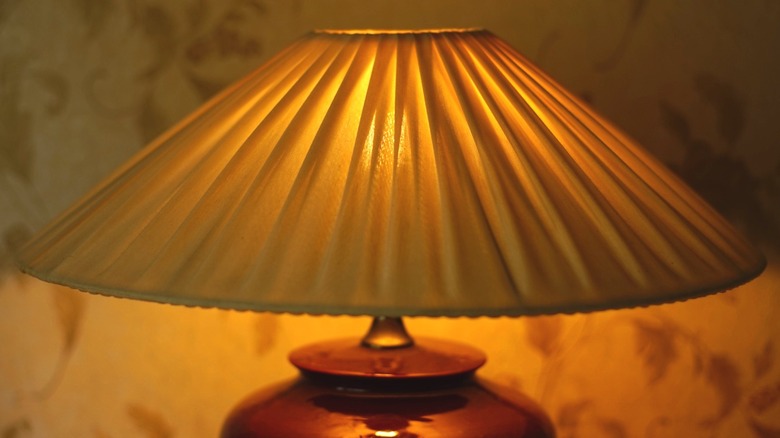 newsony/Shutterstock
If you're interested in interior design, you might recognize pleated lampshades as a staple of '80s and '90s home decor (per Form Fluent). Even before then, it was the popular shade choice of the Victorian era, possibly first introduced as a DIY lampshade in a German paper folding book. As trends do, the pleated lamp shade has made a comeback in recent years, now being featured in indie Etsy shops (per MyDomaine) and high-end decor companies alike.
With styles like granny chic replacing other design trends, it's no wonder that old-school decor like the pleated lampshade has successfully resurged in popularity. According to domino, the retro style was given a modern refresh by using cotton or paper material to create a super crisp pleat. Form Fluent also mentioned the use of interesting colors and unique shapes in light fixtures and lamps to modernize the pleated shade.
This mixture of retro and modern surely contributed to the rise of the pleat, but that doesn't necessarily mean the trend is here to stay. According to some interior designers, this is a design fad that they can't wait to ditch in 2022.
Interior designers dislike the dustiness of pleated lampshades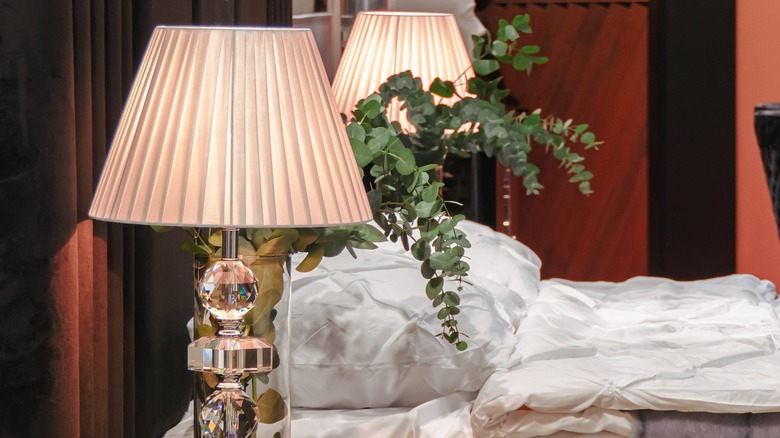 Dizfoto/Shutterstock
While pleated lampshades are definitely an interior design trend with aesthetic value, they do have a major practical downside. As mentioned by the Youtuber DIY with KB, also known as Kiva Brent, the pleated textures of these lampshades make them especially prone to holding dust. Not only can this alter the color of the shade, but it also can make a space harder to breathe in.
It's important to consider the lighting of your space when making interior design choices. As a lampshade cleaning guide will tell you, pleated lampshades typically require maintenance more often than other shades because of the dust accumulated by the pleats (per ProHousekeepers). While skipping out on dusting may not seem like a big deal, these pesky particles can impact both the effectiveness and quality of a light fixture, greatly changing the atmosphere of a space (per D&H Window Cleaning).
Despite this, the most important element of interior design is ensuring that you feel comfortable in your space. So, don't worry if you're still in love with pleated lampshades post-2022, because your interior should ultimately make you happy. Just make sure you take the time to clean them properly.
There are several lighting alternatives to the pleated lampshade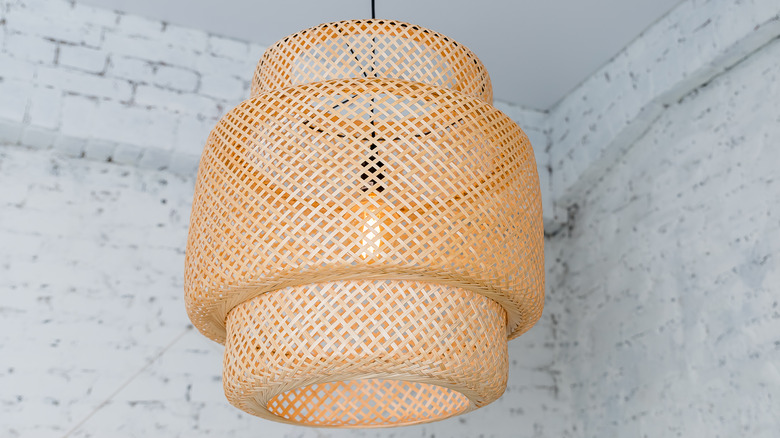 Yulia YasPe/Shutterstock
If you're ready to take a page out of the interior design book, then you may be looking for some alternatives to the pleated lampshade to make your space's lighting more interesting.
Natural and raw materials have been very popular lately (per The Spruce), so woven, rattan, or burlap lampshades are easy-to-find alternatives. If you're going for a more contemporary or industrial look, then experimenting with the many types of metal lampshades could also add an extra dimension to your home's interior (per Antique Lamp Supply).
As explained by Homes and Gardens, sculptural lighting is a popular trend for 2022, with more focus on the architectural shapes of a lamp base than the design of the shade. This corresponds with trend findings from The Zoe Report, which mentions art-deco lamp bases and pottery-style ceramic lamps as popular style choices for interior design lighting. In these instances, the shade should be complementary in style, but simpler than the lamp base, making a modern, neutral lampshade a great choice.