Why An Insider Says The Queen's Funeral Could Be A Turning Point For William And Harry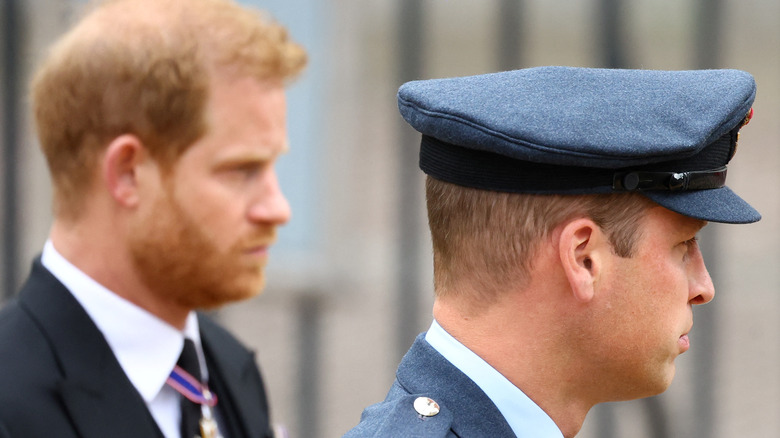 Wpa Pool/Getty Images
The royal family seemed to display a united front during Queen Elizabeth II's funeral. Even so, much attention has been placed on their relationship with Prince Harry and Meghan Markle, who stepped down from royal duties in 2020 and moved to the United States. Since the queen's death on September 8, royal experts have told publications such as The Express that Harry, the Duke of Sussex, must be feeling lonely and isolated, having to arrange his own travel back to the UK and hire private security in his home country. 
"Being reminded of the fact that if he had been part of the family still, he would have been looked after by them but he had to go his own way because he said he would," said author Douglas Murray. "Now he's seeing some of the costs of it. One of the costs of it is a certain coldness from members of the family." However, King Charles mentioned his youngest son in his first official speech, offering a show of support by saying, "I want also to express my love for Harry and Meghan as they continue to build their lives overseas." (via Metro). Now, many are focused on the interactions between Prince William, Prince of Wales, and his younger brother, hoping the two sons of Princess Diana will finally heal their perceived rift.
Experts believe the queen's funeral was an opportunity for the brothers to bond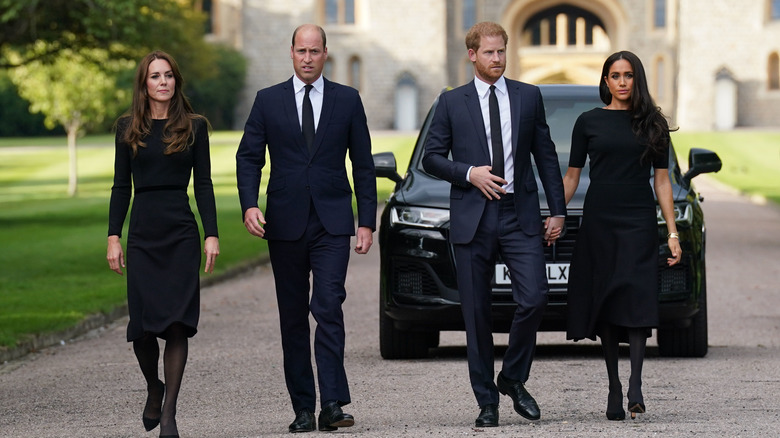 Wpa Pool/Getty Images
According to ET, Prince William visibly encouraged his brother Prince Harry and his wife, Meghan Markle, to sit with him, Kate Middleton, and their children, during the queen's funeral. The week prior, William also invited the Duke and Duchess of Sussex to join him and his wife in greeting mourners outside of Windsor Castle.
A royal insider told US Weekly, "The Queen's funeral gave the royals a window of opportunity to heal as a family ... They know it's what the queen would've wanted and are trying to move forward from the past." It seems the brothers are in agreement on at least one thing — the focus should be on their late grandmother. "William knew very well that it was no time to be holding onto grudges or distancing himself from his brother," the source claims. "They needed to put on a united front and pay their respects for her sake as well as the monarchy as a whole and the people she served so tirelessly during her reign."
As for what the future holds for the royal brothers after the queen's funeral, it could depend on what's revealed in Prince Harry's upcoming memoir. According to BestLife, William, Prince of Wales, and Catherine, Princess of Wales, are cautious around Harry because of the upcoming book. Only time will tell what's included.