Trump's Hot Take On Biden's Seat At The Queen's Funeral Has Twitter Blowing Up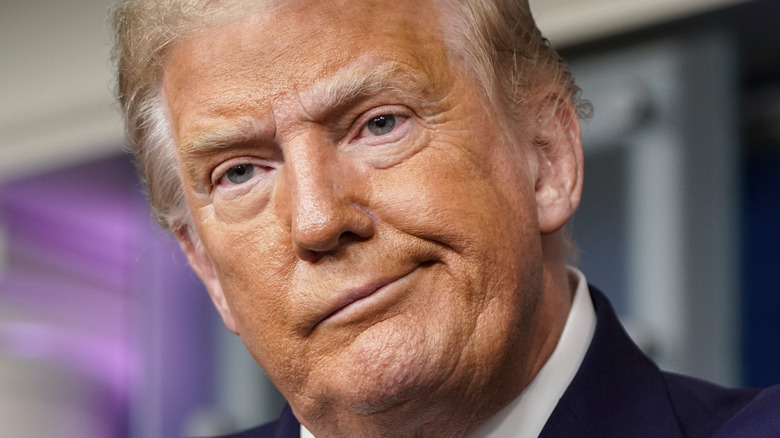 Joshua Roberts/Getty Images
The most heartwrenching moments from Queen Elizabeth's funeral included the solemn procession through Westminster Abbey, the queen's personal bagpiper playing one final melody, the final message from King Charles atop the flower-bedecked coffin, and the royal family trying to hold back their emotions. However, Donald Trump was saddened by the service for a very different reason.
He must surely have been disappointed at not going to the funeral in the first place. For reasons of space, only President Joe Biden and First Lady Dr. Jill Biden were asked to attend, according to USA Today, and they weren't allowed to bring a delegation with them. Instead, all the living presidents have been invited to a Service of Thanksgiving at Washington National Cathedral in September 2022.  
Trump noticed that the Bidens were seated in an unexpected place for the queen's funeral: fourteen rows from the front, near the representatives from the Czech Republic, Poland, and Switzerland. He interpreted it as a not-so-subtle jab at the president's reputation on the world stage. He posted a photo of the seating arrangements to his Truth Social account with a disdainful note (via Twitter) that read, "This is what's happened to America in just two short years. No respect! However, a good time for our President to get to know the leaders of certain Third World countries."
The former president then made an eyebrow-raising claim about his own seating prospects.
Donald Trump claims he would have gotten a more honored seat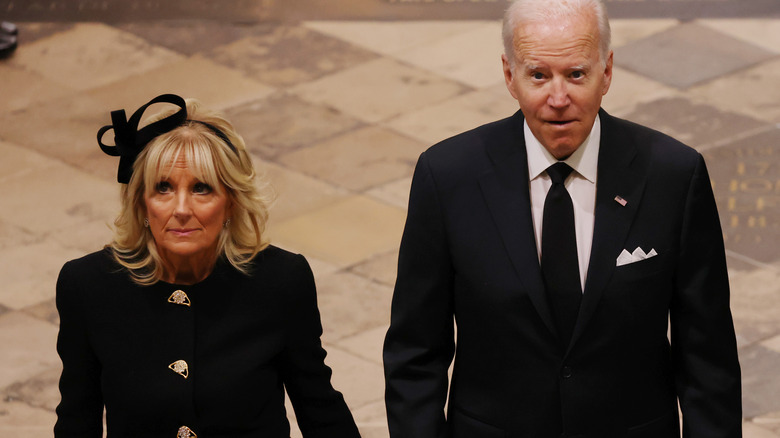 Wpa Pool/Getty Images
Donald Trump believes that if things had turned out differently in 2020, he would have been given a more honored spot in Westminster Abbey than the one President Biden had. "If I were president, they wouldn't have sat me back there — and our Country would be much different than it is right now!" he wrote on Truth Social (via Twitter). He later added (via Newsweek), "In Real Estate, like in Politics and in Life, LOCATION IS EVERYTHING!!!"
While some have speculated that the Bidens were put into the 14th row because they ran into traffic issues on the way to the queen's funeral, the truth is much less dramatic. According to The U.S. Sun, the seating arrangements were made well in advance, with the front spots occupied by the immediate royal family. Following them were the current and former British Prime ministers, as well as the leaders of British commonwealths. Foreign dignitaries were placed further back.
Twitter users disagreed with Trump's assessment. "We now have a president that doesn't care where he sits at a funeral," commented one. "He knows it's not about him and he's there to pay respect!" One user also predicted, "Trump would have elbowed and pushed his way to the front as he has done in the past in meetings with world leaders. Of course THIS time, he was not invited." Actor David Cross simply said, "What an insane, needy 8 year old."