Is My Lottery Dream Home Real Or Scripted?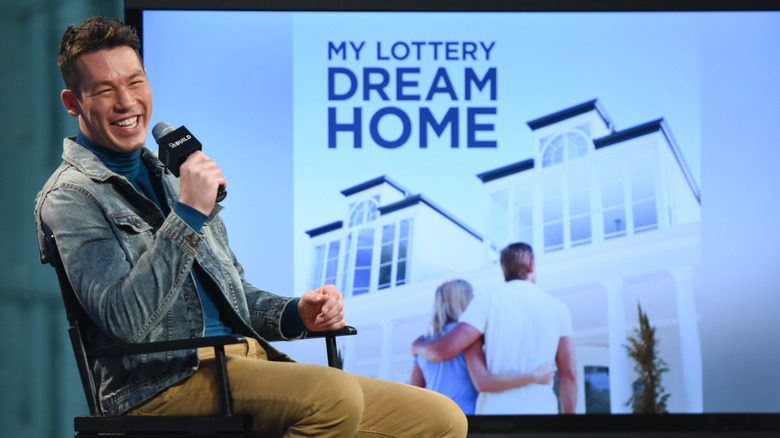 Dave Kotinsky/Getty Images
From unique and idyllic shows like "Tiny House Hunters" and "Beachfront Bargain Hunt" to the classic "House Hunters," HGTV has no shortage of house shopping TV shows (per Buzzfeed). Typically, these programs feature a recurring host who shows real-life couples potential properties to purchase.
By the episode's end, the contestants reveal which house they are committing to. Overall, it's a great chance to see exciting properties from various locations, even if you end up yelling at the screen because the couple chose your least favorite listing.
"My Lottery Dream Home" is a version of these house hunting shows with a niche twist. As you can probably tell from the title, this show features individuals who have allegedly won the lottery (per HGTV). Because the contestants have significant money to spend, the houses shown are often interesting and unique. However, they are also presented with more humble houses reminiscent of their pre-lottery lives, as some individuals, like some noted celebs, prefer to live normal lives.
First aired in 2015, "My Lottery Dream Home" is an ongoing series starring host David Bromstad, who recently found his own dream home. While the lottery-winning content is definitely entertaining, it also has many fans wondering if the show is legit or actually scripted.
My Lottery Dream Home features real lottery winners
When considering whether "My Dream Home Lottery" is real or scripted, it's important to note that the show does feature actual lottery winners. Television executive Mike Krupat shared the show's initial struggle to find lottery winners willing to sign on to the first season with Mediaweek.
"We reached out to close to 1,000 lottery winners, and we got 10 to appear on our first season," said Krupat. "Lottery winners don't really need the exposure, and they don't need the money to participate. The truth is they have great stories to tell, which is appealing to them."
The legitimacy of the lottery winners featured in the show can be corroborated through other media sources that include interviews with them or make note of their winnings.
For example, Anthony Colligan, who was featured in the seventh season of the show, is noted by Powerball as having won the Louisiana Lottery Powerball in June of 2018. Since then, he's also discussed the experience of looking for houses in the Lafayette area of Louisiana with David Bromstad through the show, per The Advocate.
Similarly, Charity Stivason of Leechburg, Pennsylvania, was noted by TribLive as having won The Pennsylvania Lottery in 2020 before appearing on the show in season twelve of "My Lottery Dream Home" (via Play Pennsylvania). Stivason's episode was especially moving, as she had recently lost her husband before winning the money.
It's unclear if the lottery winners are actually house hunting
Even though we can confirm that "My Lottery Dream Home" features real lottery winners, it's harder to know if the rest of the show is legitimate. As mentioned on Showbiz Cheatsheet, shows like "House Hunters" may feature couples that were recently house hunting, but they are required to be under contract for a house by the time they sign up for the show. So, when the couples are presented with three homes by the host, they have already bought one of them. Some fans of "My Lottery Dream Home" believe that the show works similarly, taking to Reddit to share their thoughts.
One user writes, "If you watch the homes that [Bromstad] shows, there is always at least one with furniture, pictures on the wall, and stuff in the kitchen. If you watch after they have purchased the home, you will see the same furniture, pictures on the wall, and stuff in the kitchen. They have actually already purchased their home before David even comes on scene."
Similarly, another user reports, "There was an episode taped in my hometown, and I was able to find the three homes on Zillow. The one she chose she had actually purchased months before they taped it."
With these comments in mind, it's likely that "My Lottery Dream Home" takes a page out of the "House Hunters" book by featuring lottery winners who have already bought a home. Either way, the show is still super enjoyable!