Which Hallmark Christmas Movie Starred Sarah Paulson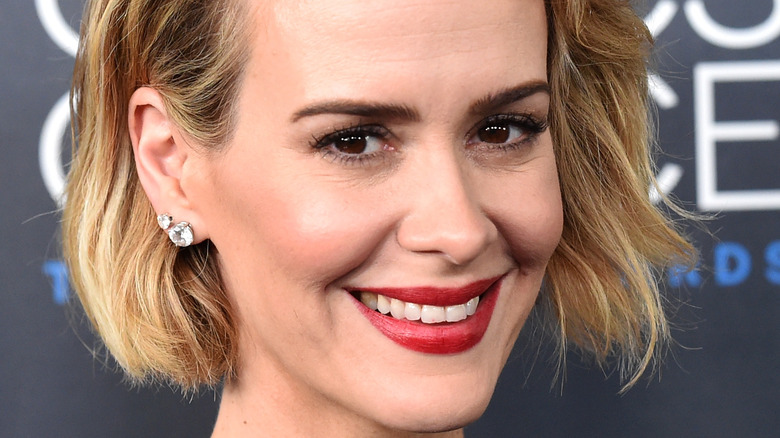 Jason Merritt/term/Getty Images
Sarah Paulson has been an industry stalwart for a while now, having started her career on the stage before transitioning into high-profile television roles on the likes of "American Horror Story" and "Ratched," alongside movies such as "Glass" and "12 Years a Slave" (via IMDb). Funnily enough, while plenty of actors' lives work out exactly how they envisioned, Paulson admitted to GQ, "If my career had turned out like the fantasy I had of what it was going to be, it would never have made me happy."
The queer icon, who's been in a relationship with fellow actor Holland Taylor for several years, acknowledged that finding success earlier wouldn't have suited her, "Because when you're young, and things come super easily to you, and you have success right out of the gate, you're liable to think that's how it actually works. You start to think you don't need to be fully prepared or committed to have these things meet you." Paulson appreciates everything more as a result. 
A young Paulson appeared on "Law & Order" in her first onscreen credit, but the actor doesn't regard her performance fondly. "I didn't know you could turn your head on camera. I moved like I had a neck brace on the whole time," she admitted to Harper's Bazaar. Fortunately, when she returned to the series almost two decades later, Paulson was ready. That very same year, the "AHS" veteran popped up in a Hallmark Christmas movie, too.
The prolific actor played a mother caring for her sick child
Over the years, the Hallmark Channel has become must-watch television, so it's unsurprising various A-list actors have popped up in their movies during that time. Among them was none other than Sarah Paulson. The "American Horror Story" star appeared in the 2010 film "November Christmas," which follows a father who helps his daughter experience all of the year's holidays early after she's diagnosed with cancer.

Bustle confirms Paulson plays the young girl's mother, noting the movie is "one of Hallmark's more tear-jerking holiday films." The movie was quite a star-studded affair, with the legendary Sam Elliott and "Sex and the City" alum John Corbett also featured. "November Christmas" is based on the short story of the same name by Greg Coppa, per Rhode Island's The Independent. There are no critic reviews on Rotten Tomatoes, but the film has a 71% audience rating. 
"Refreshing movie, about hope, love, and faith!" wrote one user, who also noted it's "worth watching every Christmas." Seemingly damning the film with faint praise, another viewer described "November Christmas" as "a sweet and perfectly predictable movie."
November Christmas wasn't Sarah Paulson's first Hallmark movie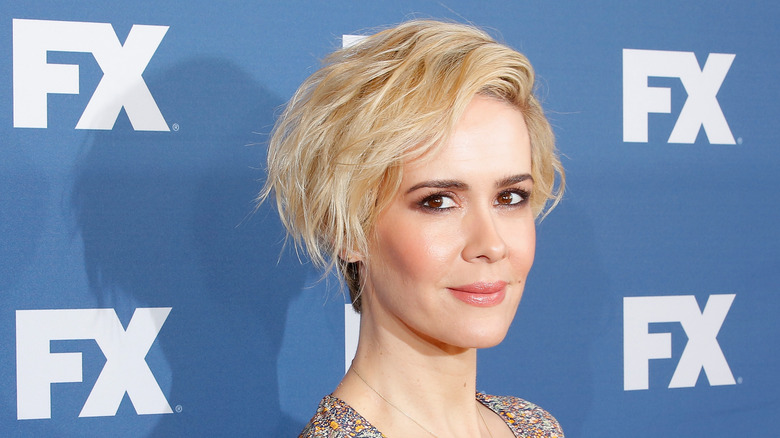 Jemal Countess/Getty Images
Just one year after making her onscreen debut on "Law & Order," Sarah Paulson also appeared in a Hallmark movie for the first time. In 1995, the prolific performer starred in "Friends at Last" opposite the iconic Kathleen Turner. She reminisced about her time on the project during a chat with Variety, describing working with Turner as both a dream come true and a lesson in the importance of professionalism. 
"Kathleen is incredibly focused and dedicated, and she's not a complainer," Paulson recalled, despite the actor being in near-constant discomfort due to rheumatoid arthritis. The "American Crime Story" star continued, "It was a very early lesson for me to be aware of people around you, to keep whatever's going on with you privately private, and show up and do your work." Likewise, Paulson now understands the importance of consistency. 
She asserted, "Slow and steady wins the race. There's nothing definable about me, so I don't ever feel like I've gotten locked into one type of person that I play. I think you have a better shot at longevity if you can immerse yourself into different parts without anyone getting used to seeing you in a particular way." The actor typically appears in darker, more emotionally taxing fare, but as she told The Guardian, it's about finding joy where she can.