The Law And Order Episode You Forgot Starred A Young Sarah Paulson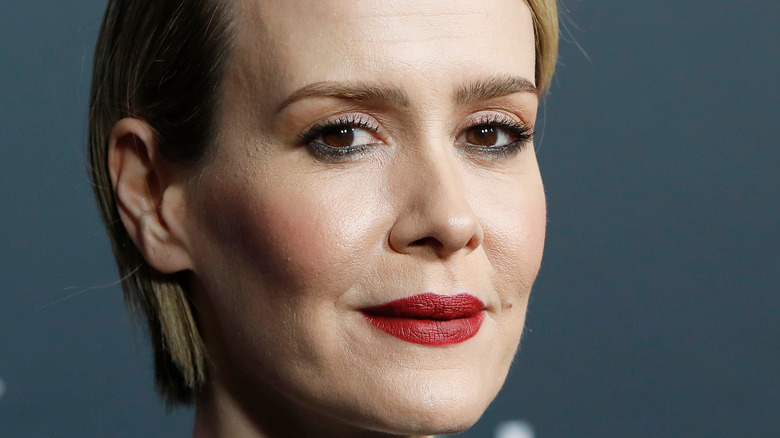 Kathy Hutchins/Shutterstock
"Law & Order," one of the longest-running dramas to ever air on television, according to Entertainment Weekly, is good for keeping viewers on their toes with storylines "ripped from the headlines" that take us from the scene of the crime to the courtroom of justice. One of the ways they manage to keep stories fresh is by bringing in talented guest stars to play the roles of suspects, victims, witnesses, or advocates. It's even become an unwritten rite of passage for an actor to have had such a guest role on the police procedural. Are you even an actor if you haven't been on at least one "Law & Order"? 
The roster of guest stars is impressive. Once the show started to pick up in popularity and respect, the guest stars started to be more established actors as well. However, part of the fun in watching reruns is to spot the "before they were stars" appearances, such as Vera Farmiga, Philip Seymour Hoffman, and Idris Elba (via CinemaBlend). Wolf Entertainment seems to have a knack for spotting talent on the rise. One of the many notable actors who were lucky enough to cut their teeth in the fictitious streets of NYC was a very young Sarah Paulson.
How many times was Sarah Paulson on 'Law & Order'?
In 1994, Sarah Paulson got her first on screen role in the Season 5 episode of "Law & Order" titled "Family Values" (via PopSugar). We are introduced to her character, Maggie Conner, being told that her mother is missing. From her very first line delivered, one can tell that there is something special about this actress. A lot of Paulson's distinguishing acting characteristics can be recognized as she fusses over giving Detective Lennie Briscoe a coaster, because that's what her Mom would want. You can also see it in her cadence describing the last time she saw her mom, the way she rings her hands with worry, and how she lets those tears well up! It's all very classic Paulson.
As the episode goes one, we learn that Maggie has been having an affair with her stepfather, Steve. Once it becomes clear that Steve's only objective is to save his own skin, Maggie confesses that Steve is the actual murderer. When her mother found out about the affair, there was an argument and Steve murdered her, forcing Maggie to help clean it up. Paulson gives a very convincing performance of a young woman confused by the love she feels for a man who is nothing more than deceptive and selfish in his actions. By the end of the episode, Maggie makes her confession and Steve is brought up on charges. 
In 2010, Paulson even returned to the "L&O" universe with a guest appearance on "SVU." She appeared in a Season 11 episode titled "Shadow," playing a woman who murders her wealthy parents for her inheritance. It's kind of a modern day Lizzie Borden.
Where else can you see Sarah Paulson?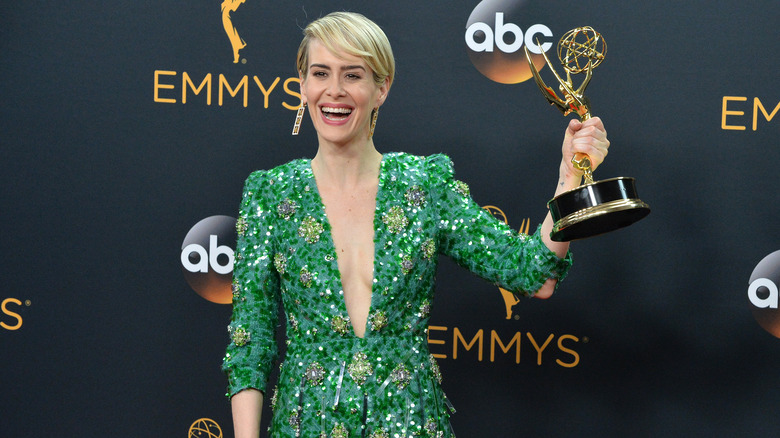 Featureflash Photo Agency/Shutterstock
Shortly after completing her "Law & Order" guest run, Sarah Paulson went on to star in the 2011 film "Martha Marcy May Marlene." From there, her chameleon style performances started showing up on both the big screen and the small. After starring in several seasons of "American Horror Story" she continued working with Ryan Murphy on FX series "Ratched" and "American Crime Story." 
Paulson continues to fascinate, delight, and terrify audiences with the diverse roles and worlds she chooses to invite us into. Films like "Glass," "The Goldfinch," and "Run" are just a few that keep her acting resume impressive and keep us wanting more. In 2017, Time magazine named her one of the 100 most influential people in the world. "In remaining true to her distinct voice, she has been at the forefront of a generation of women who are changing the landscape of the film and television industry," "Ocean's Eight" co-star, Cate Blanchett, wrote about Paulson.
 We look forward to watching Paulson in just about any role, but the role of risk taker and leader may very well be our favorites.