Lip Reader Uncovers What Prince Harry And Prince William Had To Say During The Queen's Funeral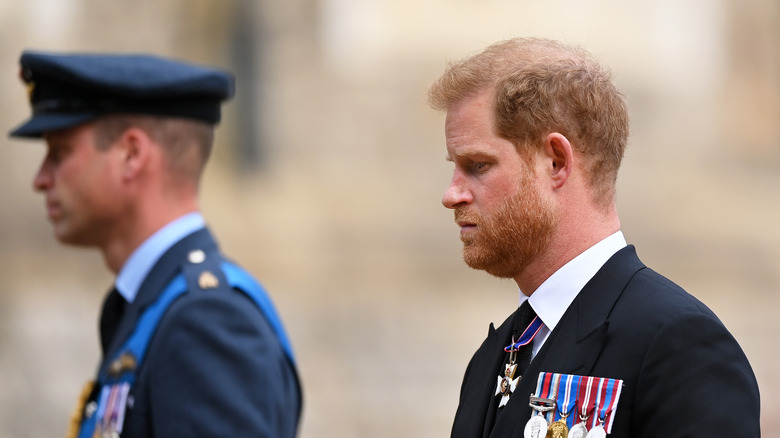 Justin Setterfield/Getty Images
Prince Harry, Duke of Sussex, and William, Prince of Wales, have had a rocky relationship over the last few years. The brothers have not been on the best of terms for years, and not even Queen Elizabeth II's death could fully mend their deeply-rooted rift. The trouble seemed to have started when rumors swirled that there was drama unfolding between their wives, the Duchess of Sussex, Meghan Markle, and the Princess of Wales, Catherine Middleton. Though there were claims made that Catherine was bullying Meghan, or that the trouble was simply between the women, a source shared that it was William and Harry who were at odds.
Royal filmmaker Nick Bullen told Fox News in 2019, "It's actually that William and Harry have had a rift. I think you know, look. All brothers fall out. All families fall out. Their fallout at the moment is becoming public." Things have not seemed to improve over time.
However, when their grandmother, Queen Elizabeth passed away, it appeared the brothers put their troubles aside — at least temporarily — and came together as a family unit. Some were hoping this would be a turning point for their relationship. Many royal watchers were interested in observing the brothers' dynamic at the funeral, with a lip reader even coming forward to share what they were saying to each other during the service.
Their conversation was a bit dry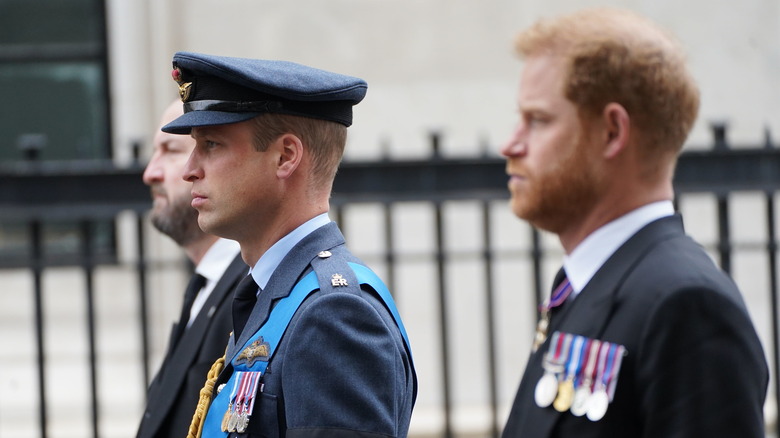 Wpa Pool/Getty Images
All eyes were on Prince Harry, Duke of Sussex, and William, Prince of Wales, during the funeral of their grandmother, Queen Elizabeth II. The service was what one royal reporter thought could be a turning point for their struggling relationship (via Us Weekly). "The queen's funeral gave the royals a window of opportunity to heal as a family," the insider shared. "They know it's what the queen would've wanted and are trying to move forward from the past."
Royal watchers were so fixated on what was going on between William and Harry during the funeral that a lip reader was watching and shared with the New York Post what was said between the brothers during the funeral. The brothers and their wives went to enter the pews of the chapel together, with Harry asking, "Shall we go through first?" William nodded his head yes.
The conversation concluded with William telling his wife, Catherine, Princess of Wales, to let the Duke and Duchess of Sussex sit down first. While this conversation was far from juicy gossip, this simple exchange may signal hope for the family as they work on mending their relationship.
Prince Harry appears to regret the rift with his brother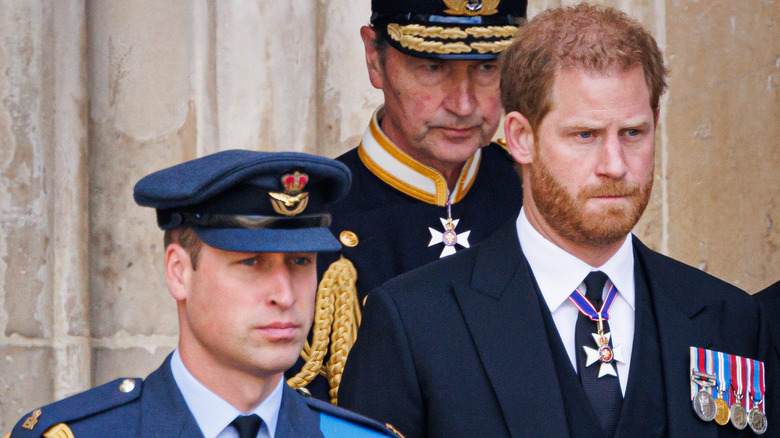 Patrick Van Katwijk/Getty Images
While Prince Harry, Duke of Sussex, and William, Prince of Wales, haven't repaired their fractured relationship, there is still hope. In fact, a body language expert believes that Harry regrets the rift between him and his brother. "During the service [Harry] was dabbing tears as well as tending to look around a lot and there were at least two occasions when his gaze that was more of a stare appeared directed at William," body language expert Judi James told The Sun. "His expression suggested sadness and possible regret."
And as they prepared to march behind the coffin again, Harry showed his most "emotional display," explained James. "Standing in line he watched as the brother he had once been so close to; the nephew he had adored playing with, and the sister-in-law he had viewed as his own sister filed in front of him with not one glance in his direction," she revealed.
Despite the tension between them, William and Harry were able to put their differences aside to honor their grandmother. Hopefully, they will do the same when the time comes for King Charles III's coronation. While no date has been set, Charles has promised that it won't be as expensive as his mother's funeral (via Sky News).