The Stranger Things Star Who Appeared In A Hallmark Movie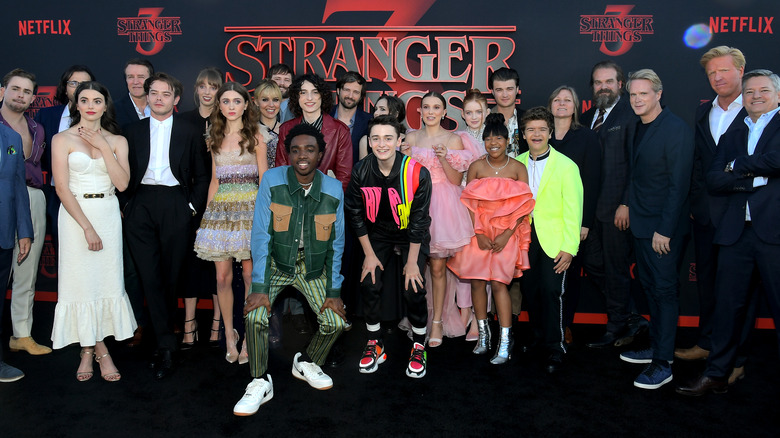 Charley Gallay/Getty Images
We may receive a commission on purchases made from links.
Hallmark truly has a monopoly on seasonal romances, releasing 40 Christmas movies in 2021 alone (via Forbes). Ever had an enemies to lovers arc with the big shot lawyer who's working to shut down your small business? Or wonder if you're dating an undercover Santa Clause? Hallmark has perfected and repeated a slew of plot lines from the ever-popular fake relationship trope to "stuck in an elevator" romances — seriously, check out 2010's "Elevator Girl." As behavioral scientist Pamela Rutledge explained to NBC, "The human brain loves patterns and the predictability is cognitively rewarding." In other words, Hallmark movies are reassuring because we know what's coming next, something which can be particularly comforting during the stress of the holidays.
Celebrities like Meghan Markle, now the Duchess of Sussex, and Betty White have ventured into the Hallmark genre, starring in "When Sparks Fly" and "The Lost Valentine," respectively. Sure, Hallmark movies might be cheesy, but some just might be worth your time this year. After all, they are "cognitively rewarding," per Rutledge. In 2013, "Stranger Things" and "Lord of the Rings" star Sean Astin also became a part of the Hallmark family, playing a hardworking Christmas elf in "Santa Switch" (via Hallmark Channel).
Sean Astin stars in Santa Switch
Sean Astin is most well known for his breakout role in "The Goonies," 1993's "Rudy," the "Lord of the Rings" franchise, and, of course, starring as the lovable Bob Newby in Netflix's "Stranger Things," per IMDb. In 2013, just four years before fighting off demogorgons in Hawkins, Astin played Eddie the elf in Hallmark's "Santa Switch." The story follows Dan, a struggling husband and father of two looking for a new job. Dan wants to impress his family during the Christmas season, but just can't seem to catch a break. Fortunately, Santa Clause comes to the rescue, selecting Dan as his replacement while he takes a much-needed vacation. Eddie, Santa's right-hand elf (played by Astin), guides Dan as he works to fill Kris Kringle's big shoes — or should we say, boots (via Hallmark Channel). Though "Santa Switch" may not be Astin's most famous movie, it just might be his most festive.
The "Lord of the Rings" star isn't a real-life Christmas elf or a middle-earth hobbit, but he does come from a Hollywood family. Astin is the son of Oscar-winning actress Patty Duke, as per The New York Times. His adoptive father is renowned actor and director John Astin (via IMDb). In 2004, Sean Astin detailed his complicated, star-studded childhood in his memoir, "There and Back Again: An Actor's Tale."
Stranger Things is returning for a 5th season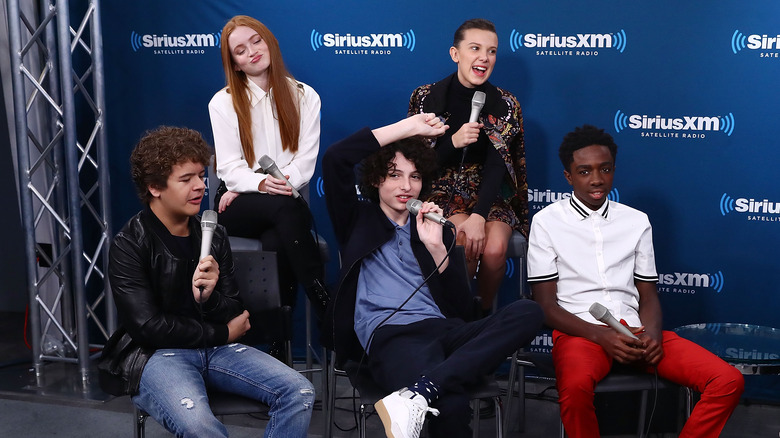 Astrid Stawiarz/Getty Images
During summer of 2022, the fourth season of "Stranger Things" was released on Netflix in two volumes, all episodes leading up to a grand face-off against the season's big bad, Vecna (via Vulture). But, as the cracks between the Upside Down and real-life Hawkins open wider, the question remains: Can the town be saved for good in Season 5? The final season won't premiere until 2023 or 2024, according to Seventeen, but fans can certainly expect a montage of 1980s nostalgia, maybe another Kate Bush shout-out, and scenes of Eleven's epic telekinetic abilities.
Sean Astin's Bob Newby might be out of the picture for good, but he still has nothing but positive things to say about the show's young stars. Noah Schnapp, specifically, has transformed as an actor since filming Season 1 at just 11 years old. Astin explained to Vanity Fair how he'd "watch this kid go there with such commitment and such specificity and such, just, soul that I was blown away..." Since its 2016 release, "Stranger Things" has brought back decades-old trends and even inspired a psychology class at one medical school.