How Queen Elizabeth Used Hatwear To Fool Everyone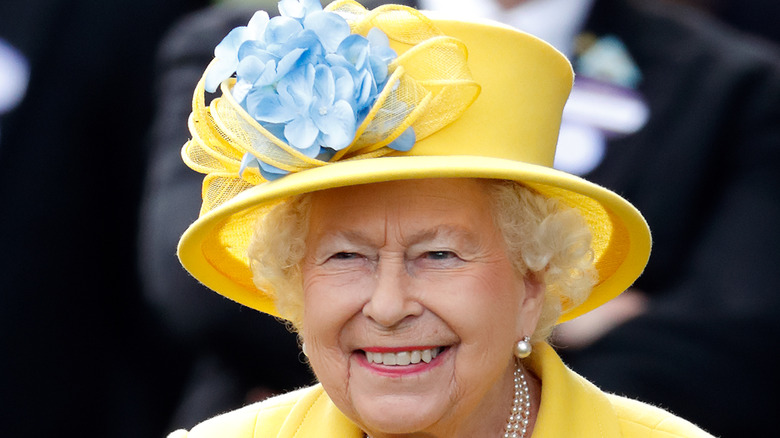 Max Mumby/indigo/Getty Images
We may receive a commission on purchases made from links.
As monarch for 70 years and as royalty for her entire life, Queen Elizabeth II was frequently in the public eye. At times during her reign, she had to change clothes up to five times a day to make sure she was wearing the right outfit for the occasion, according to Forbes. And as you might imagine, no detail was overlooked in her ensembles and the clothes and jewelry she wore to events and outings often had a deeper meaning. Some examples of her fashion diplomacy were when she met President Ronald Reagan in California while wearing a dress with California poppies embroidered on it. And when visiting Ireland in 2011, which has a long and troubled history with England, she wore a green coat and dress when she arrived, and for the state dinner there, her dress had over 2,000 embroidered shamrocks on it, per The Washington Post.
She used jewelry to tell a story, like wearing a brooch given to her for her wedding at her first public outing after Prince Philip died. And when she spoke via pre-recorded video at the United Nations Climate Change Conference about the importance and value of taking care of the environment, she wore a diamond and ruby butterfly brooch, via Newsweek. A number of royal family members followed the queen's example and wore meaningful jewelry to the queen's funeral.
You could bet on Queen Elizabeth's hat color at the Royal Ascot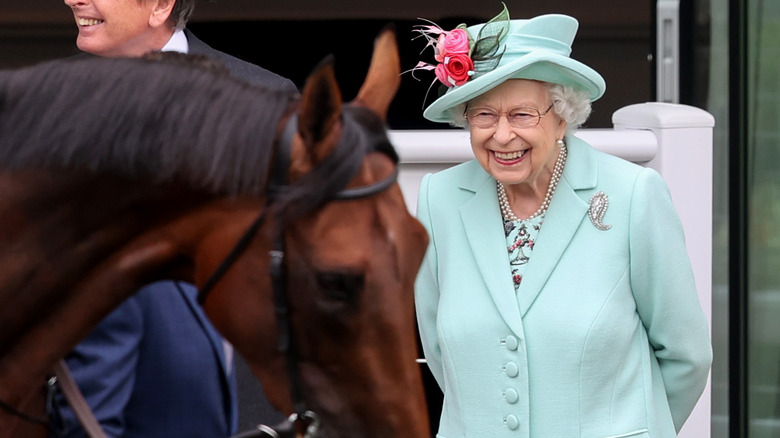 Chris Jackson/Getty Images
Queen Elizabeth generally wore brightly colored clothing when she was out in the world because she wanted people to be able to see her, according to NBC's "Today." Royal expert Daisy McAndrew told "Today" that the queen had the motto: "You have to be seen to be believed." Sophie, Countess of Wessex, said in the documentary "The Queen at 90" that the late monarch was very aware that people wanted to see her in a crowd: "Don't forget that when she turns up somewhere, the crowds are two, three, four, 10, 15 deep, and someone wants to be able to say they saw a bit of the queen's hat as she went past," Sophie said. .
And she would color coordinate like no other, the queen even had a collection of over 100 custom umbrellas to go with any outfit, per Parade. Her brightly colored outfits, specifically the color of her hat, became something to bet on at the Royal Ascot. But one year, someone leaked the hat color and ruined the fun, so things had to change. Her dresser Angela Kelly, who wrote the memoir "The Other Side of the Coin," said to solve that problem happening again, they would put out decoy hats before the big event to fool any potential bettors.
In 2021, the last ascot that the queen attended, the odds were 3-1 blue, 5-1 green, and 6-1 yellow, white, purple, according to The Sun. She wore mint green.