The Lifetime Movie That Stars Jason Momoa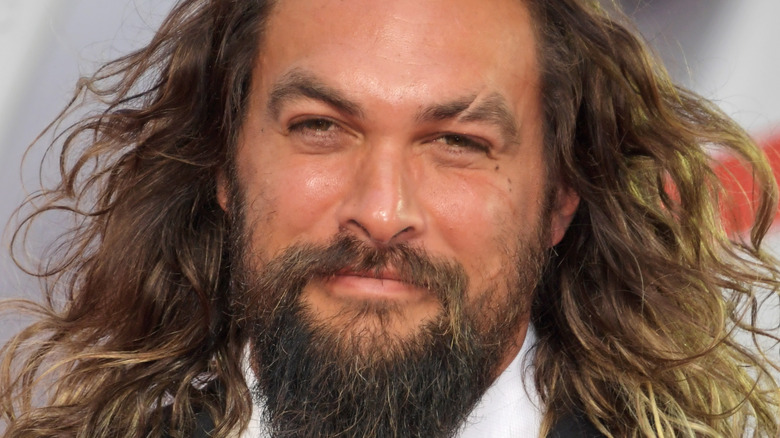 David M. Benett/Getty Images
Jason Momoa is one of the most bankable stars in Hollywood, thanks to his role as chieftain Khal Drogo in "Game of Thrones," and of course superhero Aquaman in the self-titled 2018 movie and its sequel, "Aquaman and the Lost Kingdom." As The New York Times notes, in a profile of Momoa, he actually toiled away for a long time while trying to make a name for himself. But, these days, you'd be hard pushed to find anybody who doesn't know him. 
The actor fought back against perceived criticisms of superhero movies, arguing, "I'm not someone who gets hired to play in a lot of cinema, but by being able to do a superhero movie, I can make a movie about something I really care about." Momoa pointed to the "environmental issues" at the heart of "Aquaman," which are close to the Hawaii native's heart. The lovable actor is known for being laidback, and he's not precious about his career.  
As Momoa, who was sadly broke after "Game of Thrones," told British GQ plainly, "I've been a part of a lot of things that really sucked, and movies where it's out of your hands. 'Conan [the Barbarian]' was one of them. It's one of the best experiences I had and it [was] taken over and turned into a big pile of s**t." Along the way, Momoa also starred in a Lifetime movie that, although it made sense for his brand, didn't set the world on fire. 
The Aquaman star charmed Virginia Madsen by the sea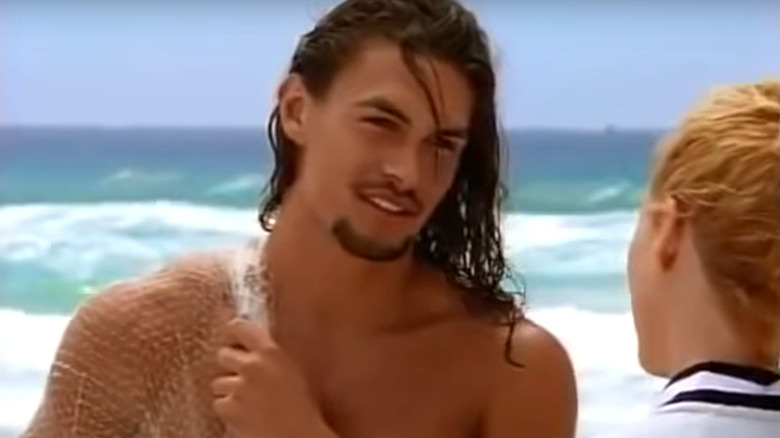 Lifetime / YouTube
According to Redbook magazine, back in 2003, following a successful stint on "Baywatch," Jason Momoa remained by the seaside as the romantic lead in Lifetime's "Tempted." Momoa starred opposite the great Virginia Madsen ("Candyman," "Elementary," and lots more) who played a woman mourning the loss of her grandmother, who brings her ashes to scatter in Hawaii and falls for his hunky character, Kala, in the process. Unsurprisingly, Momoa made an impression in the TV movie. 
There are no critic reviews for the film on Rotten Tomatoes, while the audience score is a paltry 39 percent. One user did describe the movie as "extraordinarily appealing," though, while another gushed, "I LOVED THIS MOVIE... JASON WAS FINE AS HELL." Evidently, "Tempted" did nothing to dent the hunky star's appeal since just a couple of years later Momoa landed recurring roles on "North Shore" and "Stargate Atlantis," beginning his inevitable rise. 
As the actor explained to British GQ, he's known for playing "macho characters," but Momoa has more range than audiences might realize, and indeed a strong desire to show off what he can do. "I want to be moved, I want something new," he asserted. Thankfully, "Things are changing, and even the villain roles I'm playing now are eccentric." Evidently, playing a romantic lead in a Lifetime movie was only the beginning for the talented performer. 
Jason Momoa wasn't an immediate hit in Hollywood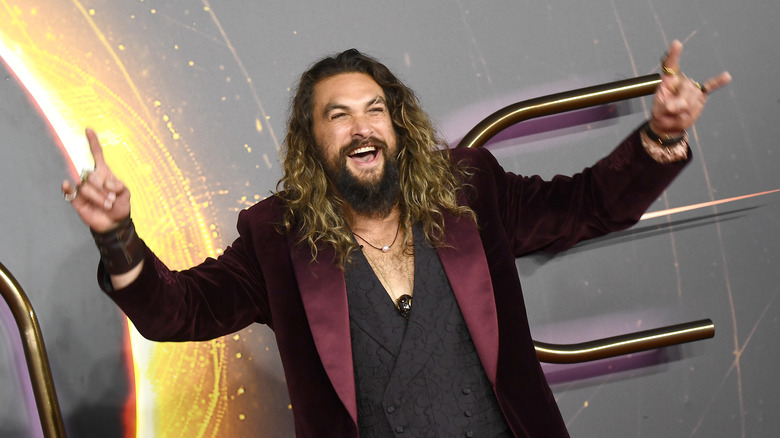 Jeff Spicer/Getty Images
Jason Momoa's net worth proves just how successful he's been thus far, and the actor's star is only going to continue rising following high-profile roles in the "Fast & Furious" franchise and "Dune." During a chat with EW, Momoa revealed that when he started out, nobody believed in him. "Everyone thought I was crazy, but I wanted to write, direct, and produce movies. I didn't want to act. ...Now I do that a lot, and I love it," he recalled. 
As far as the superhero star is concerned, sometimes he's not the right person for the project but "I love telling stories" and getting things made is more important than putting himself front and center. Momoa shared, "I like being a part of being the whole process, not just doing my acting job and leaving. I like being passionate about it, dreaming it up, seeing it through, selling it." Funnily enough, he struggled to find work post "Game of Thrones." 
InStyle points out how his character actually died before the show really took off. As a result, Momoa could barely make ends meet, describing his family as "starving." As the "Justice League" star acknowledged, "It's very challenging when you have babies and you're completely in debt." After initially finding fame as an action man, of few words, Momoa courted attention with his fun personality on social media and at various events. Thus, when he landed Aquaman, everybody was already onboard.