How To Pull Off A Circus-Themed Nursery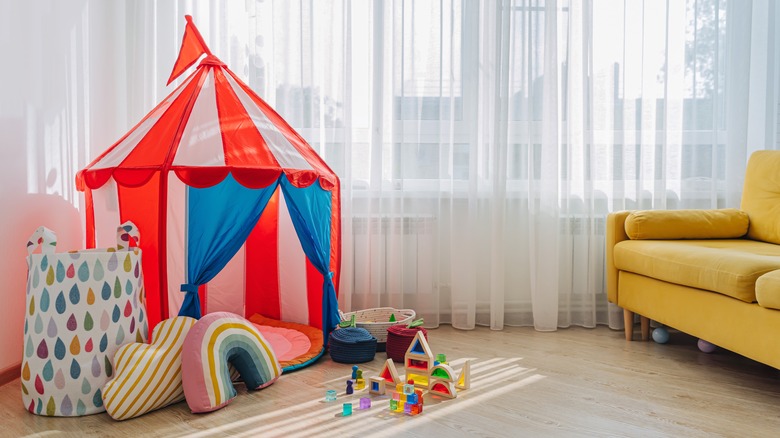 Igisheva Maria/Shutterstock
From baby names and first outfits to diapers and binkies, there are many things to think about when going through pregnancy or preparing for adoption. One of the most exciting considerations is designing your little one's room. Both fun design aspects and important practical features should be considered during this process, as mentioned in The Spruce.
For one, it's a good idea to look at the layout of your perspective nursery to begin creating a floor plan. You also want to make a list of all the items your baby will need, like a crib, changing station, and blackout curtains, to make sure your child's room is ready to welcome them home (per Gerber Life). Babyproofing the room is also important to ensure the space is safe and livable.
Practical considerations aside, a really enjoyable part of setting up your nursery is deciding on a theme. A theme is by no means necessary to your little one's nursery, but it can be really fun to design. From a fairytale nursery to an animal-themed space, there are many styles to choose from. One that is definitely worth considering is the bright and colorful circus theme.
Think bold patterns and bright colors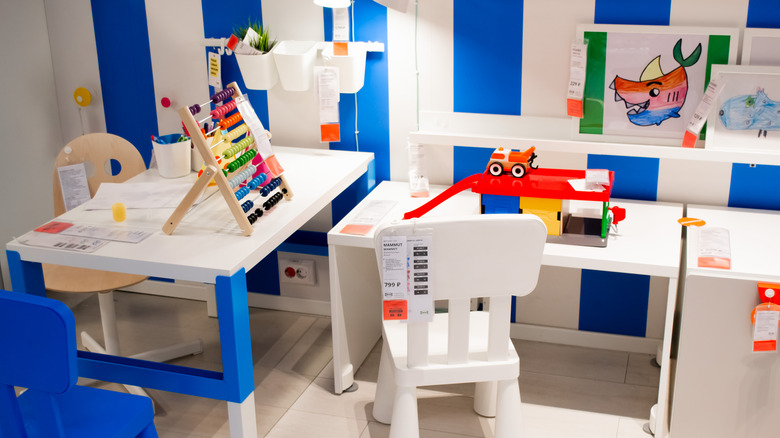 Yuliasis/Shutterstock
Some of the most obvious elements of the circus aesthetic are its fun colors and wild patterns, per Wayfair, so that is a great starting point for designing a circus-themed nursery for your little one.
A staple of circus tents, stripes or zig-zags are good patterns to consider. You can incorporate them through wall paint, ceiling murals, nursery furniture, or crib bedding.
Multi-colored polka dots and clowns are also suggestive of carnivals, according to wikiHow, making them fitting options for rugs, accent walls, or paintings. Blues, yellows, and reds are good color choices for any circus-themed nursery, as you are guaranteed to spot these bright primary colors at any local carnival.
If you want to go with a more vintage look, you can tone down your color choices and utilize more subdued combinations (via Homedit). For example, grey and white stripes with pops of red and blue would help make a space reminiscent of the carnival while maintaining a subtler color palette that won't be overstimulating to a baby.
You can also stick with the classic red-and-white combo but make it a little more vintage-looking by swapping out the white for a more distressed looking off-white or beige.
Make sure to feature plenty of circus-themed items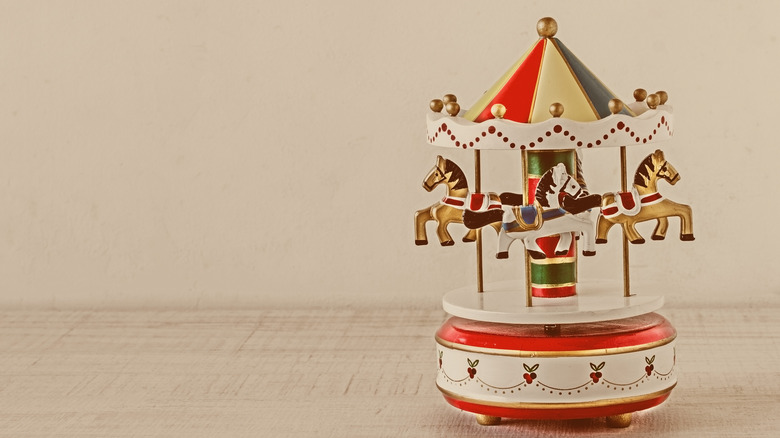 Nadki/Shutterstock
Another important part of pulling off a circus-themed nursery is incorporating carnival-inspired decor and toys. For this stage of designing, you might want to brainstorm some specific circus elements that you want to include in your kiddo's room. Here are a few suggestions to start you off.
While we don't condone the use of animals in real-life circuses, they definitely make a cute addition to a nursery. You can easily incorporate circus animals into a space through toys and stuffed animals, per wikiHow, but you can also use knick-knacks, bedding, wall decals, or pictures. For what specific animals to include, think monkeys, elephants, tigers, bears, seals, and anything else associated with the circus.
Circus performers can also be depicted through wall decals or paintings to really send home the circus theme. These can include ring masters, tight-rope walkers, animal trainers, and horse riders. If you're going for a vintage circus look, old carnival posters featuring these performers would be a solid addition to your little one's space (via Jen Spends Less).
Another recurring element of the circus that technically falls in the performer category is the clown. Clown figurines and toys are a great way to add another taste of the circus to your nursery, but if they aren't for you, you can always opt for including clown-inspired patterns and designs instead.