Gifts You Should Definitely Not Buy For Your Boss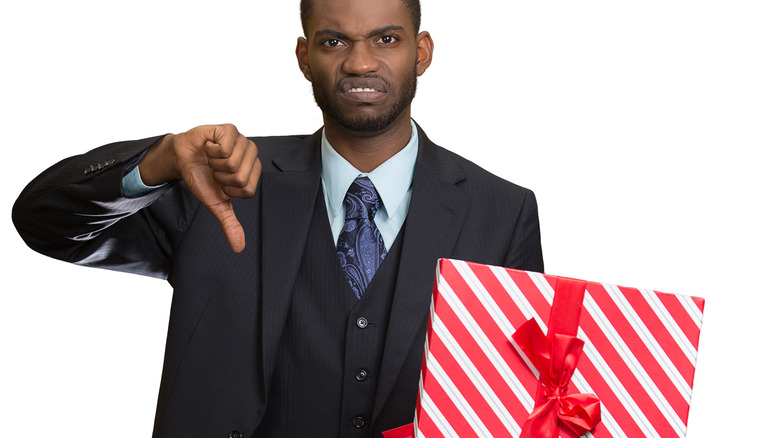 Pathdoc/Shutterstock
While it may not feel like it quite yet, the holiday season is rapidly approaching. We all know that the arrival of the holidays means gift-giving. While some people are easy and even fun to shop for, everyone has a person in their lives who is much harder to find the perfect gift for. One such person? Your boss. When it comes to getting your boss a present, most of us have no idea where to start (via Dayspring Pens). Sometimes you may not even be sure whether or not you should buy your boss a holiday gift at all.
Luckily, you're not alone in this dilemma. Seriously — very few people out there know exactly what their boss would like for a gift. Luckily, for those of us who are totally clueless in the ever-nerve-wracking boss-gifting department, some options are surefire wins no matter who your boss is, according to New York Magazine. By that same token, there are some hard and fast rules when it comes to gifts you should never give to anyone you work with, let alone your boss.
The worst gifts to give your boss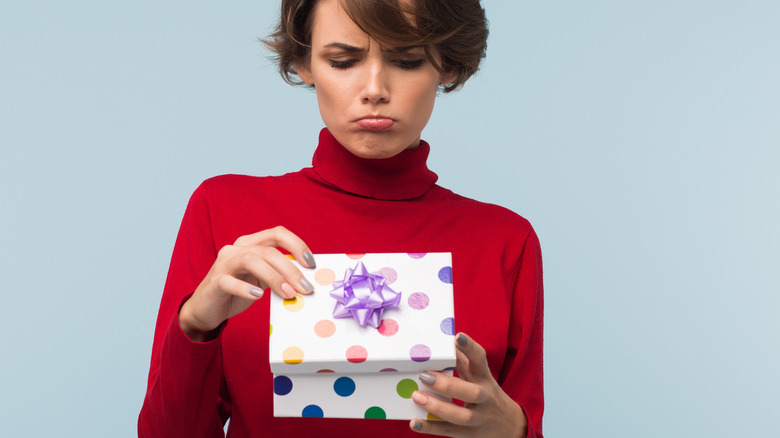 Garetsworkshop/Shutterstock
Of course, there are plenty of things you probably know not to wrap up for your boss. However, if your gifting conscience is not that strong, keep in mind that anything of the religious, political, or X-rated nature falls into this category, per ResourcefulManager. A great rule regarding things to remove from your list of potential gifts is anything meant to touch the recipient's body. We know –- this sounds strange, but this can help you add things to the no-go list that you might otherwise think are good choices. For example, stay away from clothes, jewelry, lotions, and even perfume and cologne. 
Keep alcohol-related gifts out of the equation and, of course, anything that could be considered too personal (via USA Today). You should also be sure to give the gift to your boss in person or have it sent to their office if you're located elsewhere — sending something to your boss' house is a big no-no.
Gifts that are fit for your boss
Just Life/Shutterstock
With the always-inappropriate gift list out of the way, let's get to what your boss would actually like to see when unwrapping a present from you. Sometimes keeping things simple is the best option. In this case, the simplest way to go is with a gift that works for work. Since this is how you know your boss, it's a safe option. If you work in an office, desk decor is a great choice (via Business Insider). Tech items, mugs, and even plants for their desk all fall into this category. A tried-and-true gift basket or box of goodies is also a surefire win. Choose a well-known option like Harry & David, or even make your own homemade treats. Who wouldn't want to receive that?
If none of this feels quite right for your boss, consider a gift card. Just to ensure that there's a little extra thought put into it, opt for one from a specific place, like a favorite restaurant. By the same token, a subscription can be a great option. Audible is a solid choice for readers, or you may want to find one that fits into one of your boss' niche interests. 
Whatever you choose to gift your boss this year, remember that it's better to be safe than sorry. You'd rather give your boss a gift basket than end up in an awkward situation.