Gifts You Should Definitely Not Buy For Your Co-Workers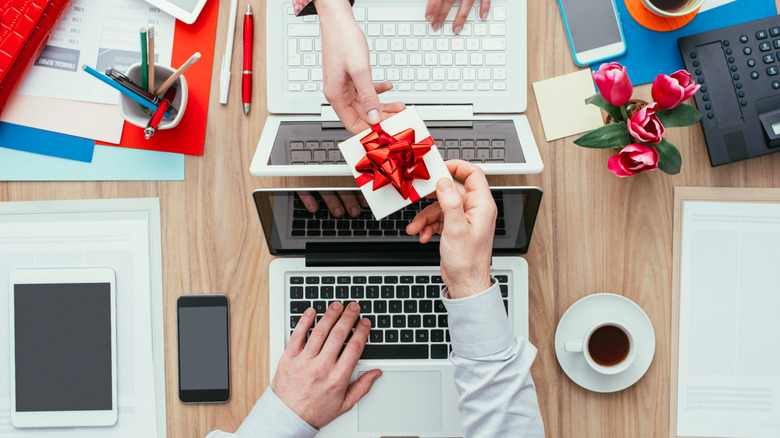 Stokkete/Shutterstock
Autumn is right around the corner, and that means that the holiday season is on its way. The holiday season always inspires an influx of gift-giving, and sometimes you have to give gifts to people you otherwise wouldn't — like your co-workers. Let's face it: some of us have a knack for choosing the perfect gift, and some of us don't. Still, regardless of whether or not you tend to be thoughtful when it comes to gift-giving, shopping for someone you only know on a professional level can be difficult.
Still, while it may not be the easiest task, giving the perfect gift to your favorite work friend can be a great way of showing appreciation (via Daily Dot). Even if you're paired up with someone you know virtually nothing about in office Secret Santa, embrace this moment to make a good impression and give a great gift (via Quality Logo Products). No matter which coworker you're shopping for, remember that there are definite do's and don'ts when it comes to giving gifts in a work setting.
The worst co-worker gifts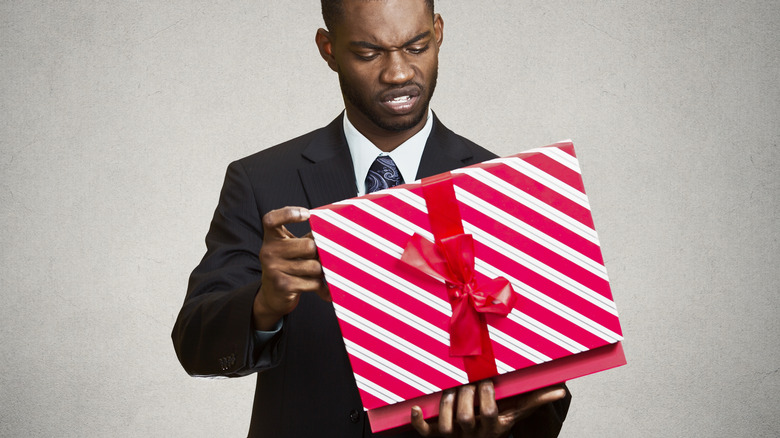 pathdoc/Shutterstock
On "The Office," Jim and Pam's romantic Secret Santa situation may have worked out for them, but don't follow in their footsteps. As a rule, it's wise to avoid anything that may be construed as romantic, regardless of whether or not you want it to be (via LiveAbout.com). This means that you shouldn't give jewelry or roses to anyone. In fact, it's smart not to get someone anything designed to be put on their body; that means that even a scarf or body lotion should be kept out of the mix (via The Balance Careers). Of course, nothing adult or not kid-friendly should be gifted to a coworker. 
It may be tempting and feel like an easy way to avoid doing too much thinking, but don't opt for a gag gift. Additionally, even if it's a holiday present, stay away from any gifts or wrapping that are religiously affiliated in any way. You should also make sure that no matter what, you respect any price limit that has been put in place.
Good co-worker gift ideas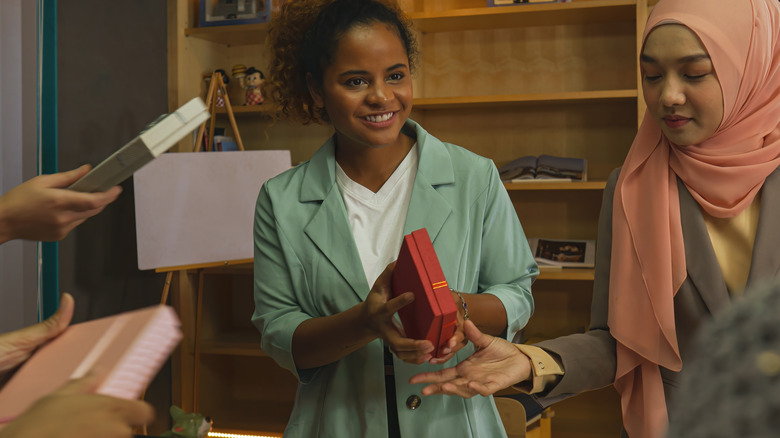 Mongkolchon Akesin/Shutterstock
Luckily, while there's plenty to avoid when shopping for your co-worker, there are also some tried-and-true great gift options. One easy way to ensure a great gift is by choosing something that works for one thing you are certain about when it comes to your co-worker: their work day. If you work in an office, a personalized mug is a great option; you can really never have too many mugs (via Business Insider). While roses are a no-go, a small plant can be a great option for a coworker's desk. If you work at a remote job, get your co-worker a cute decoration for their home office space. You can also opt for a computer accessory like a laptop cover that they can use when they head to the coffeeshop to work (via New York Times).
Before you purchase your gift, see if you can notice something little about your coworker's interests. For example, if you notice that they drink tea, get them something tea-related, or if you notice they're always heading to the microwave to reheat their coffee, get them a coffee-warmer. This is an easy way to make a gift feel personal without knowing much about the recipient.