Vampire Academy's Andrew Liner Reveals Whether He's Team Dimitri Or Mason - Exclusive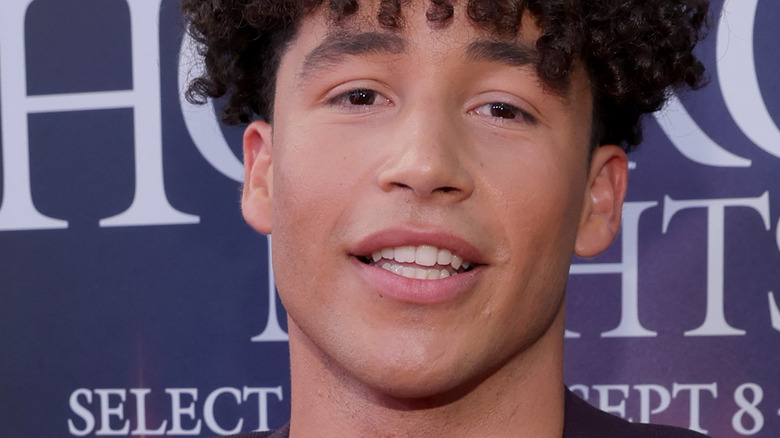 Rich Polk/Getty Images
The "Vampire Academy" series took the love triangle concept to new levels when Rose Hathaway (Sisi Stringer) amassed a total of three significant love interests: Mason Ashford (Andrew Liner), Dimitri Belikov (Kieron Moore), and Adrian Ivashkov (Leo Woodall). While Rose is pretty vocal about Dimitri being her one true love (sorry, Mason), it's difficult not to root for the underdog. Both Mason and Adrian are charming and lovesick in their own right, and it's hard not to love how much they love Rose.
And who wouldn't? The badass Dhampir guardian in training is as loyal as she is stunning, brave, and unapologetically herself. In the Peacock iteration of "Vampire Academy," Dimitri and Mason get some tweaks from the book — with Dimitri's Russian accent mostly absent and Mason's vibe getting a significant coolness upgrade. Yet the essence of both characters is impeccable, and one thing's certain: Dimitri and Mason love Rose Hathaway.
During an exclusive interview with The List, Liner and Moore discussed some of their character changes from the books, and Moore revealed whether he's team Mason or Dimitri.
Don't count Mason out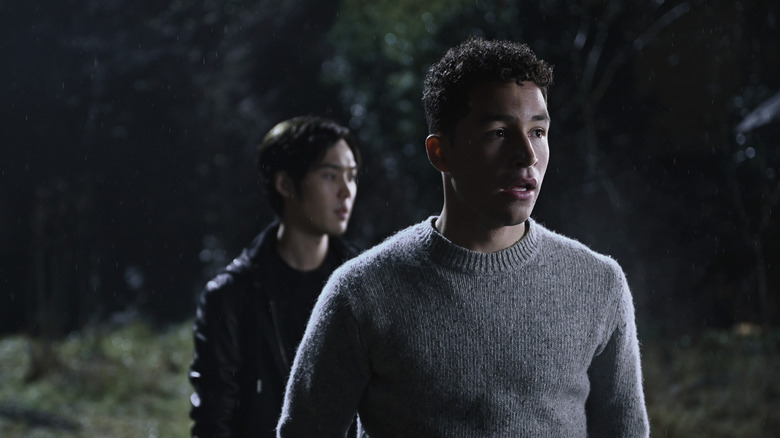 Peacock
Andrew Liner gave us a peek at Mason's cooler characterization when we asked him whether he's team Dimitri or Mason. "Mason did get a little bit of a coolness upgrade from the books," he said. "When you watch the show, he has this essence to him, and it's a modern twist on it." Liner added, "He is a passionate person and he is very comfortable with himself. Usually, when people are comfortable with themselves and confident and charismatic, they tend to be all right, and Mason is [comfortable with himself]."
Of course, the actor himself is rooting for a Mason and Rose endgame, as unlikely as it would be. "I'm team Mason, but that's the thing. I can see why people would be team Dimitri because Mason also sees why Rose can fall for Dimitri and is falling for Dimitri or whatever," he explained. "With that said, there's a mutual respect that Mason and Dimitri have for one another because they have this shared experience. They have this lived-in experience of [the Dhampir tagline for Moroi]: 'They come first.' They see a lot of each other in themselves. I'm 100% team Mason." But hey, showrunner Julie Plec made Damon and Elena endgame on "The Vampire Diaries," so who knows what will happen?
Dimitri is still Dimitri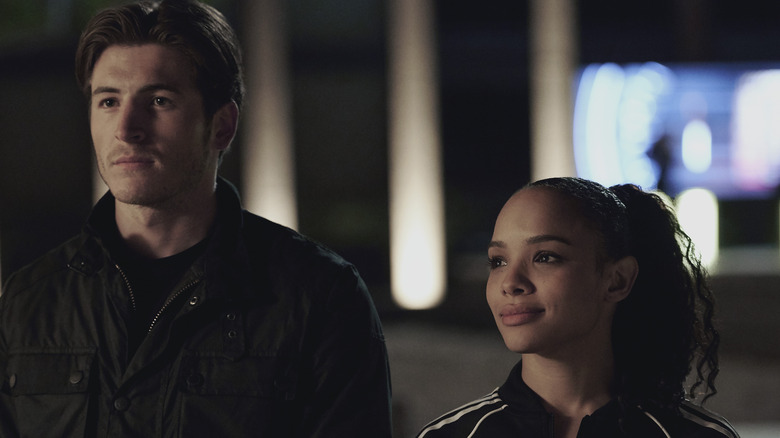 Peacock
Kieron Moore, meanwhile, brings Dimitri's love of Rose to the screen, though he didn't confirm whether his duster and cowboy obsession will also come into play. But he noted, "The essence of Dimitri, I can confirm 100%, will be there. I believe I've completely [fallen] in love with what Dimitri represents. Our backgrounds are massive parts of who our characters are, and we align that with the books."
Given that the first book debuted in 2007, the show does infuse some more modern touches to the characters. Moore added, "There is a modern twist on some things to fall into our story, and I hope people will fall in love with that as much as they loved [the books]." Given the first four episodes, it would be hard not to — and fans even get Dimitri's patented "Roza" nickname for Rose.
"Sorry, loved Richelle Mead's original portrayal, but yeah. I'm excited for you all to see. [There are] some things that I really want to say yes and no to," Moore said. "There [are] some things that I really want to tease. Keep watching ... [There are] some fun favorites incoming." Who's ready to see what Dimitri has in store for the rest of the season?
New episodes of "Vampire Academy" stream Thursdays on Peacock.