Vampire Academy Cast Talks Romance, Accents, Book Changes, And More - Exclusive Interview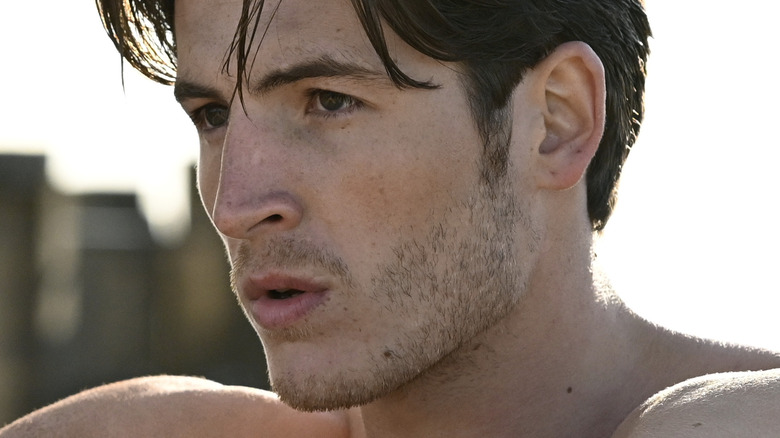 Peacock
In a castle full of lusty teen vampires, what could possibly go wrong? "Vampire Academy" fans have waited nearly a decade for a live-action reboot after the 2014 film came and went without sequels. Whether fans loved or hated that iteration, the abrupt end to the series meant that fans barely got to scratch the surface of the expansive mythology, world-building, and characters that Richelle Mead introduced in the book series. Now, creators Julie Plec and Marguerite MacIntyre are bringing fans an all-new vision of the franchise in their new "Vampire Academy" series on Peacock.
With a Dhampir as badass as Rose Hathaway (Sisi Stringer), she's bound to wrack up more than a few admirers and love interests. Who better to helm a vampiric love triangle than "The Vampire Diaries" creator Plec? Fans might remember a mildly awkward redheaded Mason Ashford from the books, but Andrew Liner ("Grown-ish") gives the character a bit of boost in the coolness department. 
Plec and MacIntyre were determined to cast the right actors without worrying about dialect training. Even though Kieron Moore ("Sex Education" and "The Sandman") doesn't sport Dimitri's classic Russian accent, fans can immediately tell that he's Dimitri from the very first scene.
Contrasting her best friend Rose, Lissa Dragomir (Daniela Nieves) is pretty consistent with her love interest in the show. André Dae Kim ("Locke & Key") brings a quiet compassion and intensity to our favorite pyromaniac and disgraced royal, Christian Ozera. As it turns out, the dating life in a classist royal vampire society is a bit complicated. How couldn't it be when society treats Moroi vampires like first-class citizens and their Dhampir guardians as expendable commodities? 
Fortunately, these guys met the challenge of bringing these nuances to life headfirst. The List spoke to Moore, Kim, and Liner during an exclusive interview where the trio discussed their characterizations, changes from the books to the TV show, dream costars, and a particular character's fiery habit.
The essence of Dimitri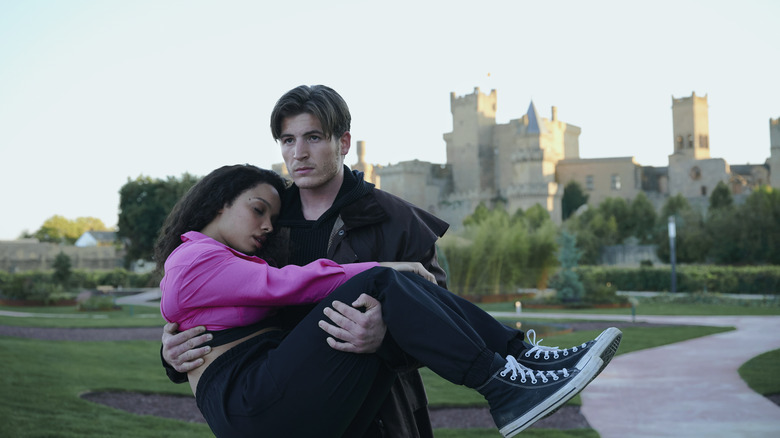 Peacock
Kieron, in the books, your character Dimitri is Russian with a duster and a bit of a cowboy obsession. Can we expect any of those characteristics to come into play during the series?
Kieron Moore: The essence of Dimitri, I can confirm 100%, will be there. I believe I've completely [fallen] in love with what Dimitri represents. Our backgrounds are massive parts of who our characters are, and we align that with the books. There is a modern twist on some things to fall into our story, and I hope people will fall in love with that as much as they loved [the books]. 
Sorry, loved Richelle Mead's original portrayal, but yeah. I'm excited for you all to see. [There are] some things that I really want to say yes and no to. There [are] some things that I really want to tease. Keep watching. That's what I'm going to say. Please watch it. [There are] some fun favorites incoming.
Could these actors show up in a second season?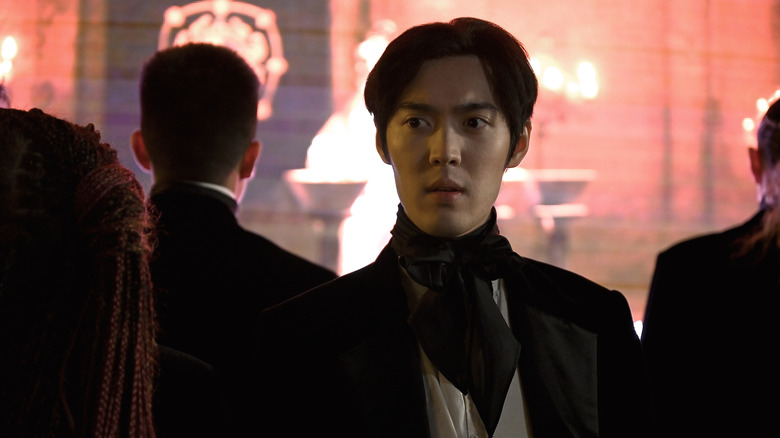 Peacock
André, you've done a lot of similarly intense magical and sci-fi projects like "Locke & Key," "American Gods," and "Star Trek," along with the teen show "Degrassi." How did those roles help you prepare for this one, and are there any former co-stars you'd love to see on "Vampire Academy"?
André Dae Kim: Wow. That's like three questions in one. Christian is so different than a lot of characters that I've played. Being in the sci-fi genre with "Locke & Key," "American Gods," and "Star Trek," I've gotten really used to working with things that aren't necessarily in front of me, but I have to visualize and imagine that they're there and that's been really helpful for playing Christian, who is a little bit of a pyromaniac.
He plays with fire a little bit. I would love to see Sara Waisglass from "Degrassi" come on as a beautiful Moroi or a Dhampir, or maybe someone like Ethan Peck from "Star Trek" or Chrissy Chong as well. I have a really good buddy named Felix Mallard, who's in "Locke & Key." Oh my God, I'm giving everybody.
Moore: You're like [a] casting [director] right here.
Andrew Liner: This person, this person, this person.
Moore: You thought about this.
Kim: These are all the buddies that I love. Felix is also a good friend of mine. He'd do great. Honestly, anybody that I've worked with. I've had the pleasure of working with really awesome people. Anybody who came on the show, I'd welcome with open arms. It's a great show. You get to go to Spain. You get to hang out with these guys. It's great.
Mason's sitting at the cool table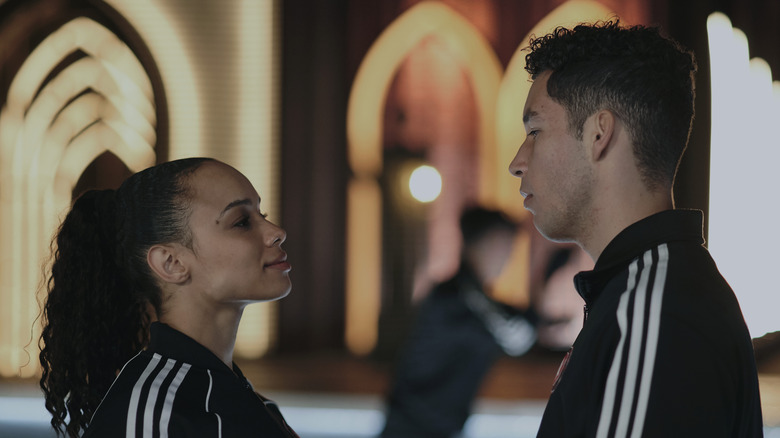 Peacock
Andrew, your character Mason definitely got a coolness upgrade from the source material. What went into honing in on his characterization, and are you team Mason or team Dimitri when it comes to Rose?
Liner: That's an interesting question. I agree with you. Mason did get a little bit of a coolness upgrade from the books. When you watch the show, he has this essence to him, and it's a modern twist on it. He is a passionate person and he is very comfortable with himself. Usually, when people are comfortable with themselves and confident and charismatic, they tend to be all right, and Mason is [comfortable with himself].
I'm team Mason, but that's the thing. I can see why people would be team Dimitri because Mason also sees why Rose can fall for Dimitri and is falling for Dimitri or whatever. With that said, there's a mutual respect that Mason and Dimitri have for one another because they have this shared experience. They have this lived-in experience of [the Dhampir tagline for Moroi]: "They come first." They see a lot of each other in themselves. I'm 100% team Mason.
Christian didn't start the fire (yes, he did)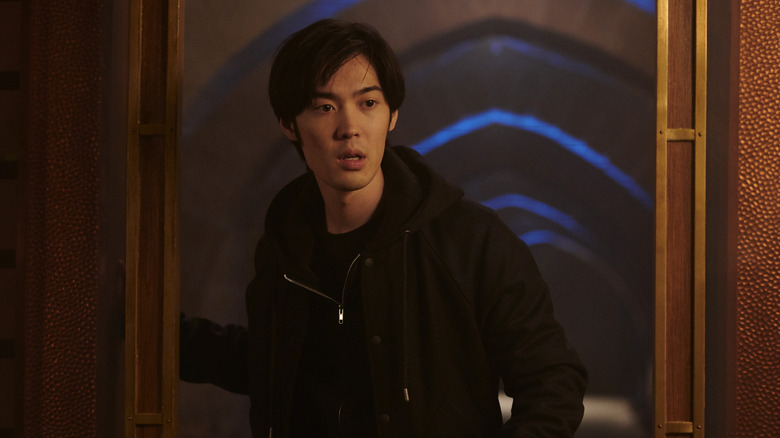 Peacock
André, what is it like playing with fire on the "Vampire Academy" set, and did you do any research on the Moroi folklore that Christian is so in tune with?
Kim: Oh my God, it is so sick to be able to do fire and stuff on set. The little boy in me is like, "Eeeh!" I get so happy whenever I get to do stuff with it, which I guess says a lot about me that I really want to burn stuff.
Liner: Pyromaniac.
Kim: We'll skip over that. It's fine. I did do some research into old Moroi. It's a language we actually had to learn, me and Daniela [Nieves], and it was created by the same person who created the Dothraki language for "Game Of Thrones." He helped us out with learning the language, and it had a lot of roots in real languages out there, too, like Russian, French, [and] Spanish. Learning that language was really helpful because that's something Christian is proficient in as well. Yeah, it was super fun — both ends of the spectrum.
The first four episodes of "Vampire Academy" are now streaming on Peacock, with subsequent episodes releasing Thursdays.
This interview has been edited for clarity.