Over 30% Of People Think This Is The Worst Drugstore Shampoo - The List Survey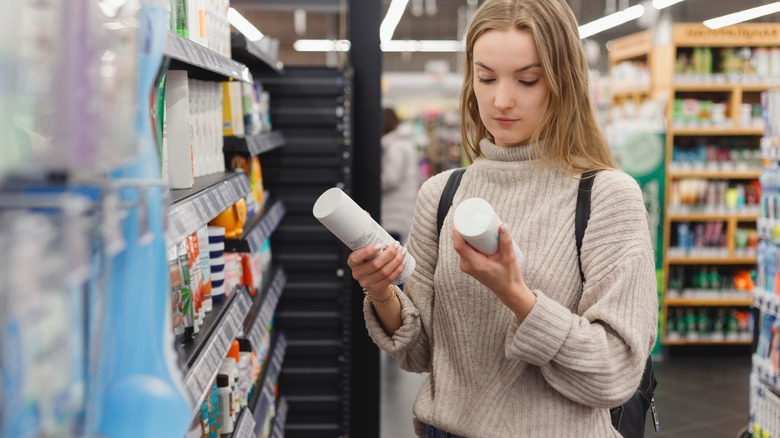 Vladeep/Shutterstock
We may receive a commission on purchases made from links.
Every time there is a new haircare product trending on TikTok, we can't wait to get our hands on it — from purple shampoo to the Dyson Airwrap, we love a good hair trend, especially when it promises healthy, flowing locks. Sadly, our style doesn't always match our budget — when funds are low, a trip to the local drugstore is a great place to stock up on hair care products. But be careful which products you decide to buy, especially when it comes to your shampoo.
It's true that some drugstore hair products make your hair salon-perfect, but not every product on the shelf delivers on their promises. Before you lather, rinse, and repeat with a shampoo that will save you a few bucks, ask yourself what you might be losing in quality when you opt for a budget brand. While it's important to know what shampoo you should really be using to keep your hair clean and healthy, it's also a good idea to find out what shampoos you shouldn't be wasting your money on. To find out which shampoos are not measuring up, The List conducted a survey asking 558 people, "Which is the worst brand of drugstore shampoo?" 
If you love your hair, avoid these products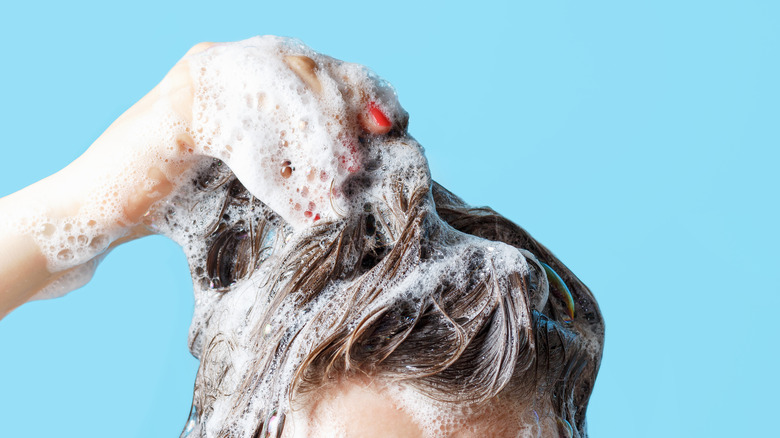 TanyaKim/Shutterstock
According to The List's survey, 31.18% of voters agree that Suave is the worst drugstore shampoo. While it may not be a favorite, it is an extremely popular brand: one out of every two households in the U.S. have a Suave product somewhere in their home, per Suave. But when it comes to shampoos, the brand definitely falls short. Unhappy customers gave Suave shampoo one star on CVS's website, complaining about the shampoo's consistency and lack of results. One reviewer wrote, "Did not do well with my dry scalp and I didn't feel like it cleaned my hair well." Another customer said that the shampoo is "drying and makes my hair brittle I don't like it." For only $3.49 at CVS, Suave is definitely a bargain, but it may not be the best product for long-term hair health.
In second place with 19% of the vote for worst drugstore shampoo is Head & Shoulders. A product designed to target dandruff, the shampoo may actually do the opposite for many users. One reviewer on Amazon said, "Every single time I use it, it just sucks out all the oils from my hair and makes my dandruff twice as bad, if not worse." At $6.49 per bottle, Head & Shoulders 2 in 1 shampoo won't break your bank, but it might not leave you feeling very clean either.
According to reviewers, these shampoos are not worth your time or money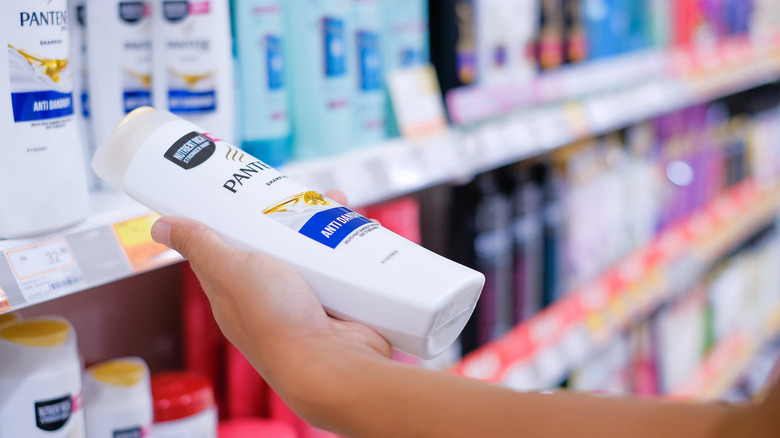 Naqiuddin zakaria/Shutterstock
When The List asked voters to choose the worst drugstore shampoo, two products tied for third place: TRESemmé and Garnier Fructis. Both shampoos received 13.08% of the vote, leaving customers with disappointment and frizzy hair. Frustrated Garnier Fructis customers left reviews on RiteAid's website telling of "waxy residue" and products full of "alcohols and silicones" that are bad for your hair. TRESemmé users took to CVS's website to warn unsuspecting customers about the dangers of using this drugstore shampoo. One reviewer discovered that "these types of shampoos contain sulfates, titanium dioxide, alcohol and other horrible things" that made their hair "heavy, oily and always dull, frizzy and had breakage."
Herbal Essences (12.72%) received slightly better reviews, but still did not deliver on many of the promises their colorful labels make. Buyers compliment the scent of the shampoo, but claim that many of their products leave unwanted residue and do not work for people with oily hair (via CVS). Pantene Pro-V (10.93%) also fell short amongst customers who expected their shampoo to cleanse their hair and leave it feeling healthy and fresh. One Amazon reviewer said that using Pantene Pro-V "makes my hair feel heavy and thick."
When you're looking for a great shampoo that doesn't break the bank, heading to your local drugstore is a great place to start. But before you head to check out, remember to check the product's reviews.