Surprising Ways To Use Dragon Fruit For Silkier Hair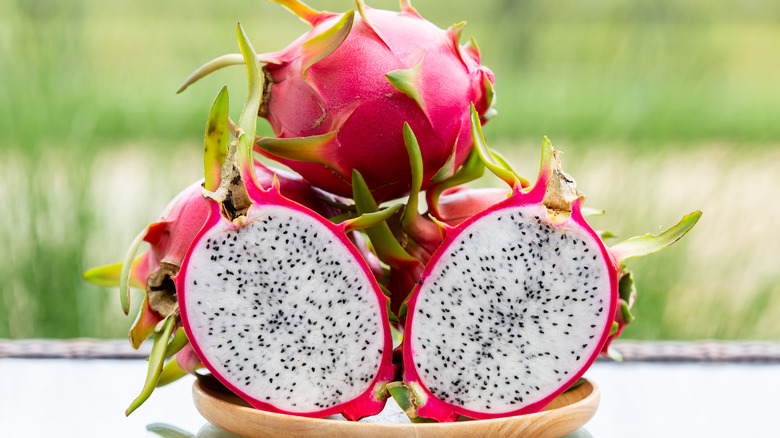 Siriwat Wongchana/Shutterstock
It's always a treat when you find out that your favorite fruit also comes packed with health benefits. From avocados that are known to promote hair growth to strawberries that pack a punch with vitamin C, fruits can be advantageous to many aspects of your health.
Dragon fruit, also known as pitaya and pitahaya (according to Blue Book Services) originates in Latin America, but is gaining popularity around the world. It is a mildly sweet-flavored and soft-textured harvest that is eaten fresh, more often than not. Healthline reports that dragon fruit offers lots of important vitamins and minerals. The produce also aids in combatting chronic disease, helps with gut health, and is also a good source of magnesium and fiber. They are also known to be high in antioxidants.
With all of its health benefits, you might also be wondering how exactly dragon fruit can help give you better hair.
The surprising ways to use dragon fruit for hair health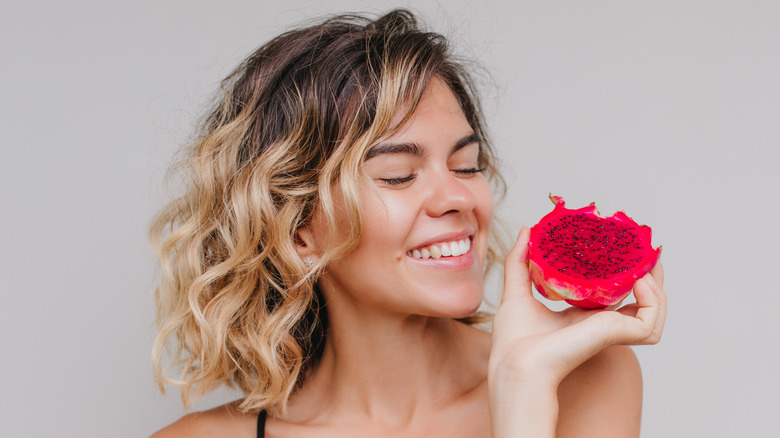 Look Studio/Shutterstock
All of the nutrients inherently found in dragon fruits that are healthy for your body make the fruit great for your hair as well. According to Naturally Curly, the Omega 3 fatty acids found in dragon fruits keep your hair "lustrous and shiny" and promote hair thickness. The Omega 6s found in them help with hair growth. Who doesn't need a little help with all of these from time to time?
Create your own dragon fruit hair mask by putting the juice from the fruit on your hair and leaving it on for about 20 minutes before rinsing it off with shampoo. "This in turn increases blood circulation and good blood circulation allows oxygen to get to the hair follicles for proper growth," notes Naturally Curly. The niacin found in the fruit also helps "dilate the blood vessels" which expands circulation allowing for more nourished hair follicles.
For all you ladies out there who color your hair frequently — and worry about the damaging effects of the chemicals being used while dyeing your hair — here's some good news. The nutrients found in dragon fruit masks help with smoothening your hair and leaving it silky (via Miss Kyra). The fruit also helps "colored hair hold on to its color for longer and revive its shine" according to Jean Louis David. You can find a number of hair products with dragon fruit in their ingredients, including oils, shampoos, conditioners, masks, and mousse.
Drink up for dragon fruit hair benefits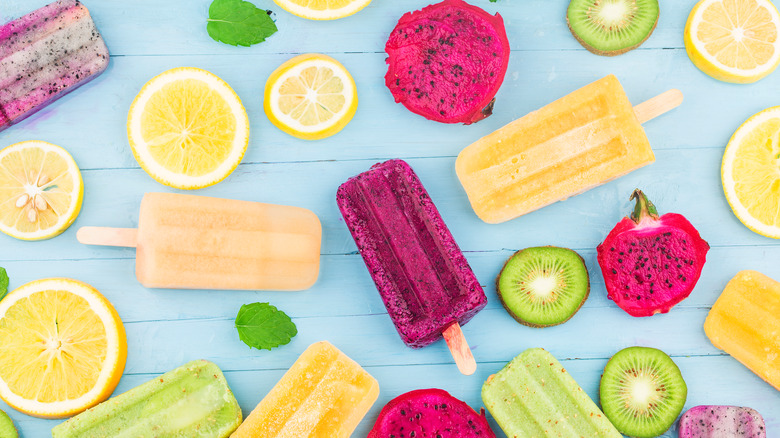 Yuda Chen/Shutterstock
In addition to the topical ways in which you can reap the benefits of this fruit, you can also whip up some smoothies each morning with the dragon fruit as the star ingredient. Smoothies are a quick and easy way to make sure you're getting essential nutrients each day, so throw in some dragon fruit and rest assured, you're going through your day with your hair health taken care of.
You could try this simple dragon fruit smoothie recipe from Sun Kissed Kitchen. All you need is some frozen bananas, berries (or mangos), dragon fruit, dairy or non-dairy milk (depending on your preference), and some whey protein. You don't need any additional sweeteners to make this smoothie delicious; all the fruits in the recipe will do that for you. Blend all the ingredients together and you're good to go.
Consuming different types of food that are better for your hair is an easy way to show some love to your tresses. We all want hair that is healthy, strong, and silky, whether we are prone to coloring our hair frequently or not. The super fruit that is dragon fruit can not only help those who color their hair keep it healthy in the long run but can also help others who want to utilize its benefits for better hair health.