What We Know About The New Bachelor, Zach Shallcross
Season 19 of "The Bachelorette" — or should we say "The Bachelorettes" — concluded September 19 in what lead Gabby Windey called "a big fat dumpster fire," according to People. Though Gabby finished the show happily-engaged to Erich Schwer, the pair have already faced their fair share of bad press. Before the season finale aired on ABC, texts surfaced between Schwer and his ex, who claimed that the 29-year-old broke up with her in order to appear on reality TV (via Page Six). High school yearbook pictures of Gabby's final suitor in blackface also emerged this past month. "I was naïve to the hurtful implications of my actions to the Black community and those closest to me, and will forever regret my offensive and damaging behavior," Schwer wrote in a September 8 Instagram post.
Meanwhile, Season 19's other Bachelorette, Rachel Recchia, finished the show with a broken engagement after her fiancé, Tino Franco, kissed another woman. Though Rachel feels she may never get closure, she told Variety that, "I think we just have to move forward." For her, moving on might mean exploring a relationship with runner-up Aven Jones. "I'm definitely open to [dating] and just seeing where it goes organically without any pressure," Rachel explained. The Bachelorette's third runner-up, 26-year-old Zach Shallcross, has recently been announced as ABC's newest lead. "I think he's such an incredible guy and I'm really looking forward to watching his journey unfold," Rachel told Variety. So, who is this soon-to-be star of "The Bachelor?"
Zach has a famous relative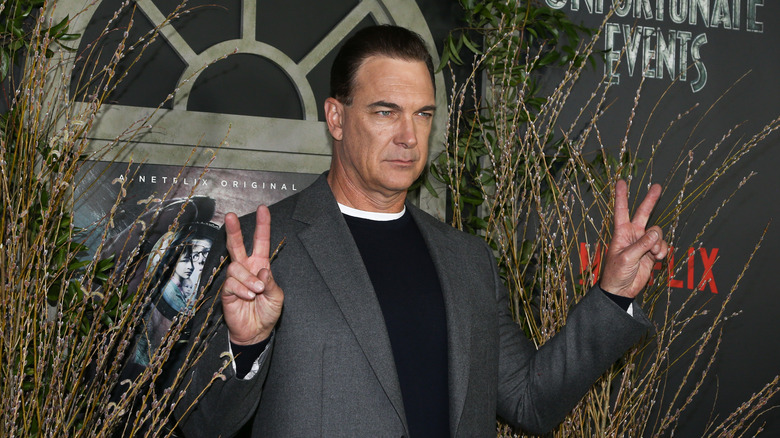 Debby Wong/Shutterstock
Zach Shallcross' TV connections go well beyond his time on "The Bachelorette." Actor Patrick Warburton, best known for starring as Puddy on "Seinfeld" and Joe Swanson on "Family Guy," is Zach's mother's brother — in other words, his uncle (via The Wrap). When former Bachelorette Rachel Recchia ventured to Anaheim Hills, California during Season 19's hometown episode, she met Shallcross's mother, father, and (of course) the "Seinfeld" fan favorite. Asked why he was set to make a cameo on "The Bachelorette," Patrick Warburton jokingly tweeted: "It's my favorite show? I'm addicted..? I have a crush on that Zach Shallcross fellow? Or ... all of the above? Or ... Zach is my nephew? Or ... all of the above?"
In 2019, Zach graduated from California Polytechnic State University (Cal Poly) with a degree in business administration, going on to work as a Senior Cloud Technology Sales Executive according to Today (and as originally sourced on the reality star's LinkedIn). His uncle might be a TV star, but Zach's time in the spotlight was limited exclusively to college football before winning hearts on "The Bachelorette." Though he loves his "mama, his dogs and football," the new Bachelor has "more love to go around," according to his ABC bio. "I'm most excited about really getting that chance to find my person and have the ability to be on the other end of things," Zach told Bachelor Nation in an exclusive interview.
Zach self-eliminated on Season 19 of The Bachelorette
After a less-then-ideal overnight date with Rachel Recchia, ABC's newest lead made the decision to leave Season 19 of "The Bachelorette" on his own accord. According to Zach, Rachel was concerned about his age which, at the time, was 25. "I don't think that there's anything where there's an age limit on when you decide you want to fall in love and get married," the reality star later told People. Though the pair initially bonded over similar childhood memories, Shallcross ultimately felt as if he didn't know the real Rachel. "I did really love you. I saw a future with you. But I need to go," he told the Bachelorette during the season's 10th episode, according to the Los Angeles Times.
The 26-year-old is an "old-fashioned romantic," according to his ABC bio. "Zach's perfect woman is compassionate, kind and ready for romance because Zach is excited to lay it on thick," continues the description. Though some are skeptical about Shallcross' upcoming role in the franchise — many were vying for single dad Nate Mitchell as ABC's next lead — only time will tell how the 27th season of ever-dramatic reality show will play out, per Variety. "I want Bachelor Nation fans to know that I'm taking this opportunity really seriously," Zach told Bachelor Nation. "Not only do I want to be engaged by the end of this, but I want to find my best friend." Hopefully Shallcross will break the show's not-so-lucky track record.