Expert Claims Prince Harry And Prince Andrew Could Soon Be Stripped Of Their New Roles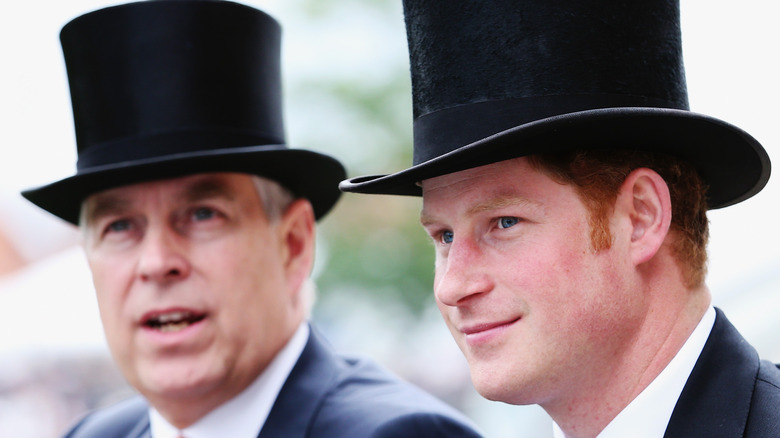 Chris Jackson/Getty Images
There was plenty of drama surrounding Prince Harry's military uniform while the royal family was mourning the loss of beloved matriarch Queen Elizabeth II. Since Harry defected in January 2020, he was prohibited from donning military dress at any events honoring Her Majesty's life. 
However, fans were incensed to learn that his disgraced uncle, Prince Andrew, was being given a special dispensation to wear his uniform despite being stripped of his patronages and military titles, per Us Weekly.
The Duke of Sussex took it all in stride, with an insider clarifying, "He has come to terms with not wearing uniform on these occasions." They added, "Whilst that's disappointing in some senses, he's just grateful to be present and honoring the queen. At the end of the day, it's only a uniform." 
After intense public backlash, the newly crowned King Charles III reneged on the controversial decision and gave his younger son clearance to wear his uniform for the queen's vigil, just like Andrew (via Newsweek).
Although a new era has clearly begun with Charles in charge, it might spell trouble for both Harry and Andrew, especially if this constitutional expert is correct in his estimation of their fragile status within the family.
Neither man is currently a working member of the royal family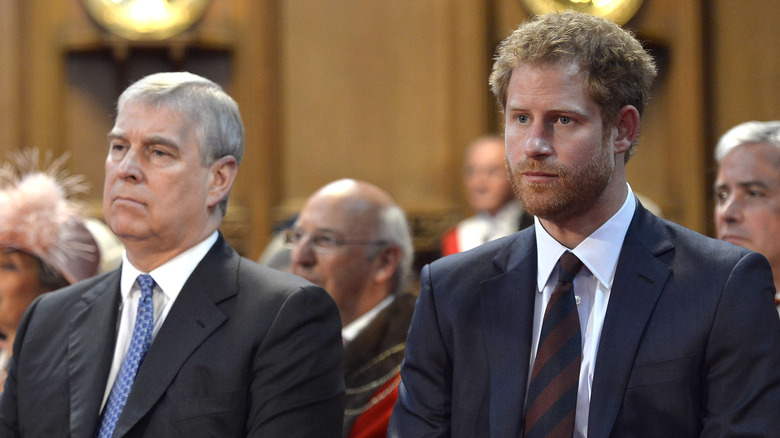 Wpa Pool/Getty Images
As far as constitutional expert Bob Morris is concerned, neither Prince Harry nor Prince Andrew should consider himself safe from being permanently removed from the royal family now that Charles is king. 
Speaking to Express, Morris posited that Commons Speaker Sir Lindsay Hoyle is "likely" to remove Harry and Andrew from their positions as Counsellors of State, which would take them out of the running to ascend to the throne and also prevent them from filling in for the king at royal events.
The British government is rumored to be considering removing them both from the high-ranking position because, as Morris pointed out, "we're running out of people who can undertake the duty." 
If the law remains the same, three out of the five current counsellors won't be working members of the royal family, which could pose a problem. Likewise, Harry lives in America, making it considerably more difficult for him to step in for his father if required.
Crucially, neither man took over when the queen was having mobility issues, so Charles may be concerned about who could potentially do so if he faces similar problems in the future. Prince Anne and Prince Edward could feasibly take their places if the king does agree to change the law, alongside the Princess of Wales. As Us Weekly notes, Charles is widely expected to slim down the monarchy, so these two could be on the chopping block soon enough.
The Duke of York's future is in jeopardy now Charles is king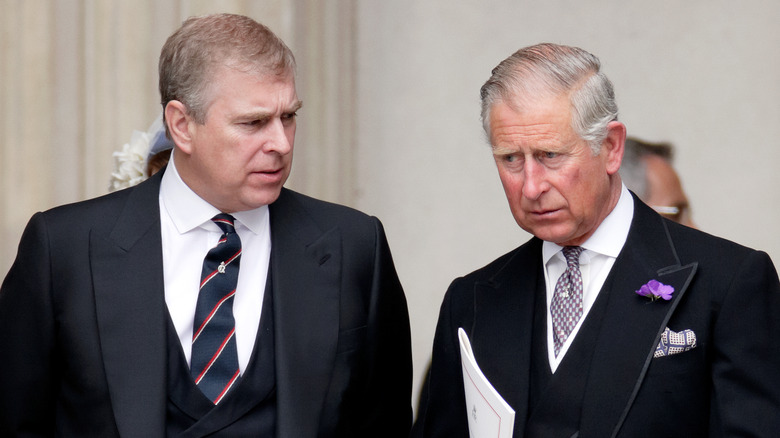 Max Mumby/indigo/Getty Images
The Duke of York could prove to be the bigger concern in general, though, and it's worth noting that King Charles isn't expected to let Prince Andrew off easy. Queen Elizabeth II remained close to Andrew right up until her death, with The Sun even reporting that the disgraced royal was regularly visiting his mother under cover of darkness at Windsor Castle. 
However, despite the queen's continued acceptance of Andrew, he's not expected to re-enter the fold any time soon, if ever. According to the Daily Mail, Charles only allowed his brother to don military dress at the queen's vigil as an "act of kindness" and a "mark of respect for his mother," but the king has no future plans to reinstate Andrew's position in The Firm.
Moreover, a source told the Daily Beast that we can expect to see the Duke of York "disappear" from view completely in the coming weeks, particularly since he was heckled by a protestor while walking behind the queen's coffin in Edinburgh.
Charles' personal issues with his brother go back decades, and, considering how headline-grabbing his sexual abuse scandal was, it's likely that the king will take every opportunity to distance Andrew from the monarchy — especially if he's eager to correct the negative public opinion of their family. As one former royal household member put it simply, "The public would be quite happy to never see Prince Andrew again."