Here's Who Inherited Marilyn Monroe's Fortune After She Died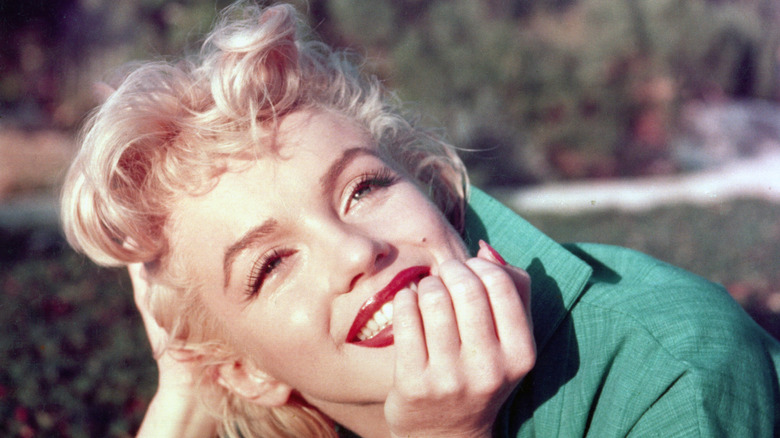 Baron/Getty Images
On September 28, "Blonde" premieres on Netflix. Loosely based on the life and career of Hollywood icon Marilyn Monroe — and adapted from a Joyce Carol Oates novel of the same name — the film stars Ana de Armas in the titular role, per IndieWire. "Blonde" has already been under fire for its NC-17 rating and alleged graphic content. According to IndieWire (and as originally reported by Deadline), de Armas continuously tapped into the darker sides of the icon on set. "I knew I had to let myself open and go to places that I knew were going to be uncomfortable, dark, and vulnerable," she said. "That's where I found the connection with this person." As a result, the "Knives Out" actress dreamed about Marilyn all throughout filming. "She was all I thought about, she was all I dreamed about, she was all I could talk about," said de Armas, per IndieWire.
"Blonde" has been called a "horror film" by critics. As one reviewer for The Guardian notes, the movie is a "glossily expensive nightmare," depicting Monroe's ill-fated marriages and tumultuous relationships. Despite its roots in reality, the storyline is largely fictionalized. Much of the real Norma Jean remains a mystery. In the 60 years since her passing, Marilyn's influence hasn't waned — she's been played time and time again by actresses including Michelle Williams and Ashley Judd (via The Wrap). So who makes money off of her legacy?
Marilyn Monroe left most of her estate to her acting coach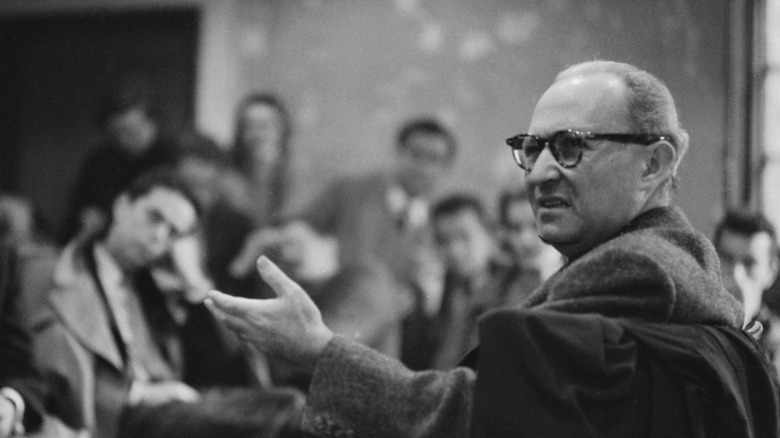 Michael Ochs Archives/Getty Images
Marilyn Monroe passed away in 1962 at the age of 36, leaving behind a net worth of $800,000, which, according to Tudum, would be worth $7 million today. Monroe, named Norma Jeane Mortenson at birth, grew up with an absent father and mentally ill mother. As a result, Monroe spent much of her childhood in orphanages and foster homes, per NPR. In her will, the actress established a trust that would pay for her mother's ongoing care, left $10,000 to her half sister, and set aside $5,000 for her niece's education. But the majority of Marilyn Monroe's estate and intellectual property went to Lee Strasberg, her long-time acting coach and father figure. Included in the fortune was Lee's wife, Paula, who was also close with Marilyn.
According to Vanity Fair, the star's intellectual and physical properties went to Lee Strasberg's third wife, Anna, upon his death in 1982; Paula Strasberg passed away in 1966. As detailed by NPR, the new Mrs. Strasberg employed CMG Worldwide to help her manage the actress' estate. In the years since, Anna Strasberg has made millions off of Marilyn's likeness, turning the icon into everything from t-shirts to bobble heads to, most recently, the story at the center of 2022's "Blonde."
Mariyn Monroe is still a top-earning celebrity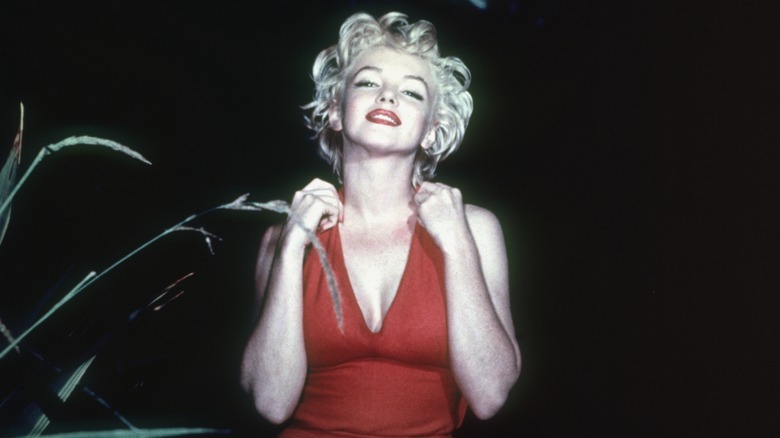 Baron/Getty Images
In 1999, Anna Strasberg auctioned off Monroe's personal belongings, earning a staggering $13.4 million in the process (via Vanity Fair). Among the items was a handwritten poem that read, "I'm lucky to be alive." According to Forbes, Monroe was one of the top-earning deceased celebrities in 2020, bringing in a total of $8 million. As noted by the site, ​​almost 100 brands make regular use the actress's image to sell products. CMG Worldwide played a big part in helping Anna Strasberg turn profits. "We did hundreds and hundreds of programs with companies like Mercedes-Benz to Coca-Cola to fragrance, clothing, giftware, collectibles, paper products, things like that," said CEO Mark Roesler in a 2012 conversation with NPR. In 2011, Anna sold Monroe's intellectual property to Authentic Brands Group, per Market Realist.
Of Marilyn Monroe's many iconic looks, the dress she wore to President John F. Kennedy's 1962 birthday party is perhaps one of the most famous. Anna Strasberg sold it for over $1.2 million in 1999. In 2022, it reappeared on the Met Gala red carpet donned by Kim Kardashian (via The Marilyn Monroe Collection).