The Pizza Topping That You Should Try If You're A Taurus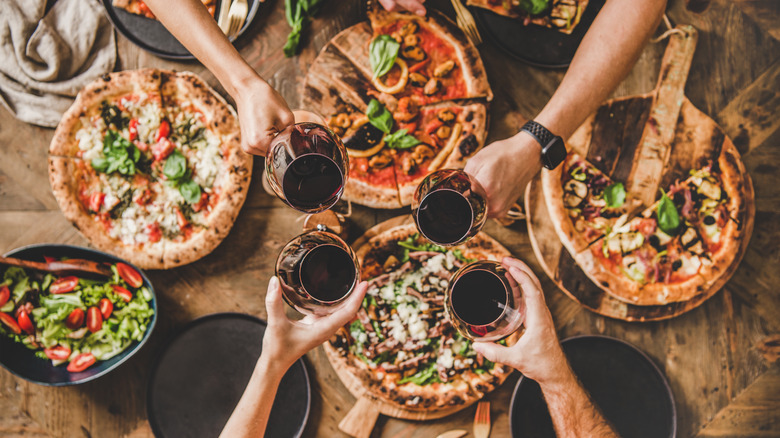 Foxys Forest Manufacture/Shutterstock
Much has been said about the zodiac sign Taurus. Belonging to the element of Earth, a Taurus is stubborn, possessive, and close-minded at their worst, and reliable, patient, responsible, and loving at their best (via Astrology Zodiac Signs). They enjoy cooking, luxury, and gardening and are not fans of change. A detailed analysis of Taurus' best and worst traits would probably also tell you that it is one of the most grounded of zodiac signs.
Typically born between April 20 and May 20, Taurus is the most sensual sign in the zodiac, according to the New York Post. Famous Taureans include Gigi Hadid, Joe Keery, Barbra Streisand, Channing Tatum, and Lizzo (via Insider).
When it comes to romance, a Taurus might drag their feet, moving at their own pace rather than adapting to their partner's (per InStyle). The perfect date night for a Taurus would be one spent indoors, probably enjoying a gourmet meal. Speaking of food a Taurus might love ... pizza.
What kind of pizza topping would a Taurus enjoy?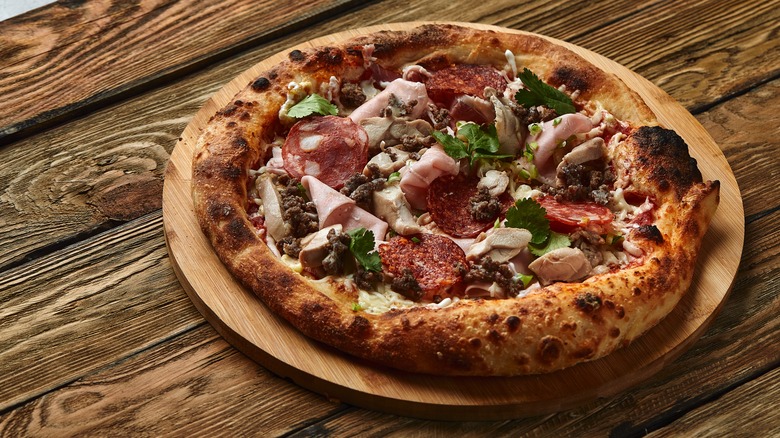 Gerain0812/Shutterstock
Expensive taste goes hand in hand with a Taurus so they're sure to love some good shrimp creole topped on their pizza, according to Taste of Home. They might also enjoy a sausage pizza. But this doesn't mean they won't enjoy a classic pizza recipe once in a while; they'd probably just give it their "own unique spin" (via Best Life). Try this creole shrimp pizza recipe from Taste of Home if you're a Taurus.
The Taste of Home recipe tells you that you'll need 1 pound of uncooked shrimp (peeled and deveined), 1 large chopped onion, 2 minced garlic cloves, 1 thinly sliced large green pepper, 1 cup of the pizza sauce of your choice, 1 tablespoon olive oil, 1 ½ teaspoons of reduced-sodium Creole seasoning, ¼ teaspoon of celery seed, 1 prebaked 12-inch pizza crust, 1 tablespoon of lemon juice, 1 ½ cups of shredded part-skim mozzarella cheese, ½ teaspoon of coarsely ground pepper, and ¼ teaspoon of hot sauce. 
How to prepare a creole shrimp pizza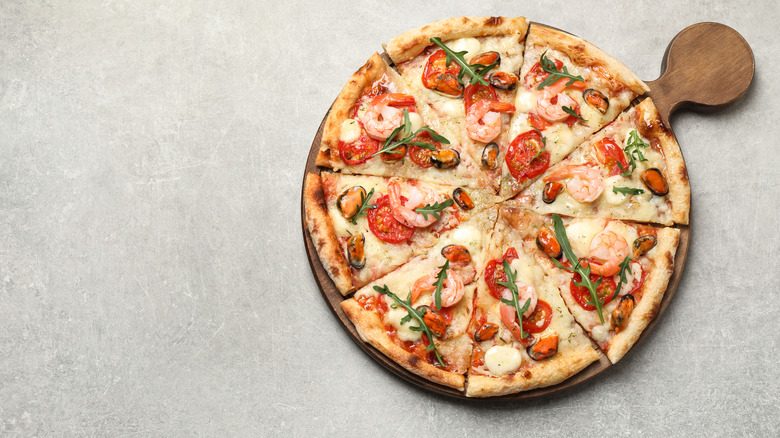 New Africa/Shutterstock
The recipe begins with preheating the oven to 425 degrees. After, putting the crust on a baking sheet, you'll brush it with 1 ½ teaspoons of oil. Next, put ½ cup mozzarella cheese on the crust. In a bowl, mix the lemon juice and ½ teaspoon of Creole seasoning together and toss in the shrimp.
You'll then heat the remaining oil in a small skillet — using medium heat. Throw in the onion, pepper, celery seed, and the rest of the Creole seasoning. Saute until the onion is tender and then incorporate the garlic while cooking for another minute. Next, add the pizza sauce and hot sauce, stir, and take it off the stove.
Drain the shrimp next. Toss the sauce mixture over the crust and spread it, topping it off with shrimp and green pepper. Finally, add whatever cheese is left on top. Bake for about 25 minutes or until the shrimp is pink and the cheese is melted (via Taste of Home). You could pair your favorite pizza topping with a wine that is best suited for a Taurus.