The Hallmark Movie That Stars Pretty In Pink Actor Andrew McCarthy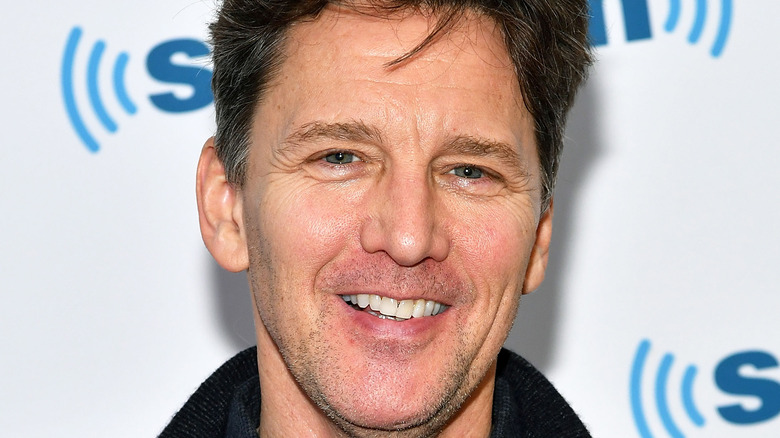 Slaven Vlasic/Getty Images
We may receive a commission on purchases made from links.
That Brat Pack was teen royalty in 1980s Hollywood. Members included Molly Ringwald, Emilio Estevez, and Rob Lowe (among others), a group of young stars making headlines for their roles in movies like "The Breakfast Club" and "St. Elmo's Fire" (via Country Living). According to Insider, New York Magazine journalist David Blum first identified the "Brat Pack" in a 1985 article. "It is to the 1980s what the Rat Pack was to the 1960s," wrote Blum, describing the group of rising actors as "a roving band of famous young stars on the prowl for parties, women, and a good time." Though only briefly mentioned in the 1985 article – "for the purposes of the article I had been trimmed out," he later wrote – Andrew McCarthy was one of the group's core members, per Vanity Fair.
In 1986, just a year after the actor starred in the smash-hit "St. Elmo's Fire, he featured alongside teen queen Molly Ringwald in the John Hughes classic, "Pretty in Pink," a movie packed with iconic '80s fashion moments. McCarthy played Blane, Ringwald's upper-crust love interest, per Roger Ebert. "They were looking for a square-jawed, broad-shouldered quarterback type to play [Molly Ringwald's] boyfriend, to play the guy from the other side of the tracks — the right side of the tracks, as it were," McCarthy told NPR. In 2012, nearly 30 years after kissing Ringwald at a John Hughes high school prom, Andrew McCarthy joined the Hallmark family.
Andrew McCarthy stars in Christmas Dance
During Hallmark's annual "Countdown to Christmas" series in 2012, Andrew McCarthy starred in "Christmas Dance." The "Pretty in Pink" actor plays Jack, an executive dating his boss' sophisticated daughter, Demi. Though Demi's wealthy family is skeptical of Jack, he's determined to take their relationship to the next step, per Hallmark Channel. Planning to propose to his girlfriend at her father's yearly Christmas dance (and earn a promotion in the process), Jack takes dance lessons. Along the way, he begins to develop feelings for his kind-hearted dance instructor, complicating the situation even further. The question remains, who will Jack end up with on Christmas? "Christmas Dance" is not to be confused with Lifetime's "A Christmas Dance," or Gravitas Ventures' "The Christmas Dance." McCarthy's other Hallmark Channel credits include 2009's "The National Tree" and 2003's "Straight From the Heart" (via IMDb).
In 2021, Andrew McCarthy released a memoir, "Brat: An '80s Story." The book is a reflection of the actor's experience in the infamous Brat Pack, detailing his rise to fame and the implications of that success. As the actor told The New Yorker in a 2021 interview, "It's weird — whatever you were doing at twenty-two, would you want that to be your legacy? It will be mine, to a generation of people."
Hallmark will release 40 Christmas movies in 2022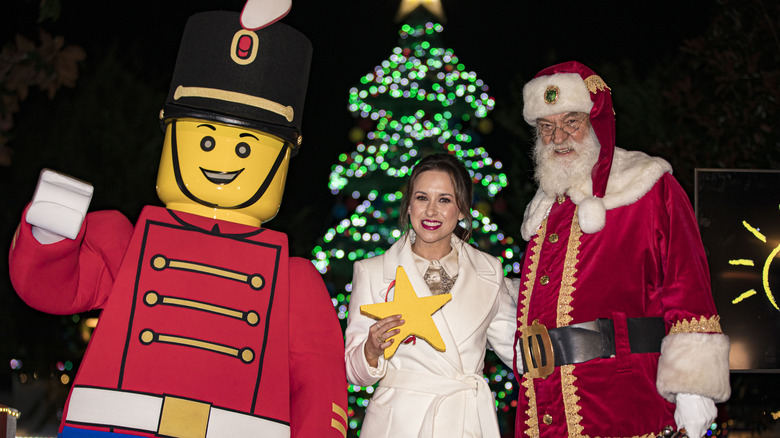 Daniel Knighton/Getty Images
According to Variety, Hallmark is scheduled to release as slew of new content this holiday season – 40 movies, to be exact. The channel, along with its sister network, Hallmark Movies & Mysteries, will begin airing 24/7 holiday content on October 21. The first movie on the docket is "Noel Next Door," an enemies-to-lovers story about a single mom and her grouchy neighbor (via TV Insider). The "Countdown to Christmas" lineup of new releases will officially end on December 18 with "Hanukkah on Rye," according to Variety.
Returning to the TV this year are several of Hallmark's recurring stars: Alison Sweeney, Holly Jonathan Bennett, Luke Macfarlane, Tyler Hynes, and (of course) the ever-present Lacey Chabert just to name a few, per ET. 2022 will mark Chabert's 12th Hallmark holiday film; she is set to appear in "Haul Out the Holly" on November 26, according to Variety. As Chabert told Insider in a 2021 interview, "I think that Hallmark has done a wonderful job of telling stories that everyone can relate to," going on to add, " I think they continue to try harder and strive to do that even more." While you wait for the countdown to begin, check out the Hallmark movies that are totally worth your time, including 2014's "When Sparks Fly" starring Meghan, Duchess of Sussex (via IMDb).