What You Should Know About Marilyn Monroe's Go-To Skincare Brand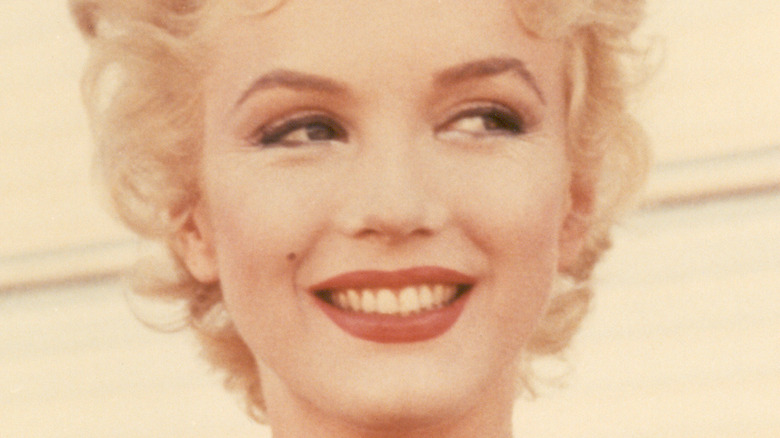 Michael Ochs Archives/Getty Images
With her bright red lips, glowing skin, and curvaceous figure, Marilyn Monroe is still one the most infamous icons of pop culture history. The actor and singer stole hearts in her roles in films like "All About Eve," "Gentlemen Prefer Blondes," and "Some Like It Hot." Although her life was tragically cut short at the age of 36, she remained incredibly influential, according to History, and is a bombshell whose legacy has lived on. Marilyn Monroe's outfits themselves are instantly recognizable, inspiring women for decades in their fashion sense. While it is impossible to pinpoint all of Marilyn Monroe's beauty secrets, fans across the years have developed ways of emulating her style.
For instance, the beauty brand Monroe collaborated with throughout her career is highlighting their partnership. The best news? You can still buy their products today to recreate Marilyn Monroe's skincare routine for yourself at home. 
Erno Laszlo invented a cream just for Marilyn Monroe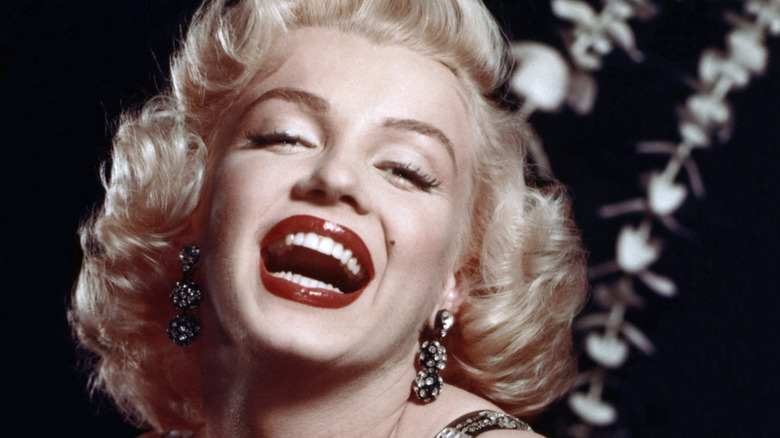 Michael Ochs Archives/Getty Images
Dr. Erno Laszlo was one of the best-known dermatologists in the days of Old Hollywood (according to the New York Post). He later went on to offer skincare and beauty products, with Marilyn Monroe being one of his many fans. Some other women who swore by Laszlo's advice included first lady Jacqueline Kennedy Onassis, Audrey Hepburn, and Gloria Vanderbilt, according to the New York Post, but Erno Laszlo says it was Marilyn Monroe and her influence that made the beauty brand what it is today.
"As one of Dr. Erno Laszlo's most famous celebrity clients, Marilyn Monroe was an early adopter, shaping our future as the heritage brand we are today," Erno Laszlo's blog detailed. "Dr. Laszlo even created the Phormula 3-8 balm specifically for Marilyn, to heal an appendectomy scar on her stomach." The brand now offers a modified version of the product, now called Phormula 3-9, which helps users today with inflamed skin.
Erno Laszlo helped in keeping Marilyn Monroe's skin perfectly dewy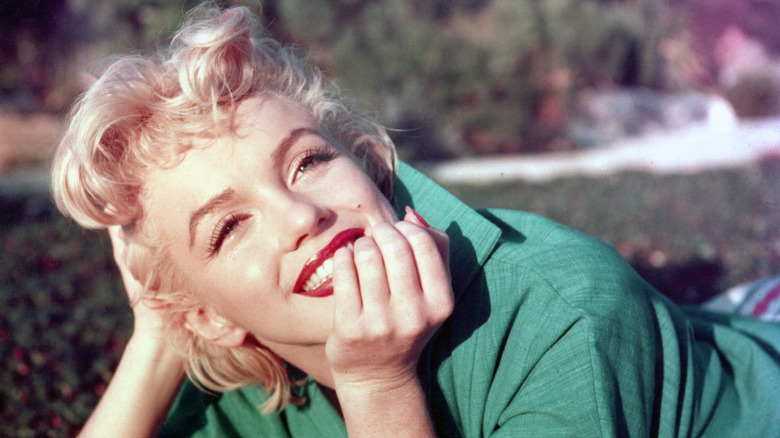 Baron/Getty Images
In photos released by Allure, we can spot some of Erno Laszlo in Marilyn Monroe's makeup box. Included in the actor's collection was Erno Laszlo's Active Phelityl Intensive Cream, according to both Allure and Erno Laszlo's blog. The beauty brand highlights how serious Marilyn Monroe was about taking care of her skin, especially by keeping it moisturized. The cream is still available today, with the brand boasting that it can protect skin "in extreme weather conditions."
Of course, Marilyn Monroe had other remedies and habits for keeping her luminous skin healthy and clear. She made sure to protect herself from too much sunlight, according to Vogue. "I'm personally opposed to a deep tan because I like to feel blonde all over," Monroe reportedly said when inquired about sun tanning, per Vogue. The actor's personal inclination aged well, with scientists later learning of the damages caused by too much exposure to UV rays (per Skin Cancer Foundation). "Despite its great vogue in California, I don't think suntanned skin is any more attractive ... or any healthier, for that matter," Monroe said, according to Erno Laszlo's blog.