All Of Marilyn Monroe's Beauty Secrets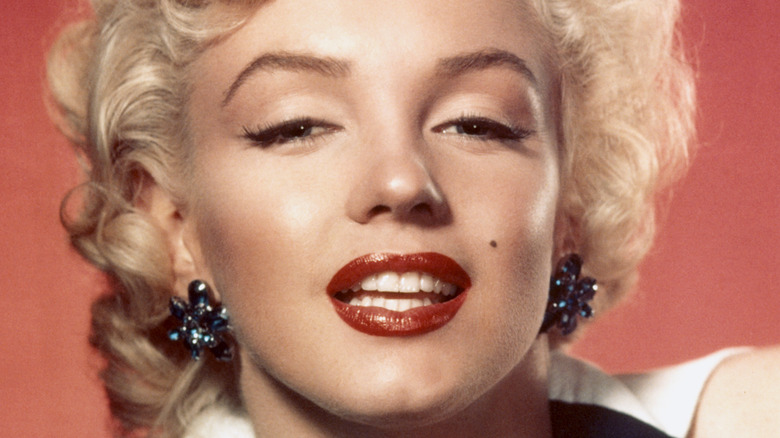 Michael Ochs Archives/Getty Images
Marilyn Monroe, born Norma Jeane Mortenson, was one of the most glamorous and famous actresses in Hollywood, and she was known for her iconic beauty (per Biography). Considered one of the first bombshell actresses, Monroe continues to mesmerize audiences to this day with her fresh-faced innocence and troubled personal life. No one can forget her iconic white dress, which many celebrities like Michelle Williams and Anna De Armas have worn over the years when portraying the starlet in various biopics (via Yahoo!). Monroe is a legend who will continue to fascinate us with her allure, charm, and beauty. 
Her pink satin gown and diamonds in the classic "Gentlemen Prefer Blondes" musical number "Diamonds Are A Girl's Best Friend" is one of her most memorable ensembles, and within good reason (via CNN). Celebs like Madonna and Kim Kardashian have imitated the widely popular look, and it doesn't look like we have seen the last of people copying her iconic beauty and style choices (via The Wrap).
Monroe's star power combined with her platinum blonde curls and beauty mark will never go out of style — she will always remain timeless in the world of entertainment. She was naturally beautiful, but she also followed a fairly extensive skincare routine to keep her skin looking baby soft. Monroe had several hair and beauty products that she stayed loyal to, and we've taken a closer look at these items to reveal all of her best-kept beauty secrets.
The secret to Marilyn Monroe's flawless skin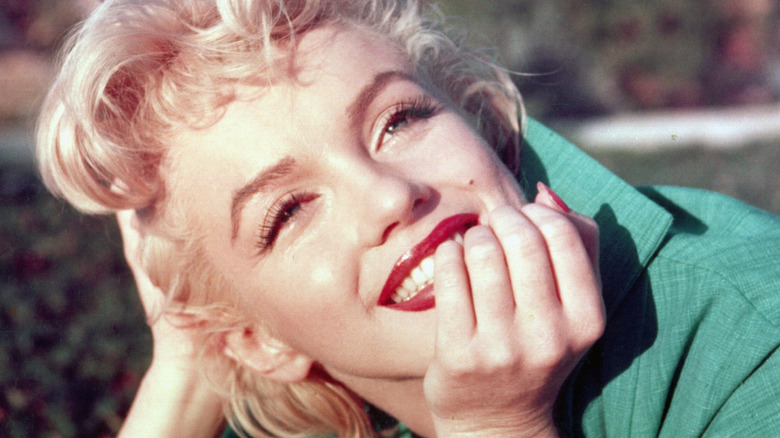 Baron/Getty Images
Marilyn Monroe was famous before tanning was big in Hollywood, and it looks like she knew the secret to keeping her skin wrinkle-free before many caught onto the now-popular trend. According to Vogue UK, the "Niagara" actress was all about the alabaster look and preferred to stay out of the sun. As Monroe said, "I'm personally opposed to a deep tan because I like to feel blonde all over." She knew the secret to healthy skin and looking young before the rest of the world caught on to the importance of wearing sunscreen and limiting time spent in the sun. 
According to Allure, Monroe always applied Vaseline under her makeup to get her camera-ready glow, and to keep her skin hydrated. The blonde bombshell was also fond of the reparative botanical balm Phormula 3-9, and Active Phelityl Cream, which is an all-purpose moisturizer (via B-Glowing). Vogue also shared that Monroe was a fan of the Eight Hour Cream by Elizabeth Arden, lanolin, olive oil, and Pond's cold cream for additional skin hydration and protection. 
How to recreate Marilyn Monroe's glamourous look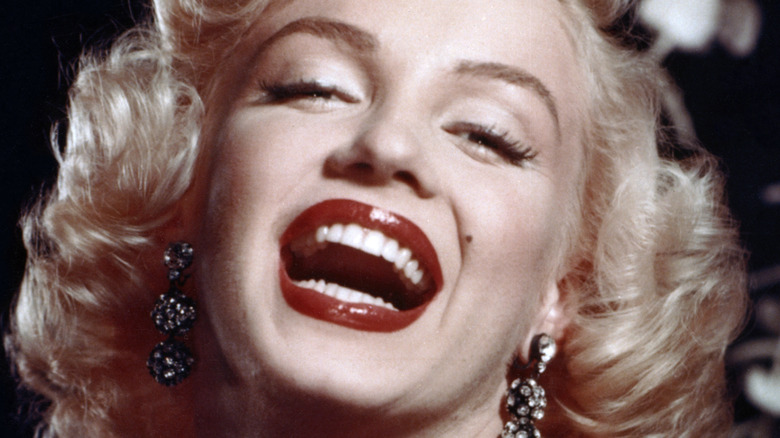 Michael Ochs Archives/Getty Images
Marilyn Monroe always looked irresistible with her super blonde curls, bright red lips, and perfectly manicured brows. A natural brunette, Monroe's signature shade of blonde was referred to as "pillow case white" (per Twitter). According to Vogue, the actress worked with a team of hairstylists, including Pearl Porterfield, Kenneth Battelle, and Gladys Rasmussen, who lightened her hair using bleach and peroxide highlights every three weeks or so. To keep the color vibrant, Monroe washed her hair less frequently and used Johnson's Baby Powder, the original dry shampoo, on her roots to fight grease.
To create her famous pout, Monroe's makeup artist would use up to five different shades of red lipstick, with darker reds on the outside and lighter tones on the inside to make her lips look plumper and fuller, per Vogue UK. To achieve this classic and seductive makeup look, her makeup artist Allan "Whitey" Snyder often used her favorite red lipstick, which was the shade Ruby Red by Max Factor (via InStyle).
Now all you need to fully emulate Monroe's signature beauty is a bottle of her favorite perfume, Chanel No. 5. As Monroe said, "You know, they ask me questions. Just an example: What do I wear to bed? So I said, 'Chanel No. 5,' because it's the truth!" (via Vogue).