Everything You Need To Become A Minion For Halloween This Fall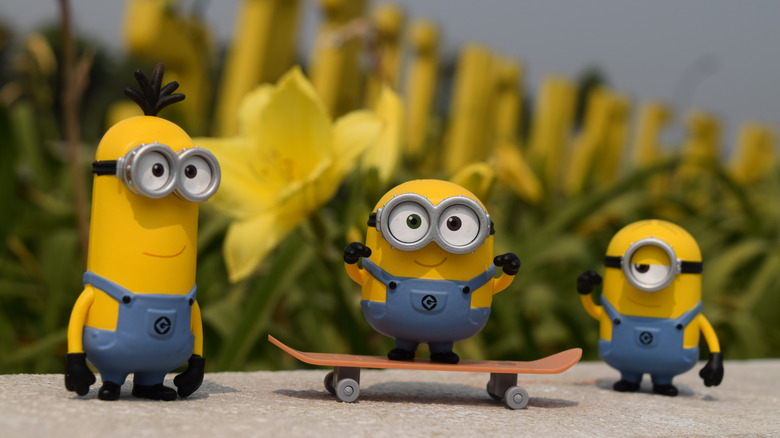 RIMA MAISA/Shutterstock
We may receive a commission on purchases made from links.
Felt, glitter, hot glue — crafting your kids' Halloween costumes (or your own!) can be a bit daunting, especially with ready-to-go costumes hitting shelves earlier and earlier each year. Sometimes, the cost of materials for a simple DIY project really adds up. However, the joy and satisfaction of a homemade Halloween is hard to beat. Plus, the pictures of your little ones in their "made with love" getups will be cherished for years. Empty nesters can surely back this one, and if you're able to reuse elements of your costume beyond a single evening of use, that's an added bonus for you and the Earth.
When it comes to cute, recognizable, and no-sew (!) costumes, everyone's favorite rambunctious, banana-loving creatures are an obvious go-to. Minions first graced us with their cute, gibberish-speaking-selves over a decade ago when "Despicable Me" hit theaters in 2010. And if they were in danger of slipping off our radar, they're certainly front and center once again thanks to the summer release of "Minions: The Rise of Gru" (via The New York Times). Here's how to transform the whole family into Minions this Halloween.
The DIY basics you'll need (and may already have)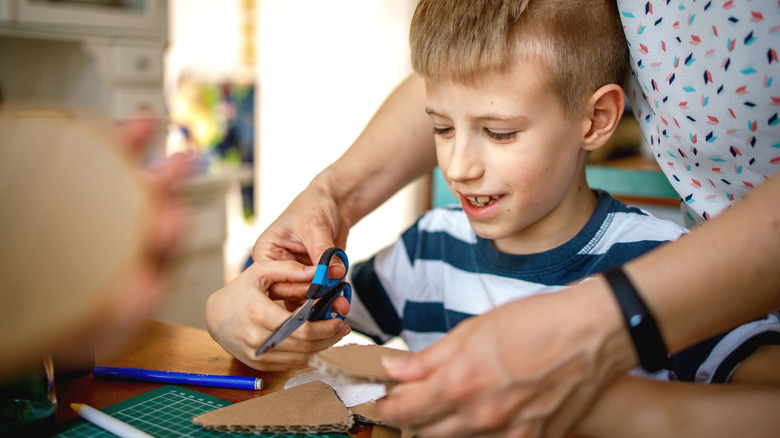 Stock Rocket/Shutterstock
Minions wouldn't be minions without their iconic denim overalls. Long or short, you might have a pair of these laying around, and if not, be sure to check your local thrift store for budget-friendly shopping. Amazon also has a wide variety to choose from.
If you live in a cold climate and are used to throwing a puffy winter coat over your kids' costumes for trick-or-treating, you *might* be able to skip it and layer up underneath these cozy coveralls, allowing your little Minions to show themselves off.
Next up is, naturally, a long sleeve yellow top and yellow stocking cap. Simple. Comfortable. Quick. Apart from cutting some eye holes in a sheet, it really doesn't get much easier than this last-minute costume. As for the Minions' signature safety goggles, you can find them here for all ages, or, if you're feeling crafty, pull out the cardboard and tape to follow these instructions (via Costume Detective). There you have it — a charming troublemaker, head to toe.
If you aren't in the crafting state of mind, check out these options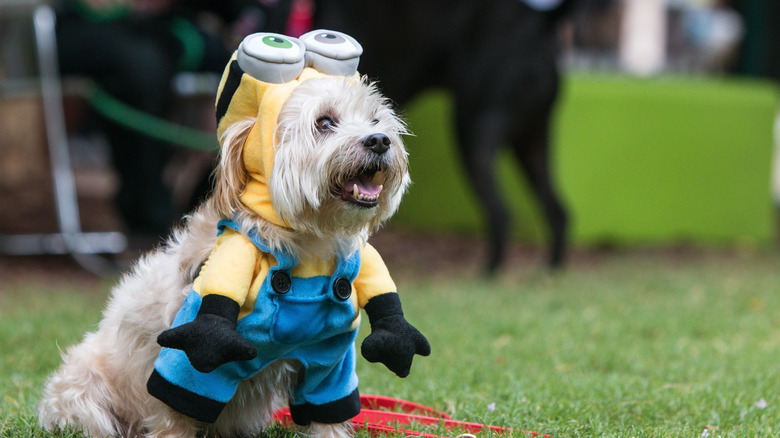 BluIz60/Shutterstock
We've likely all seen the hilarious inflatable T-rex suit somewhere on the internet at some point (remember this viral video of hundreds running a race in bobbing dinosaur suits?) and this inflatable Minion costume with a battery operated fan is also sure to be a crowd pleaser. It's on the steeper end price-wise, but your trick-or-treaters will be squealing with joy. 
In matching holiday pajama fashion, the whole family can be Minion-ready with just a click. These hooded, zip-up Minion suits are great for taking the no-fuss route. Or maybe, someone in the family would rather dress up as the misunderstood villain, Gru. Party City has you covered on this one.
And we can't forget the beloved family pets. They may not be too pleased with you for it, but these Minion dog and cat costumes could not be cuter. From dog hats to full-on Minion suits, Amazon is there for us, as always. Just be sure to snap a photo before they paw it off.