The Best Place To Shop On A Budget Has People Divided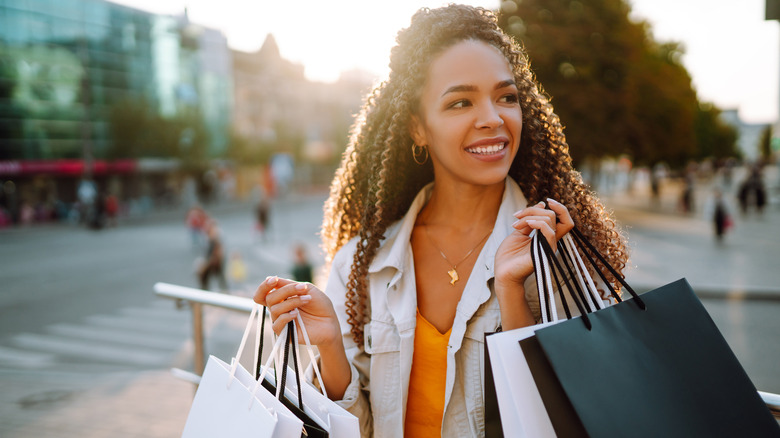 maxbelchenko/Shutterstock
We may receive a commission on purchases made from links.
If you've ever heard the saying "champagne taste on a beer budget," you know the struggle of loving the finer things in life, even when you can't afford the high price tags. If it feels like you're always balling on a budget, you aren't alone: A study conducted by PYMNTS reports that "61% of U.S. consumers lived paycheck to paycheck in April 2022" as inflation spiked all over the country. According to CNBC, shoppers are struggling to afford essentials like groceries and gas, as luxury items and non-essentials are crossed off of shopping lists altogether.
But we all deserve to treat ourselves now and then, even as prices rise. There are plenty of ways to look classy on a budget. The secret is not how much you spend, but where you're spending. So, which store is the ultimate budget-friendly destination? Determined to crown a winner, The List conducted a survey asking 558 people, "Where is your favorite place to shop when you're on a budget?"
This retailer is the total package for nearly 25% of budget shoppers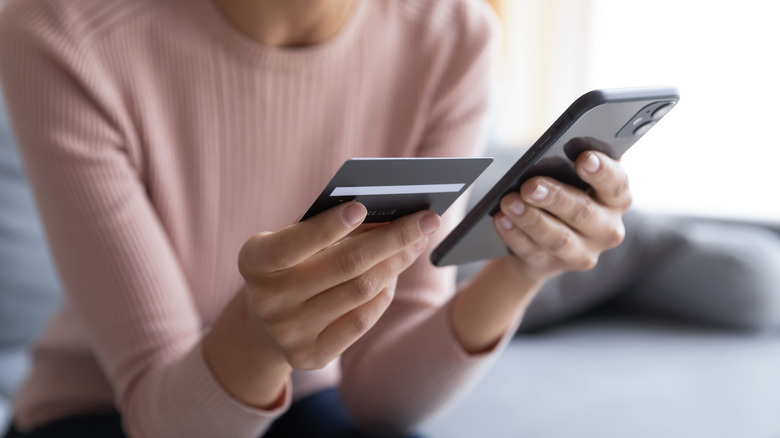 fizkes/Shutterstock
According to The List's survey, the best place for shopping on a budget is Amazon. The fan-favorite online retailer received 24.73% of the vote, most likely for its easy-access shopping experience right from your phone or desktop. According to Statista, Amazon has over 98 million active monthly users. Whether you're a fan or a critic of Amazon's founder and former CEO, Jeff Bezos, it's clear that Amazon has made shopping an affordable breeze.
In second place with 23.3% was discount retailer TJ Maxx. Discount shoppers and self-proclaimed "Maxxinistas" know the best TJ Maxx hacks that score them the ultimate deals on designer fashion, accessories, and home goods. Surprisingly, Target only received 13.8% of the vote, a safe-haven for millennials who love to stroll their aisles with a latte in hand. Clothing retailer Old Navy followed close behind with 13.44%. Old Navy's new sizing policy has recently taken steps to be more inclusive to a wide range of body types, which we love.
Ross Dress for Less received 12.54% of the vote, another bargain store with hidden gems, if you have time to sift through their usually-disorganized racks. 12.19% of shoppers prefer the exciting treasure hunt at Marshalls, keeping shoppers coming back with the promise of luxury goods at a deep discount.
No matter your budget, finding secret deals on designer clothing is within reach at any of these shopping destinations.
Remember when Amazon only sold books? Neither do we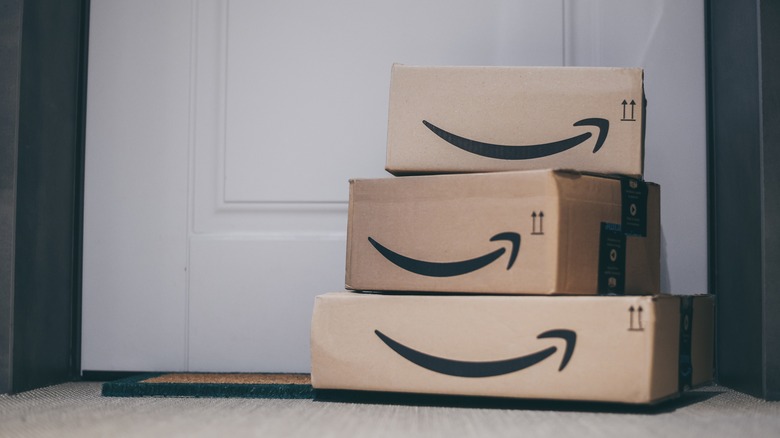 Fabio Principe/Shutterstock
Amazon has come quite a long way since its early days. Originally created to sell books online, Amazon was founded by Jeff Bezos in 1994. According to Insider, he originally wanted to name his company, "Cadabra," which we assume would be a reference to the magical tagline, "Abra Cadabra." We have to admit, it does feel pretty magical when a package arrives at your door. Ultimately, the company was named after the largest river in the world, and quickly lived up to its title as the largest online retailer in the country, per Statista.
Nowadays, you can buy just about anything you might need from Amazon, and it will arrive at your doorstep within days. Their commitment to customer service and convenience has caused the Amazon empire to expand. Prime members enjoy surprising Amazon Prime perks that keep customers satisfied, even if the quality of their products suffer slightly. It seems like that familiar smiling logo is everywhere these days, with Amazon owning their own streaming service, grocery store, and even their own dedicated day — Amazon Prime Day.
Since Amazon's beginnings nearly 30 years ago, Bezos's wealth has grown out of this world, literally. Since stepping down as CEO, according to Forbes, he is the world's third richest person with a net worth around $155 billion.