What British Media Allowed The Royal Family To Do With The Queen's Funeral Footage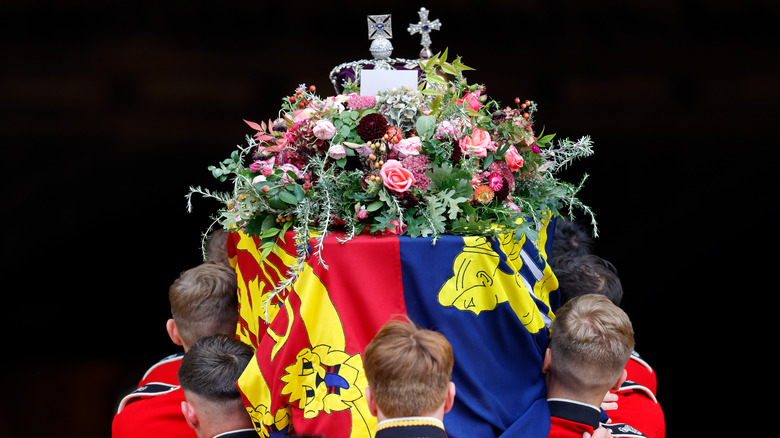 Max Mumby/indigo/Getty Images
Queen Elizabeth II's funeral took place on September 19 at Westminster Abbey. According to the BBC, around 2,000 guests packed the London church, including members of the British royal family, presidents and prime ministers, and royalty from around the world. In addition to those who mourned inside, thousands more gathered outside in parks and on the street to remember the queen, per The New York Times. And at home, a record-breaking four billion people worldwide tuned in to the televised and live-streamed funeral services.
Following the funeral ceremony, Her Majesty has now been laid to rest, and the official period of Royal Mourning is coming to an end. Still, some grief remains, and media coverage of the queen's death and funeral will likely continue for months and even years to come. However, funeral footage may look slightly different to people who view it in the future than it did to those who were present or watched it live. And that has to do with a special privilege given to the royal family.
Buckingham Palace may determine how we remember the queen's funeral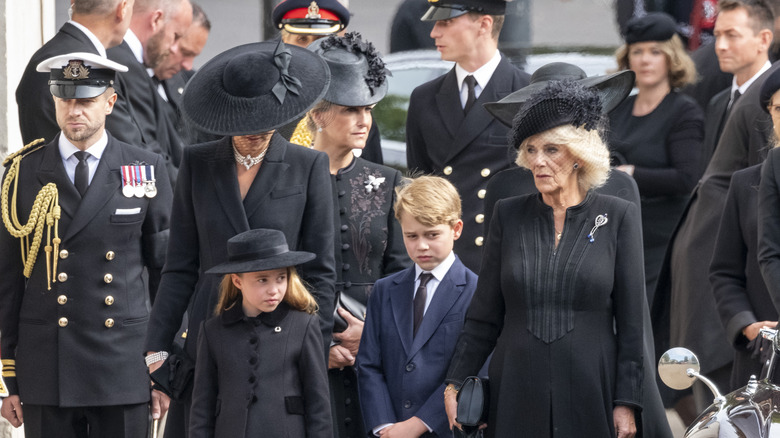 Bryn Colton/Getty Images
Queen Elizabeth II's historical funeral offered numerous poignant and heart-wrenching moments — but some of those moments may never be aired again. According to The Guardian, British media including the BBC, ITV News, and Sky News gave Buckingham Palace the right to veto the use of some funeral footage, even after it's been viewed live by the public. This allows the monarchy to preserve the memory of the queen as they see fit, cutting moments from the funeral services that they feel were embarrassing or inappropriate.
The Guardian reports that several clips have already been tossed out, including a moment where Mike Tindall, the husband of the queen's eldest granddaughter Zara Tindall, reportedly looked at his watch during memorial services. Not only that, but news outlets are also given a cap on how much footage they can keep. The palace granted broadcasters 12 minutes of footage from the funeral and similarly limited caps for other memorial services.
Given the weight of such a historical and heartbreaking event, it's no surprise that the monarchy may want some control over how the queen's death is remembered in the future. But some are unhappy with the veto power given to the royal family, Express reports. Online commentators are complaining about the "censorship" of the queen's funeral, while some members of the media, including ITN's former Editor in Chief Stewart Purvis, have called the move "wrong" and "a mistake" (via LBC).