Will Lori Loughlin Return For Season 10 Of When Calls The Heart?
It's been a long wait for fans of Hallmark Channel's "When Calls the Heart," but new episodes of the hit drama are finally dropping in mid-2023, as confirmed by TV Insider. Although Season 9 only wrapped in May, we've been eagerly anticipating a return to Hope Valley ever since — especially since the show got picked up again the following month — so it's heartening (get it?) to know it's almost time. 
The bumper tenth season is currently in production. As Lisa Hamilton Daly, EVP, Programming, enthused, "When Calls the Heart' continues to push the limits as to what we can achieve with this show." She continued, "There are many more stories still to be told about the lives of the beloved characters in this series and we cannot wait for everyone at home to tune in to see what unfolds."
Lead and executive producer Erin Krakow was "thrilled" the show got renewed again, promising "more adventures, laughs, tears, and stories of romance throughout the community of Hope Valley." Per Us Weekly, Season 9 left off with Lucas (Chris McNally) finally proposing to long-time love Elizabeth (played by Krakow) while Lee (Kavan Smith) and Rosemary (Pascale Hutton) actively prepared for parenthood. 
Elsewhere, Mei (Amanda Wong) returned from Chicago alongside Henry (Martin Cummins), who was responsible for the mine collapse the previous week. One person who had yet to be welcomed back into the fold, however, was Lori Loughlin's Abigail. Could we see her again in Season 10?
Abigail was written out of the show back in Season 6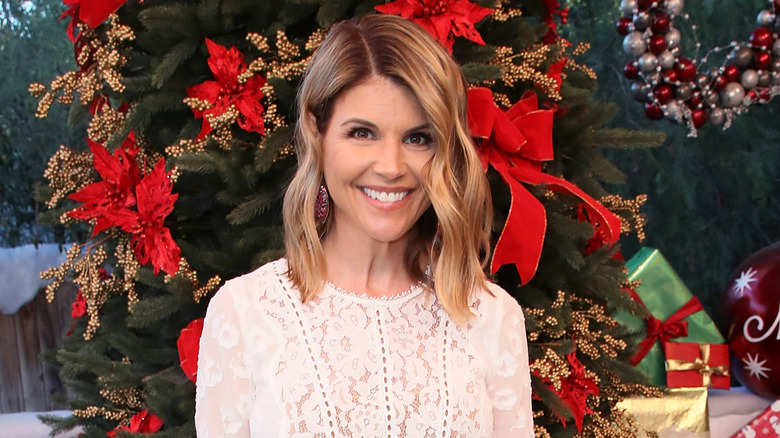 David Livingston/Getty Images
Actor Lori Loughlin left the Hallmark Channel, including her role on "When Calls the Heart," in the wake of the college admissions scandal. Per Entertainment Weekly, she was even edited out of the remainder of the Season 6 episodes in which Abigail appeared. On the show, the mayor of Hope Valley had a somewhat abrupt exit. One minute, she was dealing with the minutiae of small-town government. The next, Elizabeth was letting everyone know Abigail's mother had fallen ill and she'd rushed home to be with her.
She did make a point of expressing just how much Abigail meant to everybody though, so Loughlin didn't necessarily leave the show on a bad note, at least in the storyline. "Abigail is much more than a friend. She's family, and I will miss her and Cody deeply. We all will," Elizabeth shared. Jack Wagner, who plays Bill, admitted to ET that Loughlin's loss was keenly felt, particularly due to the necessary reshoots. 
"It really was a real group effort of feeling like we had to feel our feelings and then we had to move past that and that's what we've done," he explained. According to Showbiz Cheat Sheet, there was a fleeting reference to Abigail in Season 9, when it was confirmed she and Elizabeth still kept in touch by letter. Henry, meanwhile, acknowledged he'd been out to visit her at one stage. But fans shouldn't anticipate a big return for the character.
Lori Loughlin's relationship with Hallmark is still strained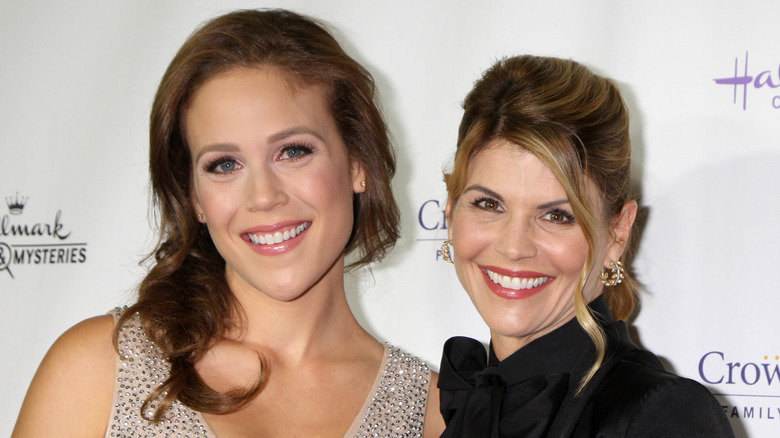 Kathy Hutchins/Shutterstock
Funnily enough, Lori Loughlin's first acting role since leaving jail was actually in a spinoff of "When Calls the Heart." People reported Loughlin was reprising her role as Abigail in "When Hope Calls," guest starring in the two-part festive special, "When Hope Calls: A Country Christmas." However, in a statement provided to Showbiz Cheat Sheet, Hallmark Channel confirmed, "Hallmark Channel has not cast Lori Loughlin in any current projects, including 'When Calls the Heart,' nor do we have any plans to cast her in the future."
They clarified, "She was cast by GAC Family, a wholly separate cable network not affiliated with Hallmark Channel or Crown Media Family Networks." As a result, it's unlikely we'll see the "Full House" star back on "When Calls the Heart" Season 10, or indeed any future season of the hit show. She's been referenced indirectly several times, and one of the show's exec-producers, Brian Bird, claimed he'd be open to bringing Loughlin back. 
In response to a fan on Twitter, who admitted to "praying daily" for the actor's return, Bird wrote, "Amen, brother. From your lips to God's ears." Moreover, star Erin Krakow told ET (via Twitter) she'd be delighted to have Loughlin back too, with another fan arguing, "Hope Valley just isn't quite the same without her" in response. It seems highly improbable, though, given things ended on such a sour note between Loughlin and Hallmark.