Viral Video Proves Prince William And Prince Harry Each Take After Different Parents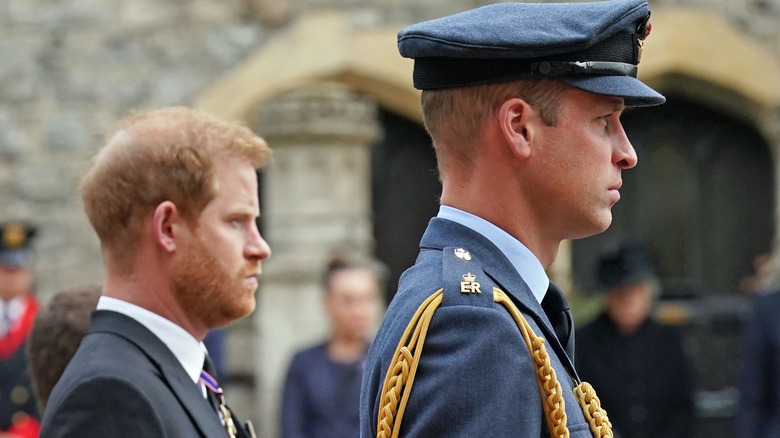 Wpa Pool/Getty Images
We already knew that Prince William and Prince Harry, despite being brothers, are very different people. For the future king, life is all about duty and service. For the Duke of Sussex, his priority has been shielding his wife Meghan Markle from, well, his family mainly. Meanwhile, it's been widely reported that the rift between the Prince of Wales and his California counterpart is so significant at this juncture, we may never see a reconciliation.
Just in time to lighten the mood after a deeply sad stretch of 10-plus days that saw the royal family mourning their longtime matriarch Queen Elizabeth, comes a viral video that proves once and for all just how dissimilar the two princes are.
First, a little background. It's been said that King Charles III is an awkward individual, a character trait that was definitely front and center in Josh O'Connor's portrayal of Prince Charles on "The Crown" (via IMDb). One has a hard time imagining the new monarch as an athlete, however, to be fair, the King was a swimmer when he was younger according to Hello! and is known to be an avid polo player — but maybe at very inopportune times (via Marie Claire).
With this information as a backdrop, get ready to laugh at how Prince Harry handles athletic challenges versus how his big brother tackles similar obstacles in a video that is taking over Twitter.
Prince Harry comes out on top for a change
Given that the Duke of Sussex gets so much bad press, it's nice to see him come out on top in the viral video that sees him easily climbing a rope and lifting a weighted ball, among other athletic feats.
We then see the Prince of Wales awkwardly trying to balance on a beam, while wearing a helmet and being surrounded by handlers making sure he doesn't stumble. The comparison is laughable, especially when the next clip shows King Charles attempting to scale a rock wall, in a suit and dress shoes.
Again, the video was all in good fun, because in truth, the future king is quite fit, having participated in a wide variety of sports over the years, including rugby and polo (via PopSugar). 
But not to be outdone, Harry was so good at rugby, he was previously the royal patron of the Rugby Football Union All Schools Programme (via Royal.uk). He also founded the Invictus Games, an event that sees injured service people enjoying athletic competition and regaining much-needed self-esteem.
Finally, consider that Princess Diana may have been perceived as slightly awkward at times as well, but overall, much like her son Harry, displayed an easy confidence in front the world on many occasions, the least of which was when the former Princess of Wales shook hands with people with AIDS despite stigma that existed at the time.