Royal Experts Describe The Real State Of Harry And William's Apparent 'Truce'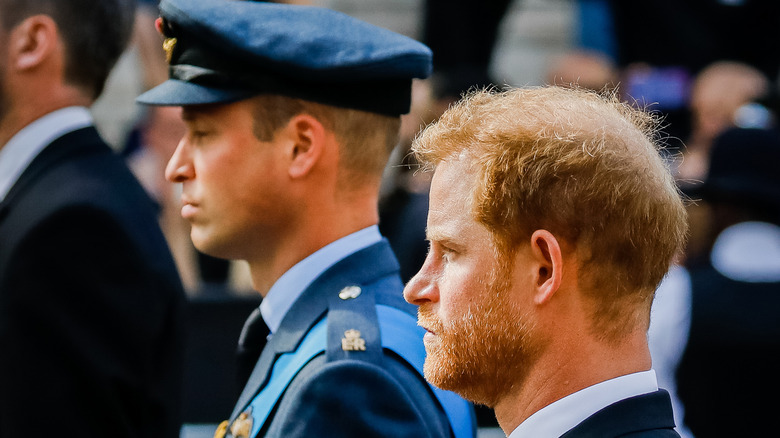 Tristan Fewings/Getty Images
No family is without drama and the same can be said for the royal family, whose scrutiny of their particular brand of messiness turned up in the wake of Queen Elizabeth II's death. Speculation has specifically been surrounding whether the "fab four" — William and Catherine, Prince and Princess of Wales, along with Prince Harry and Meghan Markle, the Duke and Duchess of Sussex — will ever reconcile their "royal rift."
The original feud was said to begin over the holiday season in 2018 and was just between the brothers, royal reporter Katie Nicholl wrote for Vanity Fair. Sources told Nicholl that Harry felt his older brother wasn't doing enough to "include Meghan in the royal family," and was upset about William's misgivings about how fast Harry and Meghan's relationship was moving.
It was King Charles III — then Prince of Wales — who stepped in and "asked William to make an effort," which is reportedly how the Sussexes spent a chilly Christmas 2018 with the Cambridges, per Cosmopolitan.
Since 2018, tensions between the brothers have only escalated. Not only is there a bigger rift between Prince Harry and the royal family over his relationship with Meghan, but after the couple had their controversial interview with Oprah Winfrey, things got even worse. One source further told Us Weekly that Prince William was "left reeling" after "details of their private call" were reported by Gayle King.
Despite the show of unity and the lack of public drama surrounding funeral events, however, experts aren't convinced this truce will hold.
Things don't look promising for reconciliation between Harry and William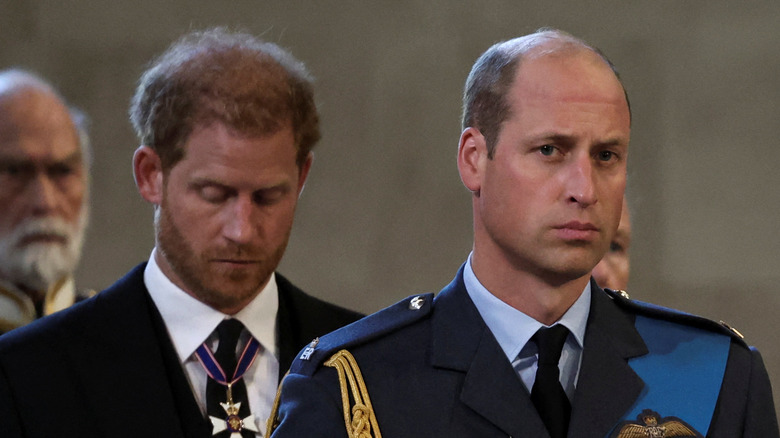 Wpa Pool/Getty Images
Despite the death of Queen Elizabeth and the amount of time Prince William, the Prince of Wales, and Prince Harry, the Duke of Sussex, have spent together in the aftermath, reports are surfacing that things haven't actually been that warm between the two.
According to The Times, before the fab four's Windsor walkabout, "Negotiations may have been required before the two faced the public together, leading to a delay" of 45 minutes. The Sun on Sunday added that the invitation went out last minute and that it was "understood past wounds haven't fully healed, and the walkabout was more a temporary truce."
Other experts, like Roya Nikkah at The Sunday Times, agree that the brothers "are no closer to mending their fractured relationship despite spending more time in close proximity this week than they have in years" (via Daily Mail). While Page Six reports the Duke and Duchess of Sussex had dinner with the Prince and Princess of Wales on September 13, there's been little interaction between them.
"The joint appearances take effort," a friend of the brothers told the Daily Mail. "There was an understanding that 'we need to show solidarity,' not just 'we need to do this because it's our duty.' But I don't think it goes much beyond that," the friend admitted. Many are looking at the pair leaving Queen Elizabeth's vigil on Saturday separately — despite staying 400 feet from each other — as proof things aren't patched.