The Joanna Gaines-Approved Paint Colors You Need In Your House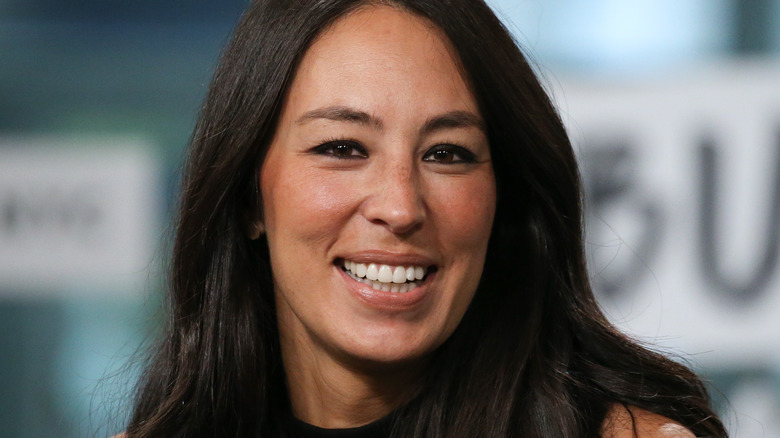 Rob Kim/Getty Images
There is so much to know about Joanna Gaines, but she is undoubtedly the queen of renovation TV. According to Variety, her famous show "Fixer Upper", previously hosted by HGTV, garnered a viewership of almost 1.7 million when it recently relaunched on Magnolia Network. While the show certainly features some faked parts, it is a mostly unscripted and entertaining take on home buyers' journeys to renovate their newly purchased fixer-upper into their dream home.
The pair source renovation-ready homes for the buyers and then help the buyer through every step of the renovation process. Everything from demolition to custom furniture is considered in the renovation process. According to D Perry Co, there are monetary requirements to be considered for the show. For example, the home must be purchased for under $200,000 and require renovations of no less than $30,000. During the renovation process, not every room in the home is a full gut job, but every room in the house does get a touch-up, even if it's just a coat of paint.
Joanna has a go-to color pallette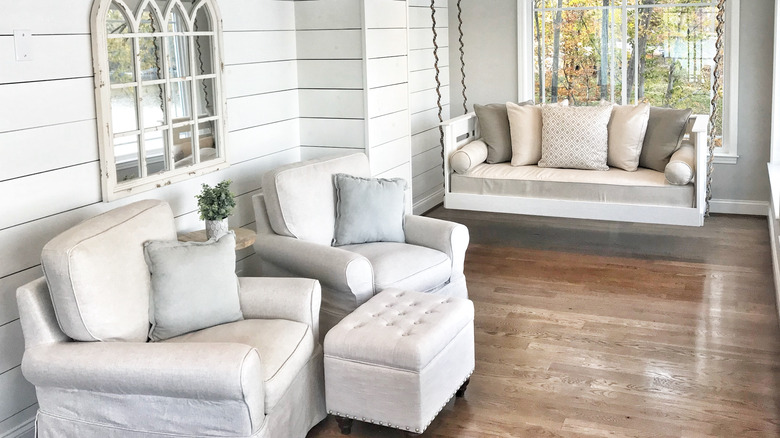 ocwarfford/Shutterstock
As a woman who has seen her fair share of home flips, it probably comes as no surprise that she has cultivated a list of favorite, well, everything over the years. Something she has been open about having definite thoughts on, however, is paint and the use of color in the spaces she creates.
In an article for Better Homes and Gardens, she described the line of custom colors she launched with Kilz, Magnolia Home by Joanna Gaines, as "some bold, some soft, some neutral, and some warm, but all different." According to Country Living, the brand launched in early 2016 and quickly rose in popularity and grew to include an array of interior and exterior paint options.
If you've ever seen an episode of "Fixer Upper" then you know how much Joanna loves her neutral and earth tones. Per Harper House, some of her most used tones are in the white, cream, blue, gray, and green family, but she's branching out, and here are some of her favorites.
Paint colors that Joanna uses to transform spaces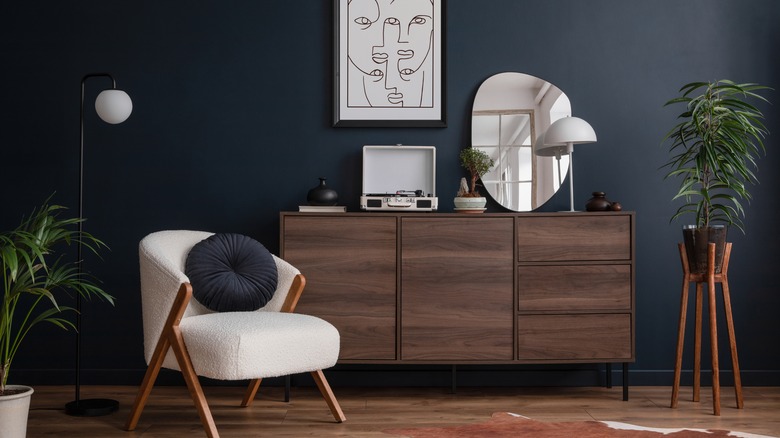 Followtheflow/Shutterstock
In a bedroom, Joanna favors rich blues, according to House Beautiful. Her goal is to create a space that feels both elegant and relaxing. To create the look, try Deep Dive by Clare or Weekend by Magnolia Home.
Bathrooms are another space where utilizing the right color can make a huge impact. Bathrooms tend to be small spaces in need of some light. Joanna recommends going with a color that feels clean and neutral. Try Sweater Weather by Sherwin Williams for a classic look or Orangdy by Benjamin Moore for something unexpected.
Gaines favors neutral creamy tones for gathering spaces like the kitchen or living room. Keeping things light and airy in places where people tend to congregate will keep your space from feeling crowded. Try something with a drop of gray to keep a bright white from being too abrasive, suggests Taste of Home. Gray Owl by Benjamin Moore is a great choice.
Lastly, if you're looking to take a risk with a pop of color, a bathroom or spare bedroom is a great place to experiment. "At the moment, I'm really drawn to fresh botanical shades, like 'Magnolia Green,'" said Gaines, according to House Beautiful. Alternatives to consider could be Current Mood by Clare or Beau Green by Benjamin Moore.