The Makeup Tutorials That Will Turn You Into A Fairy In Time For Halloween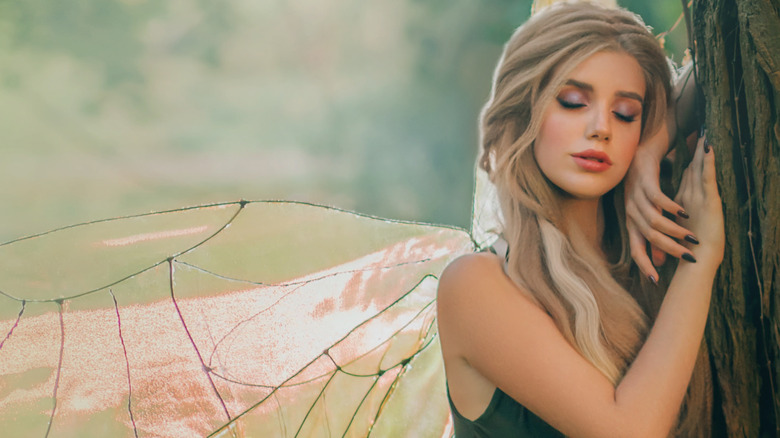 Ironika/Shutterstock
We may receive a commission on purchases made from links.
When someone says "Halloween," cute and spooky costumes are probably the first thing that pop into your head. Or, if you're the DIY-type, your mind might wander to the killer deals you can get on Halloween costume accessories at a thrift store. But while both of those subjects are, dare we say, spooktacular, it's the makeup you wear on Halloween night that will either make or break your overall look.
Is your goal this Halloween to be a fairy that seems to have flown straight out of an enchanted forest? Then you'll need the right makeup to sell the look. Spirit Halloween, everyone's favorite pop-up store for Halloween goodies, has plenty of face paints, glittering lashes, and temp tattoos you can buy to kick off your fairy makeover. But if you're new to makeup or in need of inspiration, a makeup tutorial is a great way to get those creative juices flowing.
Before we get started, make sure you cleanse and prime your skin in preparation, just like you should do before you apply any kind of makeup. Once that's done, it's time to begin your fairy makeover. 
Try following these element-inspired fairy makeup tutorials
If water is your favorite element, TikTok star Jade Giadressi has the fairy makeup tutorial for you. In a video shared on YouTube, Jade easily transforms herself into a mystical Pisces fairy. If you love keeping up with the Zodiac signs, you'll know the element for Pisces is water. To get this sea-inspired look, you'll need to pick up the Blue Moon eyeshadow palette from Colourpop. Giadressi uses multiple shades of blue from this pretty palette to color around her eyes, cheeks, and nose. Don't forget to snag a pair of white false lashes from Amazon to complete the look!
Are fire and flames more your thing? Then this Fire Fairy YouTube makeup tutorial by beauty guru Victoria Lyn should "spark" your interest. See what we did there? After masking your brows with a thick concealer, dab some red, orange, and yellow eyeshadow around your eye and nose area to evoke illustrious flames. If you want to achieve Lyn's black and gold lip color, try dusting a thin layer of gold eyeshadow on top of the Retro Matte Liquid Lipstick in Caviar from MAC Cosmetics.
Don your celestial crown as a twilight fairy
This next tutorial will make you feel like the queen of fairies heading out for a night of mischief. Inspired by the night sky, Charisma Star's YouTube tutorial on how to become a twilight fairy is the epitome of Halloween fun. The standout feature of this makeup is the swirling neon purple pattern around the eyes that looks like a constellation. To get the same pattern, we recommend the Epic Wear Liner Stick in Graphic Purple from NYX.
Beauty YouTubers are known for their stunning transformations, but we were still blown away by the end result of YouTuber Sherliza Moé's garden fairy makeup tutorial. You can become a dreamy garden fairy just like Moé by copying her easy-to-follow tutorial on YouTube. The main colors you'll need to achieve this look are pink and green. Moé seems to have built her own color palette using Sugarpill Palette, and you can do the same. Try customizing the palette to put your own unique spin on the look.