Proof That Kelsey Grammer Is A Feminist
Gabe Ginsberg/Getty Images
Even if you're too young to remember "Cheers," that charming sitcom that was on from the early 1980s to the early 1990s, there's still a good chance you've at least heard of it, via IMDb. For 11 Seasons, a Motley Crew of regulars assembled around a Boston-based bar that was owned and tended by Sam Malone, a character played by Ted Danson who was once a relief pitcher for the Boston Red Sox. One of the many regulars who found a home at Cheers bar every night was Frasier Crane, played by Kelsey Grammer — oh, and his ice-cold, witty-as-the-devil wife Lilith, played by Bebe Neuwirth.
When "Cheers" came to an end in August 1993, it launched the spin-off "Frasier" just one month later, which won 37 Primetime Emmy Awards, via Gold Derby. Grammer had stepped out of being a quirky guy at a bar to being the lead in a show that carried his character's name. Since then, Grammer has become a household name. And — sit down for this one — he's a feminist to boot.
"Oh, gosh. Oh, yeah, I've always been a feminist," Grammer told The Cut in 2015. "I think that feminism includes just being proud and comfortable in your skin as a woman and a man being comfortable in his skin. That's where I live with it. I'm a huge supporter of women."
But just because someone says they're a feminist, doesn't mean they are. But here's proof that Frasier, er, Kelsey is a feminist.
He's surrounded by strong women off screen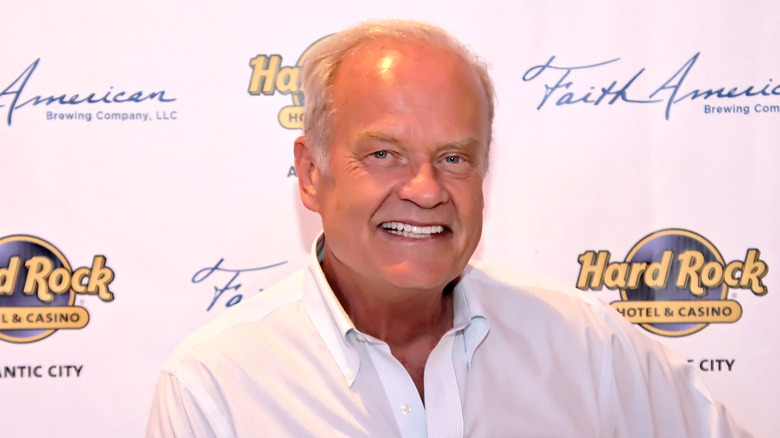 Donald Kravitz/Getty Images
Although being surrounded by strong women doesn't automatically make someone feminist, it does play a role in how they view women. Grammer's first lesson in strong women came when his parents divorced, and his mother chose to take on the single mom role with help from her own parents in New Jersey, via Business Insider. Being raised in household with his mom and maternal grandparents had a profound effect on Grammer and his views on women.
"In my experience, for sure, if a man grows up in a single mom household, I really think those guys are more sensitive to women's needs," relationship expert and counselor Rachel Sussman tells Cosmopolitan. "They have a lot of respect for their moms, and if it was a bad divorce, they don't want to be like their dads. They turn out to be better boyfriends and husbands."
Grammer's feminist mentality has spilled over onto his daughter Spencer, who not only voices a feminist character on "Rick and Morty," but is an outspoken feminist IRL too, via Inverse. A quick glance at her Instagram and you'll see she has a series of stories labeled, "The Patriarchy" that are all feminist-focused, via Instagram.
He's surrounded by strong women on screen too
Getty Images/Getty Images
On screen, Kelsey Grammer played opposite two extremely feminist characters: Lilith on "Cheers," and occasionally on "Frasier," and Roz on "Frasier."
If you sniff around the Internet you'll find more than a few odes to feminist icon Dr. Lilith Sternin and her feminist ways, via CineDump.Though on "Frasier," the regular feminist character was Roz. 
When it comes to feminist TV characters, both Lilith and Roz are right up there with Peggy Olson from "Mad Men" and "Leslie Knope" from Parks and Recreation, per Entertainment Weekly. But the new generation of feminist characters has media forgetting just how badass Lilith and Roz were. In fact, like Murphy Brown before her, Roz was one of the first TV characters to — gasp! — choose to be a single mother, via Stylist UK. Roz, unlike the female characters we now all know on "Sex and the City," could function without having a man in her life. She was a career woman who broke glass ceilings.
In a society were male fragility runs rampant, Kelsey Grammer chose to never run from strong women on or off the screen. While the men-can-or- can't-be-feminists debate is still up in the air, for now, we'll claim Kelsey as one of our own.