Lindsay Lohan Played An Iconic Star In A Lifetime Classic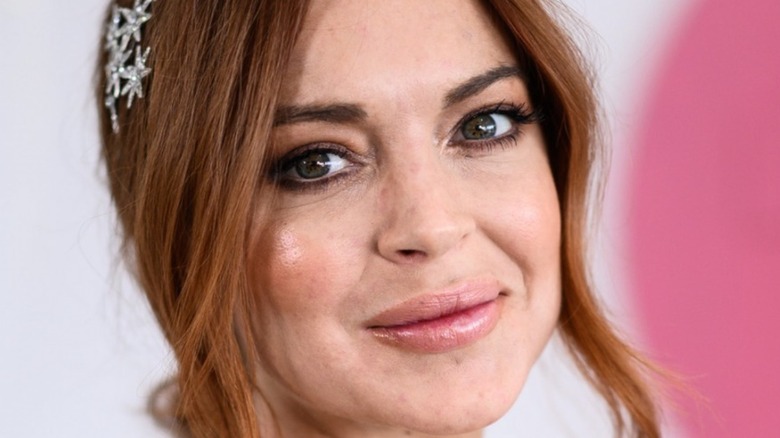 James Gourley/Getty
Lindsay Lohan's acting career appeared to stall out during the 2010s, but the once child star nonetheless stayed booked and busy. On Instagram, Lohan appears to be thriving, announcing her engagement to her boyfriend of two years, and now husband, Bader Shammas and teasing new projects. This includes her gig as an Allbirds sneakers rep — with plenty of "Mean Girls" references used in the brand's promos, per The Hollywood Reporter — and her new podcast, "The Lohdown," which she announced via an Instagram post in 2021. Plus, there was the unforgettable Planet Fitness Super Bowl commercial that spoofed her past tumult in the public eye.
In late 2021, the star revealed that she was ready to transform her career and return to her original love: acting. Per Forbes, Lohan made a two-film deal with Netflix and will star opposite Chord Overstreet in "Falling for Christmas" slated for a debut in late 2022. Lohan also revealed to W Magazine in a 2018 interview that she'd like to try her hand at directing. "It's always good to have something going on," she told the outlet. "Otherwise, I'm bored. Only boring people get bored. And I'm not a boring person." 
Before Lindsay Lohan's career reboot, she was seen on her own short-lived reality show, "Lindsay Lohan's Beach Club" and in occasional film roles, the most buzzed about being a 2012 Lifetime biopic. However, her depiction of a larger-than-life late movie star left some fans less than satisfied.
Her performance as Elizabeth Taylor received mixed reviews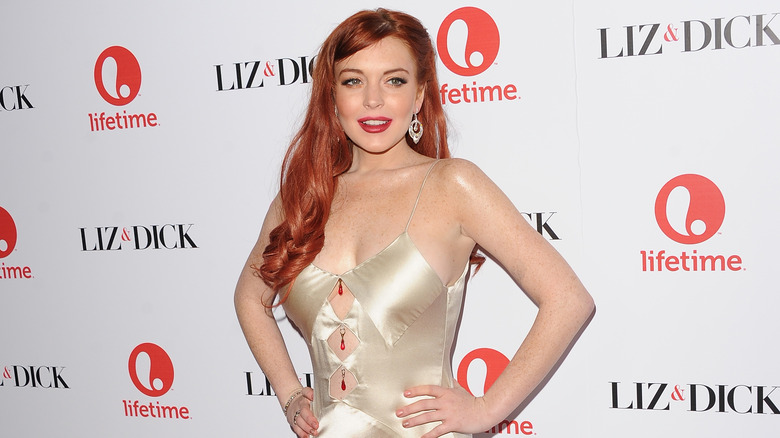 Jason Merritt/term/Getty Images
In Collider's ranking of Lindsay Lohan's movies, Lifetime's "Liz & Dick" comes in at number 16 out of 20. The film is the first time she's stepped into a real-life person's shoes, though her character in the 2006 film "Bobby" was based on the real events following JFK's assassination, per the outlet. Lohan has starred in high-profile project since childhood, but playing real-life star Elizabeth Taylor in "Liz & Dick" brought a huge amount of buzz to the project. 
The film's premiere had 3.5 million views, per Deadline. This was a substantial showing for the network, though it didn't live up to the full potential of Lohan's star power, according to Collider. The movie was ultimately panned by critics; per Slate's review, it doesn't lean as far into the absurd camp that characterized actor Richard Burton and Elizabeth Taylor's actual relationship, but the Lifetime film does depict the couple's over-the-top luxurious lifestyle.
The Hollywood Reporter listed some memorable moments from the movie, many of which are unintentionally funny or fail to achieve their desired dramatic effect. However, the film retains value in its costuming and styling choices, and Lohan's charismatic "more is more" attitude as Taylor keeps the momentum going despite the film's overall lack of seriousness.
Lohan's performance as Elizabeth Taylor's is also enhanced by the similarities in their life stories, and the actresses appear connected by more than just Lohan's casting in the biopic.
The actress' lives had multiple parallels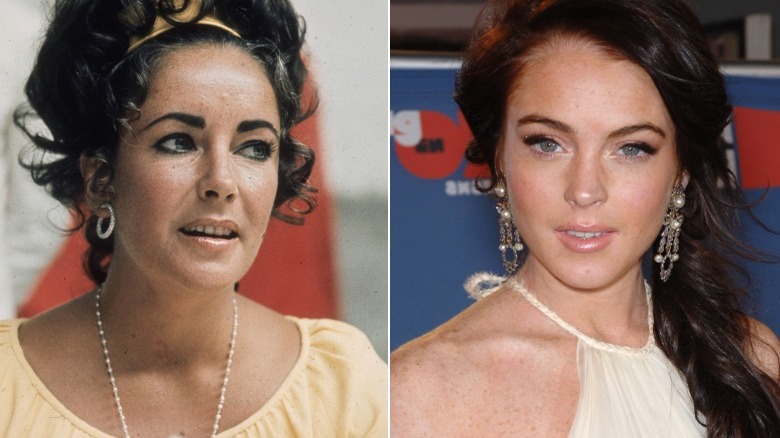 Hulton Archive/Getty & Featureflash Photo Agency/Shutterstock
Both Lindsay Lohan and Elizabeth Taylor were child stars who battled with addiction and sought out escape from the paparazzi, per Entertainment Weekly. Lohan told W Magazine in 2018 about her choice to move to Dubai, "There's no paparazzi, no cameras; that's a big deal for me. ... I do really appreciate having the life where I can just go outside and not have to worry." Similarly, per Slate, the Lifetime film depicts Elizabeth Taylor and then-husband Richard Burton choosing to live on a yacht solely to avoid paparazzi (and taxes, but that's a whole different story).
Like Taylor, Lohan dreams of her projects receiving attention from the Academy Awards. Lohan told W Magazine of the Oscars, "I want to go because I have accomplished something great, and I just want to be there for the film." Elizabeth Taylor herself won two Oscars during her lifetime, which the film contrasts with her on-again, off-again husband Richard Burton's back-to-back nominations and losses in the best actor category, per The Atlantic.
Lohan told W Magazine of her Oscars dream, "I just want to come there and say, 'I've been aspiring to come here on the stage like all the Hollywood greats that I've looked up to my whole life — the Elizabeth Taylors, the Marlene Dietrichs, the Anne Baxters — and I'm here. Thank you.'" Though Lohan's role as Elizabeth Taylor didn't garner any attention from the Academy, the actress might still realize her goals through her acting comeback, emulating the classic film stars she admires.