Lindsay Lohan's Super Bowl 2022 Commercial Hilariously Pokes Fun At Her Past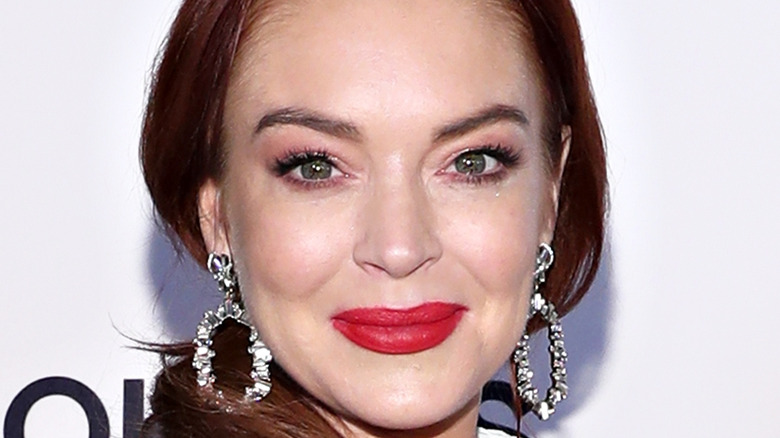 Cindy Ord/Getty Images
There are two kinds of people: The ones who watch the Super Bowl for the sports, and the ones who watch for the halftime show and commercials. With 30-second advertising spots going for between $5.8 and $7 million this year, Variety reports, companies don't hold back on writing or casting.
This year, Planet Fitness joins the likes of Budweiser and Pepsi in trying their hand at delivering an entertaining and effective commercial. Jeremy Tucker, Planet Fitness' chief marketing officer, told Variety the company is hoping to do more than just entertain people with their ad. "Our goal is to get as many people off the couch and to experience good things like fitness and feeing good — without the intimidation," he said. Plus, it reminds people about the New Year's Resolutions they probably already put aside.
To get people off the couch and into the gym, Planet Fitness got big names like William Shatner, Dennis Rodman, Buzzy Cohen, and Danny Trejo to star in their "vignette" about the importance of physical and mental well-being. However, the main star of their commercial is none other than Lindsay Lohan, adding a redemption element to the story the commercial is trying to tell.
Lohan has been absent from screens for sometime, but is eager to return. When Vogue asked Lohan what she was looking forward to the most about a return to acting, she said being back on set was the best part. "I just really love being on set and interacting with people, and then bringing a character to life. I really have missed that."
Here's the Planet Fitness Super Bowl commercial Lindsay Lohan stars in
Lindsay Lohan appears to be on a come back tour. The recently-engaged 35-year-old is starring in a holiday romantic comedy for Netflix and starting her own podcast. She's also the lead in the Super Bowl commercial for Planet Fitness.
"Exercise is a big part of my life. It brings a balance that I love," Lohan told People exclusively. "I am proud to be a part of something that encourages all of us to take time for our health and wellness."
Balance appears to be an important part of Lohan's life now. In an interview with Vogue, she explained how she prioritizes her health now. "At home, I'll get up and have my tea in the morning," she explained, "drink tons of water, and then I'll get on the treadmill." Stretching, crunches, and squats, along with the treadmill, are all things that help Lohan stay focused on the new her.
Funny and self-deprecating, the ad gives nods to Lohan's relationship with the paparazzi and other blunders from her past. Paparazzi call out, "I miss you Lindsey," while Danny Trejo is shown wearing an ankle monitor bedazzled by Lohan, like the one she wore when she was under house arrest for jewelry theft. "When it came to the commercial, they were very open to me being very involved and hands-on with how we did it, and poking fun at myself," Lohan told Vogue in an interview.
With her new podcast and movie in the works, we can't wait to see more of Lohan in the future.