Mike Tindall Is Praising The Royal Family For One Major Reason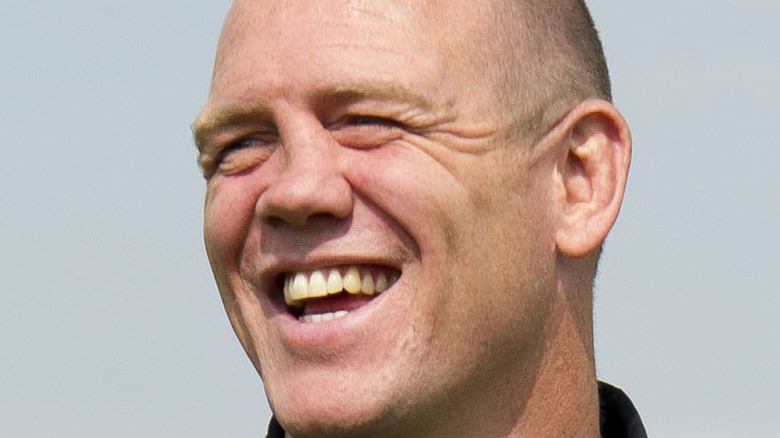 Matthew Horwood/Getty Images
Mike Tindall officially joined the royal family when he married Princess Anne's daughter, Zara Phillips, on July 30, 2011 (via Town & Country). Now parents to three young children, Mike and Zara first met in Australia in 2003 while she was traveling and the former pro-rugby player was at the World Cup. They became friends and started dating in 2004.
As his relationship with Zara progressed, Mike's family was a little anxious. "I think [my mother] was still a little bit shocked, but [my parents] were both fine with it," Mike told the Daily Mail in 2011. "My grandma was a bit more nervous, because for her generation the Royal Family is massive."
His connection to the queen goes back even further. "I first met her in 1992 when I was at school, because I was at Queen Elizabeth Grammar School, and it was our 400th anniversary so she came to the school for fun," the sports star shared on his podcast, "The Good, the Bad, & the Rugby." "I was in a science class when she came in. We got to say hello to her then." 
Mike jokingly added, "I didn't tell her I was going to be in the family before you knew it. That would have been great foresight." 
Humor aside, Mike also used the podcast as an opportunity to compliment the royal family during this difficult time. 
Mike Tindall admires the royal family's unity while grieving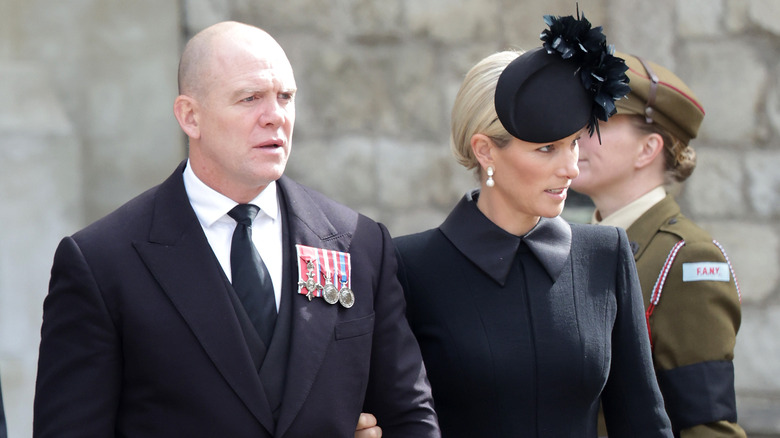 Chris Jackson/Getty Images
Speaking on his podcast, "The Good, the Bad, & the Rugby," Mike Tindall discussed the royal family's reaction to the heartbreaking death of Queen Elizabeth II. "It's been sad, emotional but happy. In some ways amazing. To see the family come so close together overnight," the former rugby player shared.
Days after the monarch's death, the Prince and Princess of Wales joined the Duke and Duchess of Sussex to greet crowds and view tributes to the queen, per The Telegraph. Royal fans were delighted at the surprise and hopeful that it was a step toward healing William and Kate's rift with Harry and Meghan. 
On his podcast, Mike noted the shock that the royal family and the world felt when Elizabeth died. "It's like the world has lost its grandmother in some way," he observed. The sports star also spoke about his wife's reaction to the loss of her grandmother. "Watching what Zara had to go through, obviously she loved the Queen beyond everything else. Their connection with horses, the same with the Princess Royal, they had a real sort of bond around that." 
When Zara won the silver medal in 2012 for the equestrian team competition, Elizabeth was overjoyed. "I remember the Queen just grabbed me and we were dancing around in circles on this hill in Scotland," recalled her former protection officer Richard Griffin, per the Daily Mail.
The former rugby star has a lot of love for his family by marriage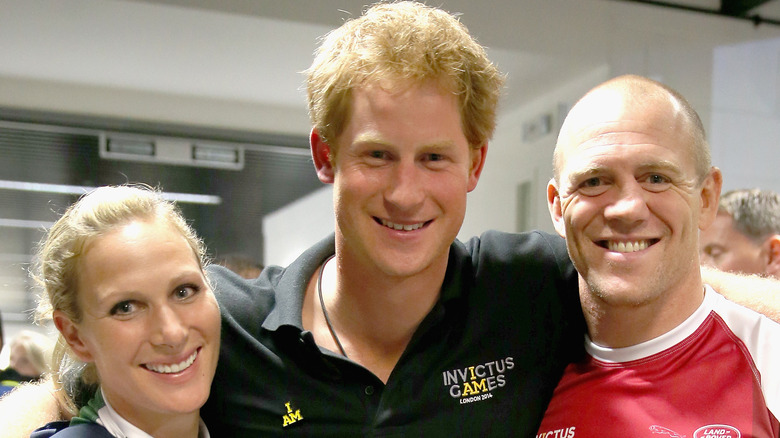 Chris Jackson/Getty Images
Over the years, Mike Tindall has talked about his closeness with the royal family. "Zara's mum is a legend and her father is lovely too," he shared in 2008, per Express. "They are really down to earth."
Talking to The Telegraph in 2021, he continued to speak highly of his family by marriage. "I can only say how kind they've been to me, and how welcoming they've been to me since joining the family," he said. "I've always felt part of it and I think that's down to what an amazing woman the Queen is. They're a fantastic family. "
While Mike and Prince Philip bonded over their love of rugby (via Express), he does wish he had gotten more time to speak with Queen Elizabeth. "I also have loads of regrets about not asking her so many more things," he said on his podcast, "The Good, the Bad, & the Rugby." Mike admitted to being in awe of his wife's grandmother, adding, "Having nervousness when you sit there get that lucky seat of being sat next to her."
In an earlier episode of the podcast, Mike mentioned his nerves around the queen (via Hello! magazine). "I did get sweaty palms. I think anyone would. She's such a legend of a lady," he said.