Coolio's Net Worth At The Time Of His Death Might Surprise You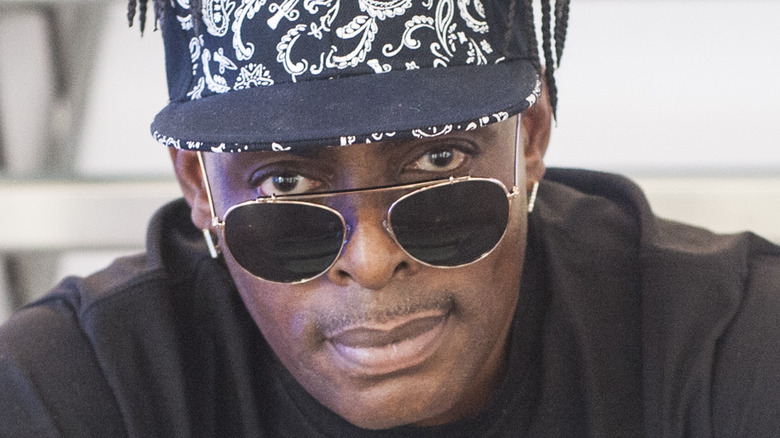 Kris Connor/Getty Images
The entertainment world is in shock following the heartbreaking death of rapper Coolio. According to TMZ, who broke the sad news, the legendary rapper was visiting a friend when he collapsed on the floor. Coolio was later pronounced dead at the scene by paramedics, who believe he possibly suffered a cardiac arrest. The Grammy winner was just 59 years old. A cause of death has yet to be confirmed, but no drugs or paraphernalia were found at the scene and there were no signs of foul play either. 
An autopsy and toxicology report should provide further answers. Coolio's longtime manager, Jarez, revealed his friend raised the alarm after the rapper went to the bathroom and didn't come out after a long time. Per People, the rapper, who found massive success in the nineties following the release of the hit single "Gangsta's Paradise," which featured in the Michelle Pfeiffer-led movie "Dangerous Minds," was born in Pennsylvania but moved to Compton, California shortly afterward.
"Gangsta's Paradise" reigned supreme on the Billboard Hot 100 for three weeks straight, ultimately nabbing a Grammy for Best Rap Solo Performance in 1996. Although his heyday was a while ago, Coolio's influence is still keenly felt throughout the music industry, and he unsurprisingly earned a pretty penny during his lengthy career. 
The legendary rapper was a man of many talents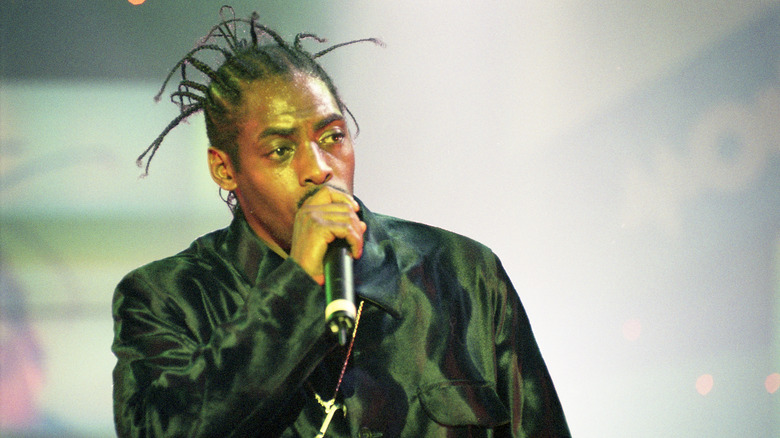 Jmenternational/Getty Images
Although he'll always be most well-known for "Gangsta's Paradise," as Celebrity Net Worth points out, Coolio's debut single, "Fantastic Voyage," was also an instant hit. The rapper actually released eight successful albums, selling over 70 million units overall, while Coolio had over 100 acting credits to his name, too. 
The artist born Artis Leon Ivey Jr. also notably performed the earworm title theme tune, "Aw, Here It Goes," from "Kenan & Kel." In 2009, Coolio also released his cookbook, "Cookin' with Coolio: 5 Star Meals at a 1 Star Price." Clearly, he was a once-in-a-generation talent, as evidenced by the variety of stars paying tribute to the late rapper. 
Michelle Pfeiffer led the charge, sharing footage from the "Gangsta's Paradise" music video on Instagram alongside a sweet note mourning the loss of the "gifted artist" whom she credited with helping make "Dangerous Minds" a hit. "I remember him being nothing but gracious. 30 years later I still get chills when I hear the song," Pfeiffer gushed.
Blondie's Debbie Harry wrote "Rest in power Coolio," alongside LL Cool J who described Coolio as "my brother," while Ice Cube noted, "I witness first hand this man's grind to the top of the industry." Shockingly, per Celebrity Net Worth, Coolio was worth just $1.5 million when he passed, which doesn't come close to capturing how much of an impact he made.