The Makeup Tutorials That Will Turn You Into An Angel In Time For Halloween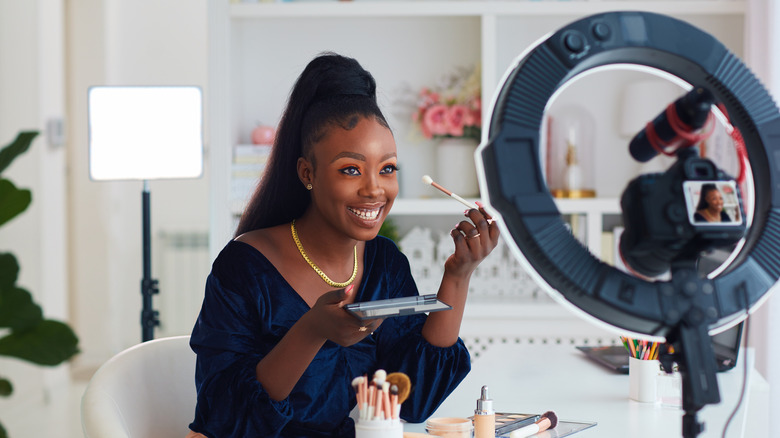 Olesia Bilkei/Shutterstock
Halloween is a globally cherished holiday dedicated to wearing costumes, watching ghostly movies, trick-or-treating, and carving sharp-toothed smiles on pumpkins. Originating from the ancient Celtic festival of Samhain, when people would wear costumes and light bonfires to fend off ghostly spirits, Halloween has evolved over time into the fun (and spooky) day we know and love today (per History).
When October rolls around, people of all ages may begin to plan their Halloween costumes. Some opt for a scary ensemble, dressing up as a bloody zombie or a deceased, haunted being. Others get super crafty, utilizing clever Halloween costume hacks to create the perfect DIY look. And then there are those who prefer a pretty, ethereal costume like a glitter-bombed fairy or a sophisticated princess in pink. For those who prefer the latter category, you're in luck, because we compiled a list of makeup tutorials out there that will turn you into an angel just in time for Halloween.
Get euphoric with this Euphoria-inspired look
Anybody who's been on the internet the last year has heard of — or is a fan of — HBO's hit show "Euphoria." There is a Halloween episode on the show where a character named Jules dresses up as an angel (actually, she was dressing up as Juliet from Baz Luhrmann's 1996 adaptation of "Romeo and Juliet") where she sported a vintage dress and glittery jewels around her eyes (per Variety).
Even if you haven't seen the show, this tutorial is perfect for those who love that extra sparkle with a bit of an edge. "It's a little bit punk, a little bit messy, but it's pretty comfortable and realistic and cool," beauty YouTuber Alexandra Anele says in the video. The key to creating this look is all in the glitter, as Anele recommends you use a silicon sponge to place it where you would highlight — the cheekbones, temples, brows, and even down the neck. By the way, don't be afraid of the glitter. That intentionally messy, grunge glitter vibe was seen on the runways of New York Fashion Week this year, per Allure, and pairs perfectly with this "Euphoria" inspired angel look.
Go to the dark side by following this fallen angel tutorial
This Halloween tutorial is helpful for those who prefer a fun mix of scary and sultry. After all, who says all angels have to look sweet and innocent? British beauty YouTuber Tashie Tinks shared this dark angel tutorial back in 2015. Still, it has remained a popular Halloween costume, as Tana Mongeau and Jake Paul were photographed rocking the fallen angel look in 2019, as seen in an Instagram post shared by Mongeau.
The key to completing this look is (you guessed it) all black everything –— black eyeshadow, black contacts, and black lipstick. Don't forget to apply thick red eyeshadow around the edges of the smokey eye to give that sunken-in, creepy bloodshot appearance. The black contacts help achieve that "dark soul" look, as Tinks calls it. To complete the look, she pops on a platinum white wig with a black-flowered crown and a webbed, rhinestone black choker.
Quick and easy angel look for beginners and procrastinators
For those of you who either waited until the very last minute to put a costume together or simply don't know how to apply makeup (no shame), this tutorial is the one for you. Beauty influencer and Youtuber Roxette Howe (who goes by Roxette Arisa on social media), put this dewy, soft angel look together using items you would find in your everyday makeup bag – tied together with a little bit of sparkle.
"I think this is such a cute look if you are looking for a last-minute costume," Howe said in her video. Incorporating trendy makeup techniques, like defined brows and fluttery lashes, this tutorial could even be helpful for an everyday makeup look (maybe minus the glitter around the eye, but hey, why not?). No need to run to Spirit Halloween — grab a white dress from your closet and that necklace you found at the thrift store, and voila! You're good to go, angel.