Michelle Pfeiffer's Tribute To Coolio Will Break Your Heart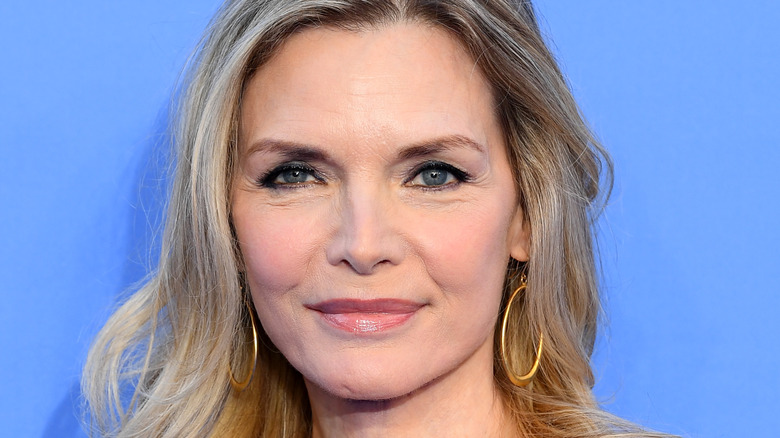 Joe Maher/Getty Images
Following the heartbreaking death of Coolio at the age of 59, its only natural for his fans to reminisce and share their love of the music he made — particularly his staple track "Gangsta's Paradise," featuring L.V. Released in 1995, which won them a Grammy Award for Best Rap Solo Performance in 1996 (via The Hollywood Reporter).
Partially inspired by Stevie Wonder's "Pastime Paradise," the song was featured on the soundtrack of "Dangerous Minds," starring Michelle Pfeiffer. In the 1995 film, she played LouAnne Johnson, a former marine who applies for a job at an inner-city high school. Adapted from the autobiography "My Posse Don't Do Homework" by LouAnne Johnson, the movie is based on the author's experience teaching a group of rebellious students, some involved in gangs and street crime.
While the film didn't receive rave reviews at the time, it was undoubtedly boosted by the immense success of "Gangsta's Paradise" (via Far Out magazine) and its accompanying music video, in which Pfeiffer reprised her role opposite Coolio and L.V.
Michelle Pfeiffer was heartbroken to learn of Coolio's passing
In response to Coolio's sudden death, many celebrities have shared their tributes and memories of the rapper. This included Michelle Pfieffer, who shared her recollection of working together for the "Gangsta's Paradise" music video, which became a staple on MTV (via Pitchfork). "Heartbroken to hear of the passing of the gifted artist Coolio. A life cut entirely too short," the actress wrote on Instagram, paired with the opening clip of the music video.
"As some of you may know I was lucky enough to work with him on Dangerous Minds in 1995. He won a Grammy for his brilliant song on the soundtrack – which I think was the reason our film saw so much success," she continued. "I remember him being nothing but gracious. 30 years later I still get chills when I hear the song. Sending love and light to his family. Rest in Power, Artis Leon Ivey Jr."
Pfieffer's involvement in the video, which went on to win the best rap video at the 1995 MTV Video Music Awards (via Billboard), even surprised Coolio.
Coolio had fond memories of working with Michelle Pfeiffer on the music video for Gangsta's Paradise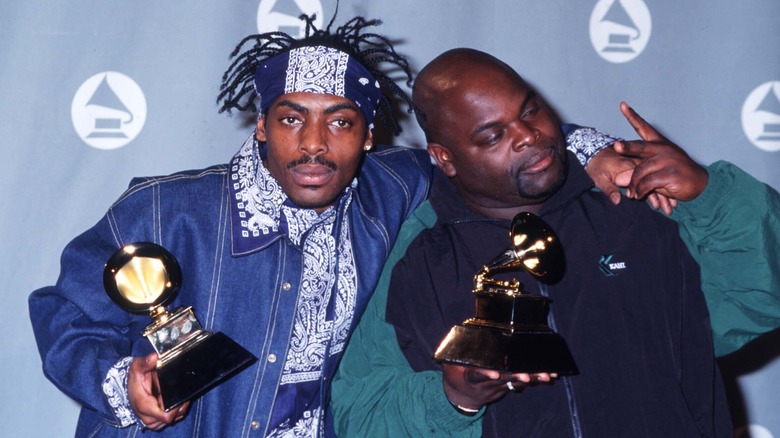 Russell Einhorn/Getty Images
In an oral history of "Gangsta's Paradise" for Rolling Stone, hip-hop journalist Soren Baker noted how groundbreaking the video was. "This was a time when rappers weren't commingling with Hollywood A-listers — especially white female ones — so to see Coolio do it was striking," he said. The rapper had sent out a demo of the song to "Bad Boys" and "Dangerous Minds" (via BBC News), with the latter offering more money, according to L.V.
But it seems that the rapper wasn't expecting Pfeiffer to participate in the video. "Michelle was big, but the test screenings of the movie were not going well," he said, revealing that producers were not optimistic about the movie's success. Despite the producers deciding to postpone the film for a month, Coolio and L.V. returned to the studio to re-record the song.
Eventually, the film was released, and the music video for "Gangsta's Paradise" followed suit. Directed by Antoine Fuqua, Coolio was initially hesitant. "I wasn't completely happy with [his] concept at first ...  but I trusted him," he told Rolling Stone. Fuqua wanted Pfeiffer to reprise her role, and she immediately agreed. The rapped recalled that while she was nervous, the actress did a great job. "She came out and did her thing, and she killed it; it took her two takes to do her parts, and she was outta there," he said.