Do Color-Depositing Shampoos Really Work?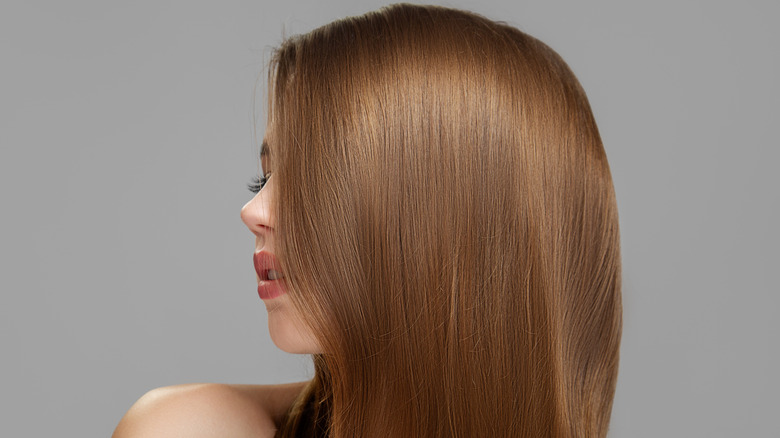 Kourdakova Alena/Shutterstock
We may receive a commission on purchases made from links.
Most of us likely don't make it to the salon for a color refresh as often as recommended. Maybe you're slammed at work or just can't seem to find a sitter to take the kids for a few hours so you can revitalize your locks. You're reaching for a hat or disguising the fading color with an updo more often than you'd like. Sound familiar? Here's where color-depositing shampoo steps in.
Color-depositing shampoo is not a replacement for coloring appointments at the salon, but it will add vibrancy and slightly alter hair tone between visits (via In The Know). Color-depositing shampoo is easy, safe, and can be applied in just a few minutes. 
It's important to note that it can't actually lighten hair. It will, however, brighten or darken color (via Editorialist). So, in short, this won't work as a permanent hair dye, but it certainly will tide you over until the next time you're blissfully leaning back in your stylist's chair.
How to use color-depositing shampoo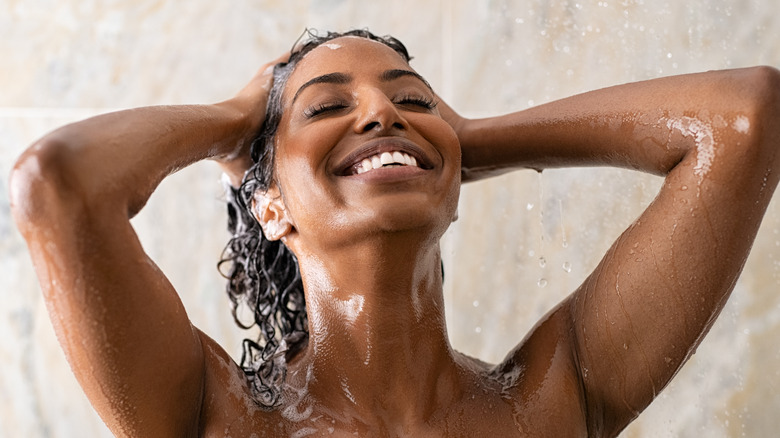 Rido/Shutterstock
While color-depositing shampoo may sound like the best news ever, you won't want to use it in place of your regular shampoo when you wash your hair. The application is the same, lather and rinse, but it's not an everyday shampoo.
"Some color-deposit shampoo can majorly change the color of your hair in just 10 minutes," says hair color expert Alli Hayes, owner of Waylon Salon in La Jolla, California (via Editorialist). "I tend to see blondes use too much purple shampoo and actually create a reverse product of what you want. Purple shampoo, in particular, can be used far too much and the hair is often left darker from overuse."
If you're a brunette wanting to eliminate excess warmth, try a color-deposit shampoo in a cool, dark shade, and you'll likely be impressed with the results. It won't do much for roots, but the previously colored hair will be given luscious life.
As the name implies, color-depositing shampoo has pigment and can get messy. Steer clear of the bath, and use it in the shower, taking care to rinse any leftover residue off the walls. Be sure to check the directions of the product, but typically you should leave it in your hair for three to five minutes. If you're wanting to avoid too much vibrancy, try mixing color-depositing shampoo with your regular shampoo for a more subtle look (via In The Know).
The best color-depositing shampoos out there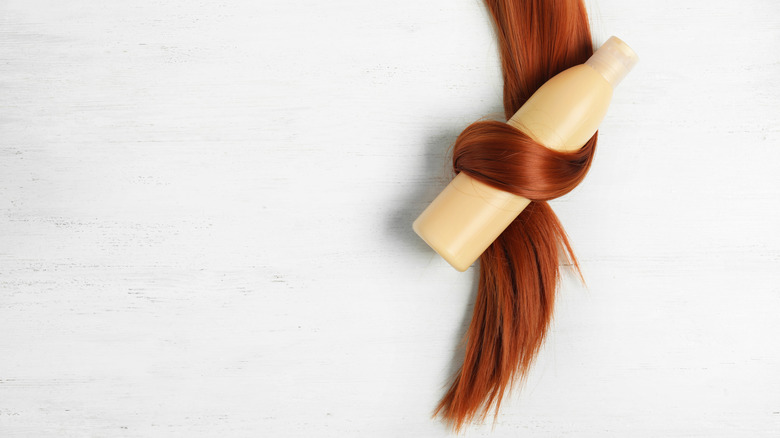 New Africa/Shutterstock
For clean beauty lovers who want to maintain balayage, ombre, or color-treated brown hair, try Aveda's Blue Malva Shampoo (via Byrdie). This color-depositing shampoo from the cruelty-free brand will help to neutralize orange tones. It's also infused with certified organic lemon and eucalyptus essences (via Aveda), creating an energizing aroma.
If you're a natural or color-treated redhead, Joico's Color Infuse Red Shampoo will enhance any shade of red, from auburn to burgundy. Cruelty-free and floral-scented, this color-depositing shampoo should last for 12 washes (via Byrdie).
For platinum or silver tresses, purple shampoo is your best friend. It brightens locks and eliminates brassiness. While the purple coloring may look a bit shocking at first in the bottle, purple is not the end result. SheaMoisture's Purple Rice Water Shampoo is mineral-rich and budget-friendly (via Byrdie).
If your desire is to enhance and maintain the vibrancy of your current color, whether it's rich chocolatey brown or icy platinum blond, then these color-depositing shampoos will do the trick.