The List's Exclusive Survey Reveals How Often People Really Wash Their Hair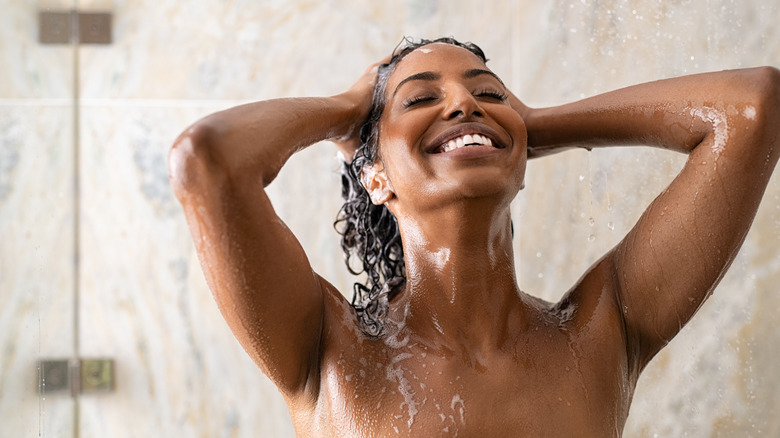 Rido/Shutterstock
The hygiene habits of a number of celebrities and celebrities kids came up in the news, kicking off with Ashton Kutcher and Mila Kunis saying they washed their kids when they saw dirt on them, and Kunis saying she didn't have hot water growing up so daily showers weren't a thing, per Los Angeles Magazine. They weren't alone; Kristen Bell said she too is in a drought area, so her kids get showered when they're stinky. 
"We don't have a ton of water, so when I shower I'll grab the girls and push them in there with me so we all use the same shower water. And I don't know, it just happens whenever it happens, I guess," she said, via CNN. And Charlize Theron has said she's fine without not having a shower for a week, per New York Daily News. While every shower or bath may not include washing one's hair, it could be inferred that these celebs would be fine without washing their hair, or their kid's hair, for at least the same amount of time as they go without a full shower or bath. But celebs — are they really like us?
The List conducted a survey of 573 people to find out how often they typically wash their hair, and here's what we found out.
Most people surveyed wash their hair every other day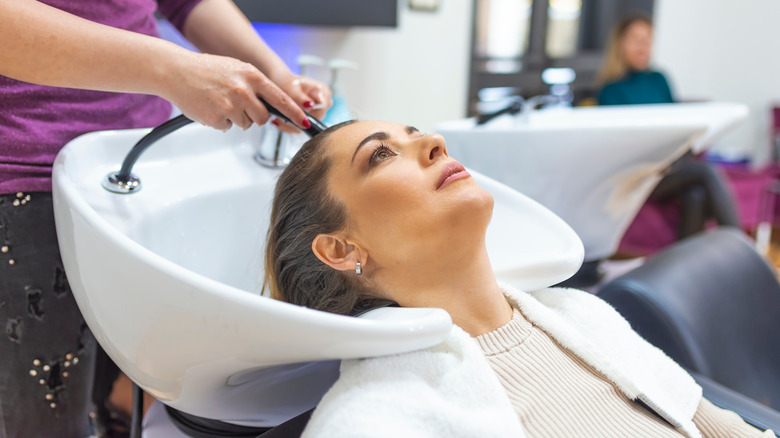 Dragana Gordic/Shutterstock
Of the 573 people who responded to The List's survey about how often they typically wash their hair, the majority of respondents — 32.11% — wash their hair every other day, followed by 26.7% who wash their hair twice a week. This puts them on par with Jennifer Aniston, who told ABC News that she washes her hair every three days or every other day.
For every day hair washing, it was 25.65%, while 11.69% said they wash their hair once a week, which puts them close to Kim Kardashian. Kardashian told Into the Gloss about her hair care regimen, saying, "We start out with a blowout on day one, then we go into a messier vibe the next day, and then we flat iron it and do a really sleek look on day three since that requires a little oil in the hair. Day four could be a slicked-back ponytail, and on the fifth day is when you wash it."
Then there's 3.84% who said they wash their hair less than once a week. Actor Shailene Woodley apparently does something similar; Woodley told Into the Gloss she shampoos around once a month.
Dermatologists recommend not washing your hair every day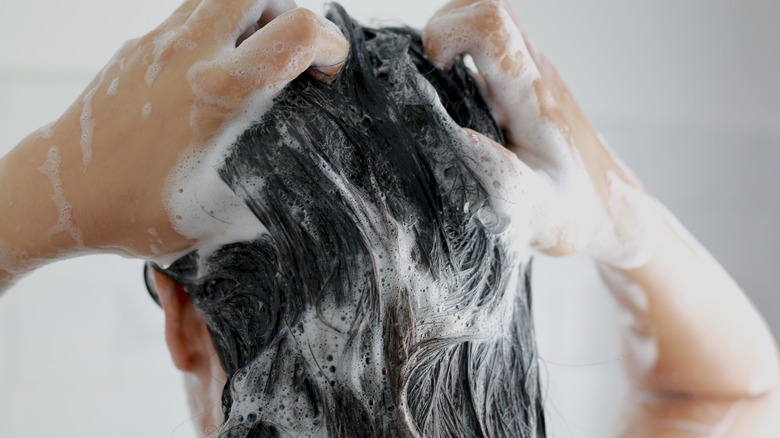 fongbeerredhot/Shutterstock
The first liquid shampoo showed up on shelves in the United States in 1930, and as the years progressed, the ad campaigns focused on it being healthier to wash your hair more frequently, per Allure. Dermatologists, however, recommend skipping daily hair washing, though it comes down to the type of hair that you have; those with curly hair will typically need to shampoo less frequently than those with straight hair, via Byrdie. Daily shampooing removes the sebum, the natural oil produced by glands on your scalp, and then the glands think they need to work overtime to produce more sebum which can make hair seem greasy or oily, per NPR. If you wash too much, you can end up drying out your scalp and causing hair breakage. You also want to be more cautious about over-shampooing if you have color-treated hair.
If you want to ditch shampoo altogether, there's the "NoPoo method" — a movement around using alternatives like baking soda and apple cider vinegar to wash your hair and scalp. There's also co-washing, where you wash your hair with conditioners designed for curly hair and natural hair texture, per Byrdie.