Here's How To Try The Pumpkin Spice Hair Trend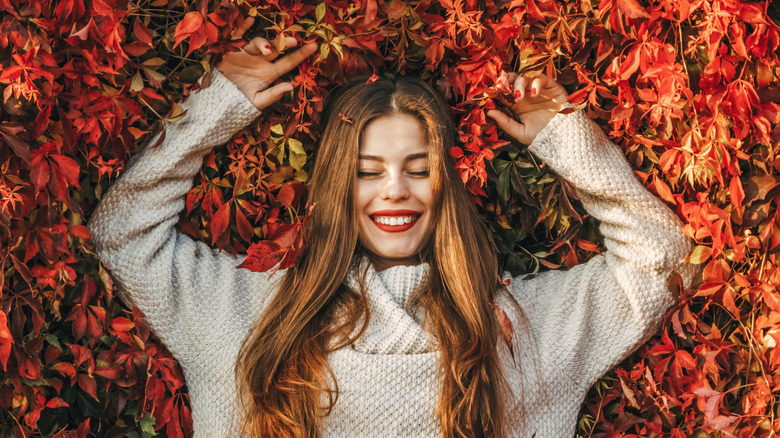 Irene Shy/Shutterstock
Since the creation of the pumpkin spice latte in 2003, the tasty fall beverage has acquired a lot of mixed reviews. From comments of disdain to hordes of "basic girls" rushing to Starbucks lines everywhere once their fall menu launches at the end of August (yes, August), one thing is for sure: it's definitely taken on a life of its own. In fact, there are some really weird pumpkin spice products out there. According to Vogue, pumpkin spice has become so popular that the flavor, scent, and style can be found in many things, from bagels and Pringles to safety vests and backpacks.
One thing the infamous pumpkin spice latte hasn't sunk its teeth into would be hair color — well, until now. Seen on the heads of fashion-forward celebrities like Zendaya and Khloé Kardashian, the burnt copper and reddish-toned hair is taking over, becoming the perfect hair color for the fall season (per Glamour). Anybody (especially those with green or hazel eyes) should try this trendy hair color out for themselves — here's how.
Picking the perfect PSL shade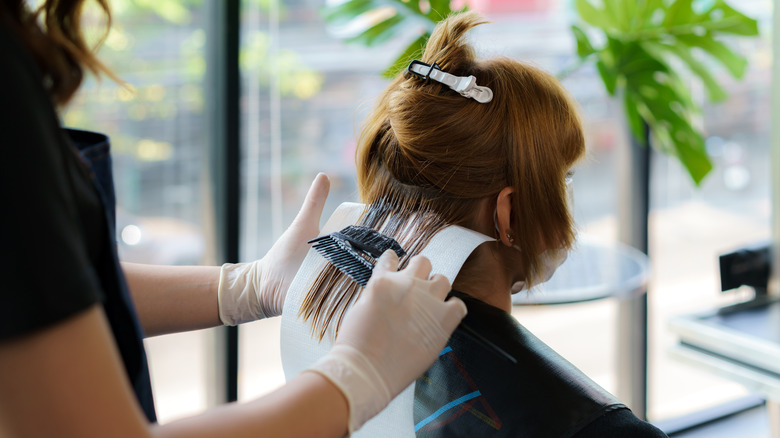 Travelpixs/Shutterstock
The PSL hair color trend includes all warm, spicy tones of red and copper and can range from shades of dark to light. Even though the name suggests that this trend is suitable for only the autumn months, the pumpkin spice latte color has a timeless feel any time of the year (per Byrdie). L'Oréal Professionnel Global Ambassador Min Kim told Glamour that the butter, honey, and caramel shades compliment not only the autumn season but fashion and makeup trends as well.
She recommends bringing a photo of the desired PSL-inspired color to a hair stylist so that they can personalize the color, with hair type, texture, and history in mind. Those who want to try this trendy hair color at home with little commitment can opt for Kristin Ess's Signature Gloss in Copper Penny and Lime Crime's Unicorn Hair Tint in Sushi, per Glamour's recommendations.
Choosing the right pumpkin spice shade to complement certain skin tones may be a top priority for those who want to try this trend. According to L'Oréal Paris, someone with a fair skin tone should opt for a color with more copper and orange tones. Honey and deep amber tones work beautifully with those who have a darker complexion. For added dimension, it's recommended to add golden blonde highlights. For those who want to slowly ease into the trend, opting for shades like peach, ginger, and strawberry blonde are great options.
How to maintain the color and keep it healthy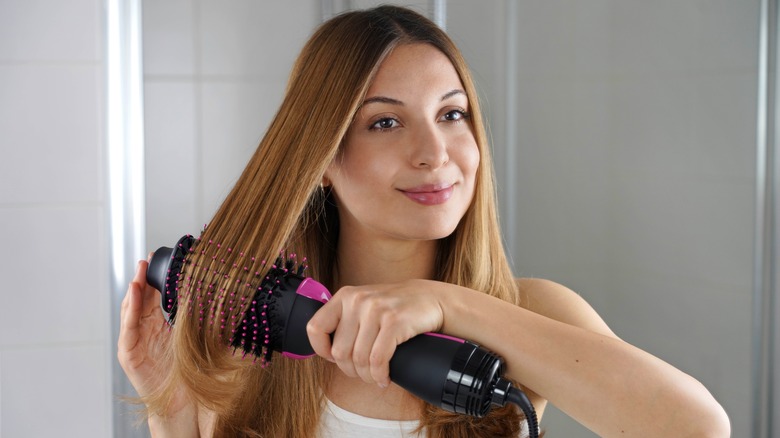 Zigres/Shutterstock
Although gorgeous, the pumpkin spice hair trend may add extra pressure on your wallet in terms of upkeep and care. According to InStyle, the upkeep level for this trend is high because the red and copper tones naturally fade fast. Celebrity hairstylist Arsen Gurgov told InStyle that "the red hair molecule is larger than most other hair color molecules including blonde and brunette hues, so the dye has difficulty penetrating the hair shaft. Instead, it sits on the hair's surface, allowing it to wash out faster." Therefore, it's important to not over-wash your hair, use a color-depositing shampoo and conditioner when you do, and make regular trips to the salon.
After an at-home dye treatment, it's almost guaranteed that the hair strands have experienced some sort of trauma, as boxed dyes are often more damaging (per PopSugar). In fact, there's a reason why many professional hairstylists advise against it. However, not everybody can afford frequent salon trips, and of course there are those who simply prefer to do it themselves. To prevent less breakage on self-colored hair, it's recommended to use low heat when styling and sleep on a silk pillowcase at night (via Allure). Regardless, whether achieved from a salon or home, the pumpkin spice hair color trend is gorgeous – and almost as good as the beverage tastes (well, for some).