What Professional Hairstylists Think About At-Home Box Dyes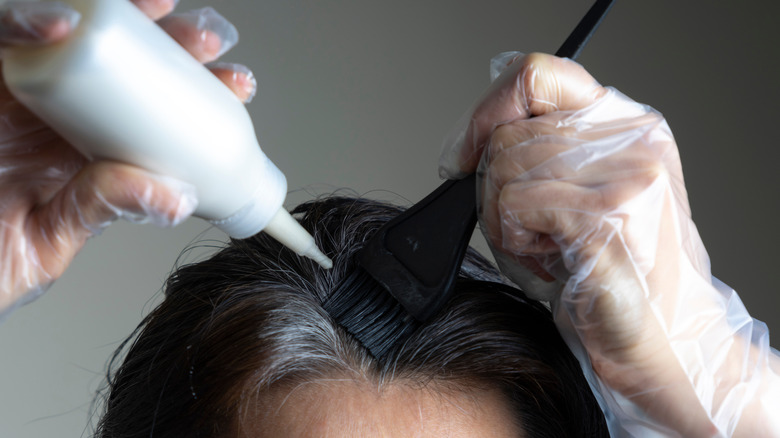 Veja/Shutterstock
Having your hair professionally colored isn't always an affordable option, as the average cost of getting your hair dyed at a salon typically ranges from $60 to $150 (per Fash). At-home box dyes, on the other hand, are available for as little as $5. Additionally, many beauty salons closed their doors over the past few years due to COVID-19 restrictions, which made dyeing your hair at home more of a necessity, according City Limits. As a result, more and more people are choosing to cut or dye their hair at home to save money and avoid crowded places.
"When dyeing your hair yourself, stay within two shades, lighter or darker, of your current color," recommends celebrity hair colorist Kari Hill (via Good Housekeeping). She also advises against mixing different shades for a custom color because you don't know what the end result will look like. Ideally, choose a shade that's close to your natural color and then test it on a small section of hair. Box dye is not suitable for ombré, balayage, and other complex techniques, per British hair colorist Josh Wood (via Glamour). 
Similarly, box hair dyes are not the best choice for drastic color changes, like going from dark brown to blond. While it can be fun to try new colors and shades at home, you might end up ruining your hair in the process. All that being said, it's difficult to really discern the difference between professional hair color and box dyes aside from the price. Professionals have weighed in on the debate to shed some light on the situation.
The truth about at-home box dyes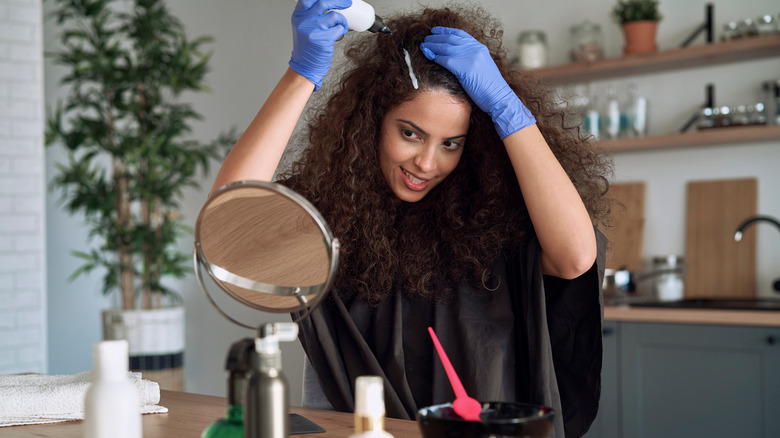 Gpointstudio/Shutterstock
Most hairstylists advise against using box dye, saying that it looks cheap and can be difficult to remove. Celebrity colorist Michael Boychuck told Bravo TV that at-home box dyes are high in ammonia and may contain metallic salts or other compounds that can damage hair in the long run. "Repeated use of box dyes means layers upon layers of permanent dyes, which requires a salon professional to strip through when receiving treatment in a salon," he added. The chemicals in these products can build up on your hair over time, making it hard to switch colors or return to your natural color.
Byrdie explains that box dye is essentially a one-size-fits-all solution. Most brands use a standard formula that's strong enough to work on all hair types, regardless of the condition and texture of your locks. Although, the same color may look different on natural hair versus chemically treated hair, or dry hair versus oily hair, so the results are unpredictable. On top of that, colorist Christine Arndt told Byrdie that it's hard to tell how much dye you should use and how long to leave it on your hair. Professional hairstylists, on the other hand, take into account a person's hair type, condition, skin tone, and other aspects before recommending the perfect color. 
Take these steps before dyeing your hair at home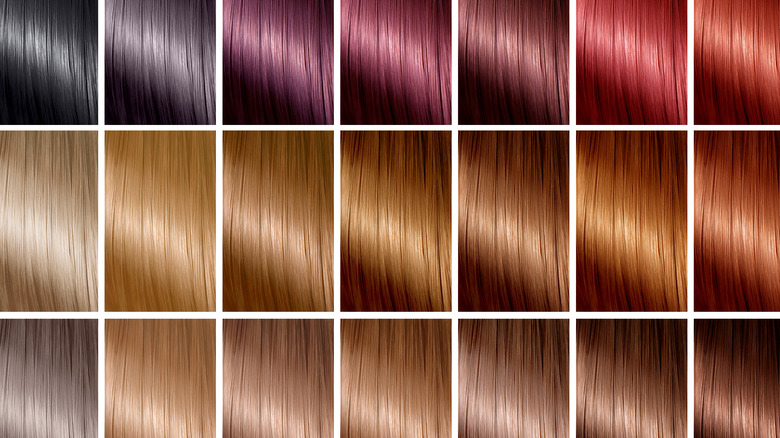 Casther/Shutterstock
At-home hair dye isn't all bad, though — it all comes down to how you plan to use it. For starters, picking the right color is essential. Colorist Dana Ionato recommends checking the swatch at the top of the box rather than the model featured on the packaging. "The developer in at-home permanent dyes is very strong — stronger than the ones we use in the salon — so it lifts the color and makes it lighter than what you see on the box," she explained in an interview with Allure.
If you opt for permanent hair color, pick a shade that's slightly darker than what you want, says Ionato. Select a lighter shade when using semi-permanent dyes. It's also important to note that "warm" or "golden" shades can turn your hair orange, so it's best to opt for cool or neutral shades instead (per Cosmopolitan).
As previously mentioned, box dye often contains harsh chemicals that can be damaging to your hair, so it's best to avoid these products. "In my professional opinion, I would avoid any color that contains ammonia in the developer," says colorist Karissa Schaudt (via POPSUGAR). This compound allows the dye to penetrate the hair shaft, but it also alters your hair's pH and can ruin your locks (per Garnier). The experts interviewed by POPSUGAR also recommend using hair paint wax or other temporary solutions instead of permanent dye. These products are less aggressive and easier to remove than traditional hair color kits.