Prince Andrew's Scandal Is About To Take Over Headlines Yet Again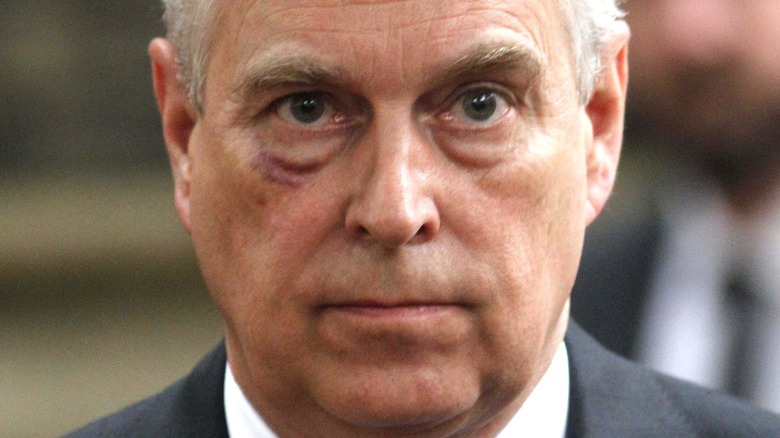 Wpa Pool/Getty Images
Poor King Charles II. Just when the headlines about Prince Andrew were dying down, there's another reminder of all the scandals involving his brother. Andrew, Duke of York, has been a one-person PR disaster for the royal family for years. When the prince was younger, the press nicknamed him "Randy Andy" (via The Guardian), and Queen Elizabeth's second son brought one of the royal family's scandalous romances into the headlines by dating actress Koo Stark (via The U.S. Sun). The Duke of York was also named "Air Miles Andy" for his shady travel habits, and the press reported on Andrew's lavish spending for years.
Even during the queen's funeral and mourning events, Andrew managed to behave badly. A clip of Andrew and his daughter had Twitter seeing red as the prince appeared to touch his daughter's bottom in a not-so-fatherly way while looking at the tributes to Queen Elizabeth. One royal fan commented on the video of Andrew and his daughter by tweeting: "Prince Andrew is an absolute predator and the fact the queen supported him is unforgivable. That's his daughter by the way." Another royal watcher tweeted: "He needs to be disowned by the family and removed from the line of succession." And it seems Andrew's scandal is about to take over headlines yet again.
New documentary 'Prince Andrew: Banished' will air on Peacock
A new documentary explores Prince Andrew's relationship with Ghislaine Maxwell, his friendship with Jeffrey Epstein, and the allegations against the prince. Variety reported that "Prince Andrew: Banished," will drop on Peacock starting October 5. The 90-minute documentary features interviews from many sources inside and outside the disgraced prince's circle. Royal expert Tina Brown is also featured in the "Banished" trailer, saying, "When you are the queen's son, no one ever tells you the truth." Brown didn't pull any punches about Prince Andrew in an April interview with The Washington Post, saying the prince "tarnished the crown I think enormously by his behavior." The royal expert and author said that years ago, the royal family could have "banished him to some castle on the borders of, you know, Wales or something ... But they can't do that in the modern era."
The Peacock documentary dives into the Duke of York's actions that worsened his situation. In 2019 E! News reported Andrew attempted to defend his friendship with Epstein. The outlet noted Andrew's statement, "During the time I knew him [Epstein], I saw him infrequently and probably no more than only once or twice a year. I have stayed in a number of his residences. At no stage during the limited time I spent with him did I see, witness, or suspect any behavior of the sort that subsequently led to his arrest and conviction."