The Unexpected Reason Whoopi Goldberg Says She Could Run For President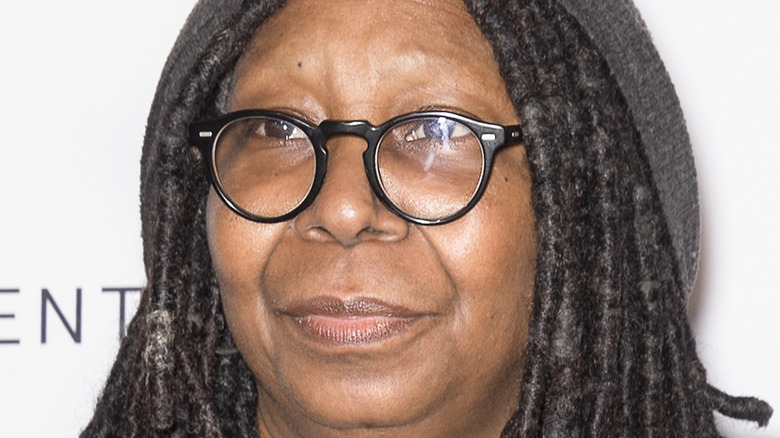 Ovidiu Hrubaru/Shutterstock
Whoopi Goldberg has never served in the U.S. Congress, but this is no deal-breaker for running for office — neither did the 45th president, Donald Trump. She never graduated from college, either, having dropped out of high school (via OK!). However, in 2003, she was appointed as a UNICEF Goodwill Ambassador. If you want to get technical about it, she does meet the Constitution's basic requirements to run for president. This means she was born in the United States (New York City, to be specific), has lived in the country for at least 14 years, and is at least 35 years old (via Official Guide to Government Information and Services).
In addition to her acting career, Goldberg has written a number of children's books. She also belongs to a rare group of people known as EGOTs — an acronym for the top creative awards in the country: Emmy (for TV), Grammy (for music), Oscar (for film), and Tony (for theater) (via ABC). Goldberg's Oscar, for Best Actress in a Supporting Role for "Ghost," honored her scene-stealing performance as Oda Mae Brown, the phony mystic with a heart of gold.
The role proved that whether she's the star of the show or part of an ensemble, Goldberg always makes her presence known. And since 2007, when she joined "The View," she's been doing just that.
Joe Biden slips up – again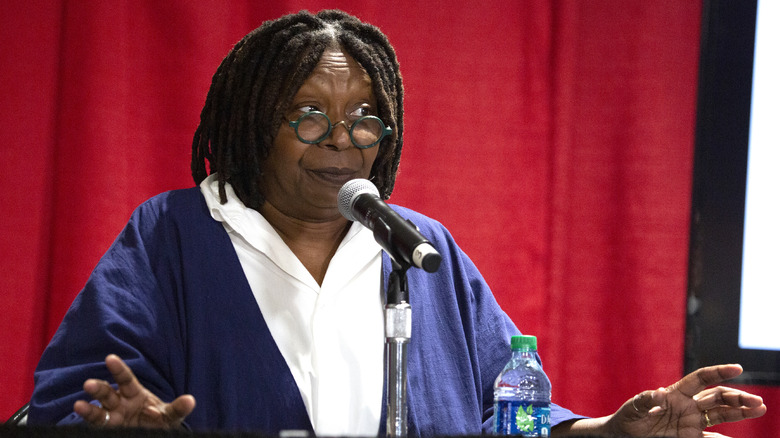 Santiago Felipe/Getty Images
The flip side of influence is that when Whoopi Goldberg talks, people listen — maybe too closely. As she well knows, when you talk for a living, you're bound to misspeak once in a while. Even those blessed with a smooth, silver tongue find that it's just a matter of time before they mispronounce someone's name, invoke the wrong date, draw an improper conclusion, make a faulty inference, or even ask if a recently deceased congresswoman is in the audience.
This is what President Joe Biden did on September 28, as he gave an address on hunger. "Jackie, are you here? Where's Jackie?" The Washington Post says Biden called out to the audience. Biden was referring to Jackie Walorski (R-Ind.), who died in an August car accident in her home state. Perhaps Walorski was "top of mind" because Biden is scheduled to meet her family later in the week (via U.S. News & World Report). Still, even for the gaffe-prone Biden, 79, the faux pas was a shocker. People in the room were so universally stunned that even molecules in the air seemed to freeze before groaning, "Oh no; say it isn't so, Joe."
Reaction fell true to form. Reporters flocked to Biden's press team. No stranger to slip-ups herself, Goldberg on September 29 urged her cohosts to lighten up on Biden, reminding them, "[Y]ou do remember what happened several weeks ago at this table" (via Decider).
Goldberg urges cohosts to get a grip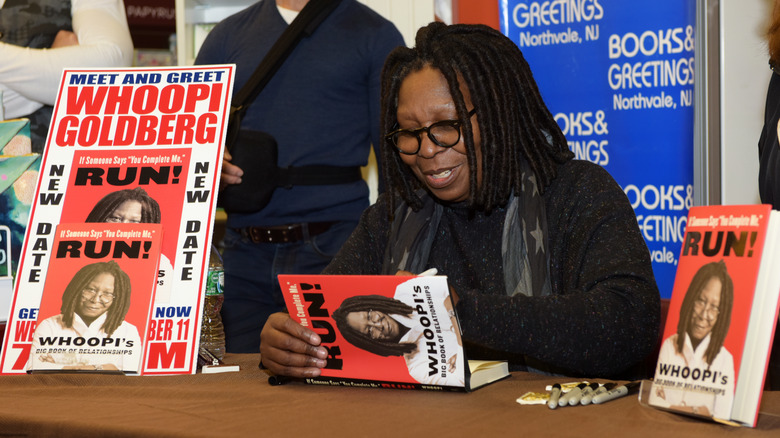 Eugene Parciasepe/Shutterstock
Whoopi Goldberg was referring to how she tried to bring a close to the September 8 show a full 20 minutes before time was up. When the mistake was brought to her attention, Goldberg apparently tried to minimize the incident by saying, "All right, whatever" (via Decider). 
However, there was nothing dismissive about Goldberg's cohosts using Joe Biden's most recent public gaffe to question his fitness to run for president in 2024 — and if not him, who should run instead. At one point, Goldberg retorted: "[W]e can talk about who it could be. I might run! You don't know" (via Decider).
In the meantime, Goldberg made her feelings clear: "I'm not worried about Biden," she said. Cohost Sunny Hostin also downplayed Biden's recent verbal oversight, pointing out Goldberg's vaunted EGOT status at the same time: "It happens to the best of us — to the EGOTs of us all."