How Much Does It Cost To Be A Bridesmaid?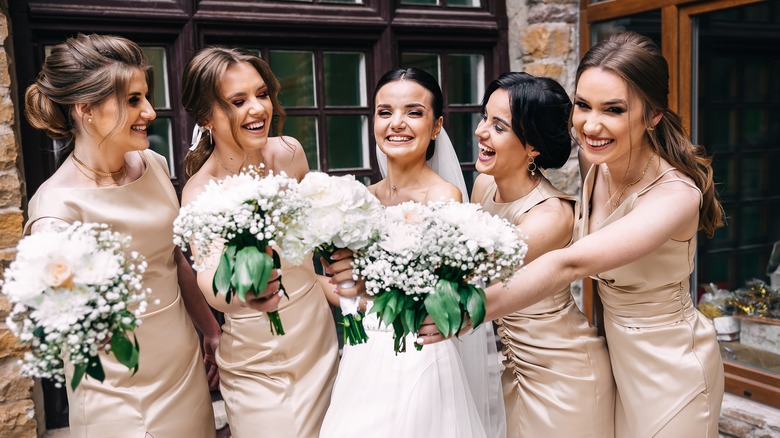 Kyryk Ivan/Shutterstock
Weddings are beautiful because they represent a day for two people to promise their forever love for each other. While some people choose to go the hassle-free way and just go to the City Hall and get it done, many choose to celebrate their special day with family and friends. With COVID-19 putting a halt on many weddings for nearly two years and some couples still struggling to find dates and venues, it seems everyone is getting married now. However, truth be told, weddings are expensive.
According to the 2021 Real Weddings Study by The Knot, the average wedding cost $28,000 in the United States — and $34,000 if you count the engagement ring. The most expensive weddings are in New Jersey and cost around $47,000 in 2019 on average, per The Knot.
Weddings aren't just expensive for the happy couple, but also for guests who may have to travel for the wedding and purchase from the gift registry. It's a whole new story if you're in the wedding as a bridesmaid, as many responsibilities fall on you. It's up to the bridesmaids to "be available as much as you're able! You don't have to be at their beck and call, but it's nice for the bride to know that their bridesmaids are there for them as their closest friends and best supporters," Jane Yu, co-founder of wedding planning and DJ company Veils & Vinyl's, told Brides. Everything from planning the wedding to being the emotional support and taking time off work is down to the bridesmaid. It's a special honor, but it's not easy — or cheap.
Here's how much a bridesmaid spends on average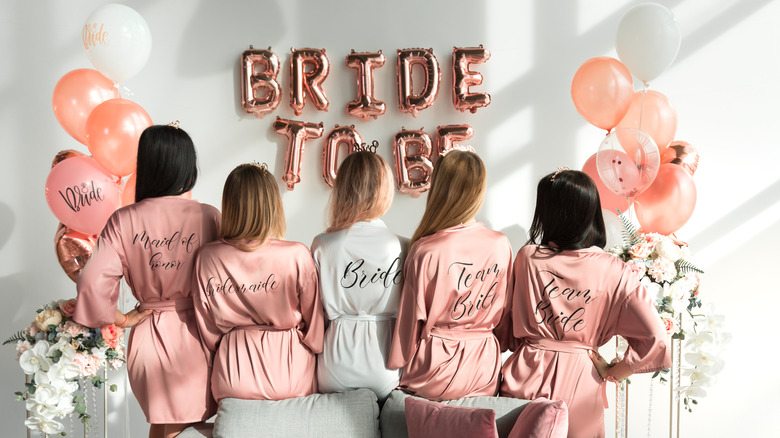 luchik08/Shutterstock
Being chosen as a bridesmaid by your sister or a friend shows how special you are in the bride's life, but with the time commitment and the added expenses, it can be costly. Most of the time, you'll have to get a bridesmaid dress, attend (and organize) the bridal shower and bachelorette party before the wedding, buy a gift, and potentially take time off work. That all adds up.
On average, it costs anywhere between $1,200 and $1,800 to be a bridesmaid (via Wedding Wire). An average bridesmaid's dress costs $208, and you may need to get it altered so it's a perfect fit, which costs around $70. To look fantastic in all the wedding photos, you might end up spending around $132 on hair and makeup. Plus, a bridesmaid can typically spend over $800 on organizing pre-wedding events, traveling, accommodation, and gifts.
A Lending Tree survey found that 56% of bridal party members felt pressured to spend big and 50% used their credit cards and went into debt for the wedding. Traveling was the most expensive cost, including the wedding and pre-wedding celebrations, and next was the outfit. 
No one wants to look stingy at a wedding, but most of the time, all bridesmaids are expected to spend around the same amount despite potentially coming from different financial backgrounds.
How to save money as a bridesmaid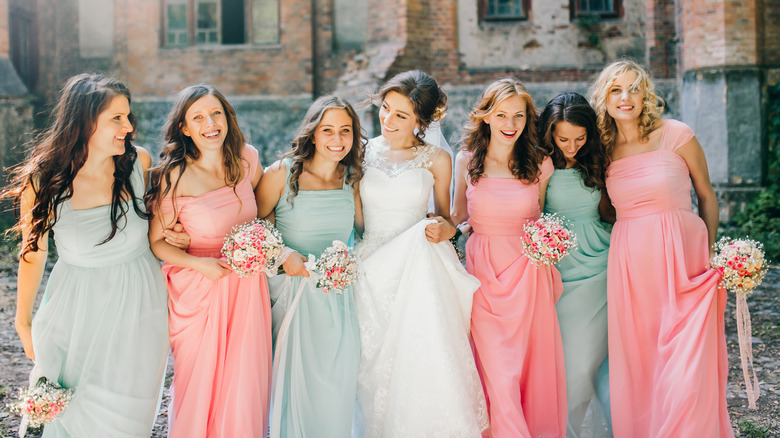 Shunevych Serhii/Shutterstock
While it's lovely to celebrate a loved one's wedding and play a key role by being a bridesmaid, your savings account often suffers from all the things you have to spend money on. However, there are ways to save.
Have an honest conversation with the bride about the expenses. "Don't be afraid to set financial boundaries, such as not taking on new debt, giving yourself time before you accept a decision, and letting others know when an expense is not within your budget," Sara Kalsman, Certified Financial Planner at Betterment, told The Knot.
While some brides can be very particular about bridesmaids wearing the same dress since they'll want the pictures to look perfect, some brides can be more chill. According to Brides, you can rock the mix-and-match bridesmaids' trend by doing the same color with different dress designs, the same design with different colors, or mixing colors within the same color family with other styles as long as they're all the same length. This way, you'll be free to choose something that flatters you. If a bride is cool with the bridesmaids not wearing identical dresses, you can save money by choosing a shade or design that you might wear again.
Despite spending on all the bridesmaids' duties and attire, they're still expected to give gifts. One way to save is by splitting the cost of a more expensive gift with the other bridesmaids, per Wedding Wire.