This Is How Much It Really Costs To Throw A Bridal Shower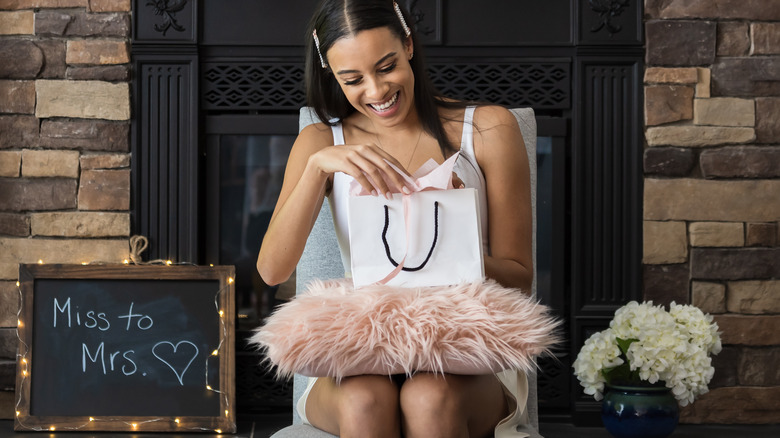 Traci Beattie/Shutterstock
So much happens between the time you say "yes" and the time you say, "I do." From wedding dress shopping to cake tasting and invitations, it's a whirlwind full of planning. And that's not even half of it when it comes to budgeting the cost of the flowers or selecting a photographer. Throw in the daunting tasks of choosing a venue and solidifying that forever-anniversary date, and it's no wonder many brides turn into dreaded "bridezillas."
While weddings are an exciting (and stressful) time, they can also be expensive. In 2021, the average wedding cost was a whopping $28,000 (per The Knot). However, one event brides-to-be don't need to worry about planning or expending funds on is the bridal shower — traditionally organized by the maid of honor or bridal party — where friends and family of the bride gather to shower her with love and gifts. But how much does it really cost to throw one?
The cost of a bridal shower depends on several different factors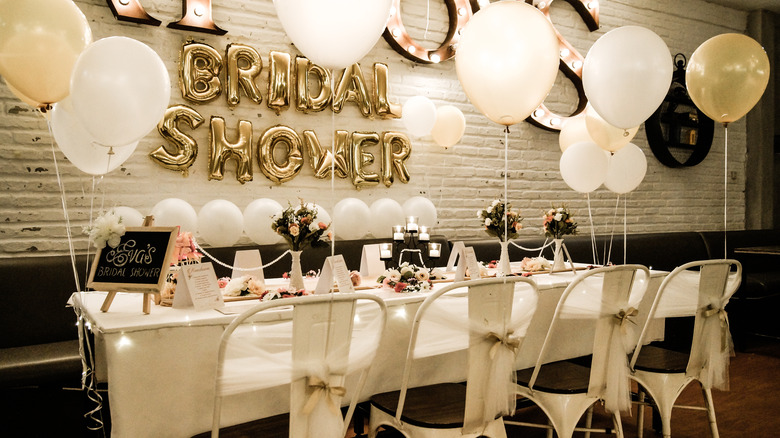 Fathurrohman Siliwangi/Shutterstock
When planning a bridal shower, these are the main factors to keep in mind: venue, decorations, food and drink, party favors, gifts, games and entertainment, and a photographer. No wonder this event can run you anywhere from a few hundred dollars to well into the thousands (per Wedding Wire). If it fits into the budget and the bride prefers a professional venue like an event space or hotel, it will (of course) be more expensive than an at-home shower. The same goes for guests; the more guests, the more expensive the event. And will you hire a professional photographer or rely on guests to take photos?
The bridesmaids typically pay for the bridal shower and split the cost among themselves (via Brides). However, anybody can choose to throw the event, and whoever does typically take on the expenses. It's recommended that the bridesmaids offer to pitch in, either monetarily or by providing their help. But it's also important to note that bridesmaids usually spend hundreds of dollars on various other expenses related to the wedding, like dresses, gifts, and bachelorette parties, per Martha Stewart, so keeping that amount under control is ideal.
The bottom line is that how much is spent on the bridal shower is up to those throwing it. If the maid of honor and bridesmaids choose to go all out, they can expect to pay a higher cost.
How to throw a bridal shower on a budget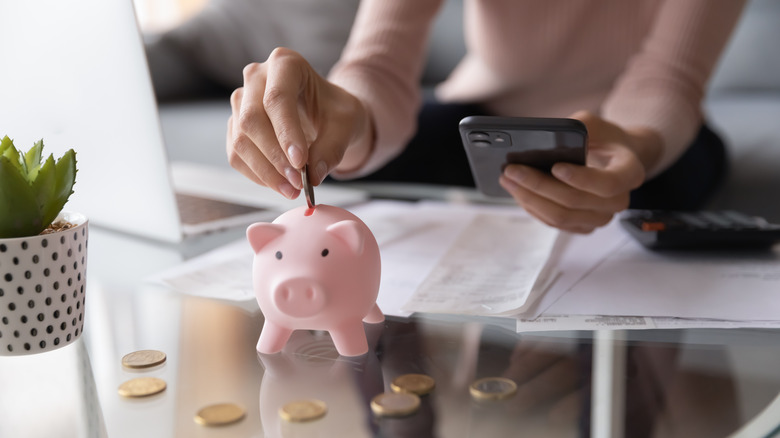 fizkes/Shutterstock
Throwing a picture-perfect bridal shower that the bride-to-be will be proud of is a lot of pressure, but it's not necessary to sacrifice anyone's financial well-being to make it happen. The first step, according to Discover, is to zero in on specific goals. Establishing expectations with the bride is recommended so everybody knows where they should invest their money. Making a guest list and sticking to it is also advised, as a guest list that gets too big can in turn lead to an expensive shower (per Bridal Guide).
Hosting the event at home, creating DIY décor, sending Evites, and checking the dollar store for basics like paper plates and napkins are also more helpful bridal shower budgeting tips shared by Bridal Guide. Opting for a simple menu, like a light spread or dessert buffet, can also help cut costs by $10 – $15 per person (via Cost Helper).
Hosting a bridal shower at home and on a realistic budget can absolutely result in a day that's just as memorable and special for the bridal bestie. At the end of the day, it's not about how much money is spent, but the thoughtfulness and love behind the special day that shows the bride-to-be just how much she's loved.